News
Van Helsing Season 5: Everything You Need to Know
Van Helsing Season 5 has been slightly delayed because, well, you know. But don't worry, the show is still going to return.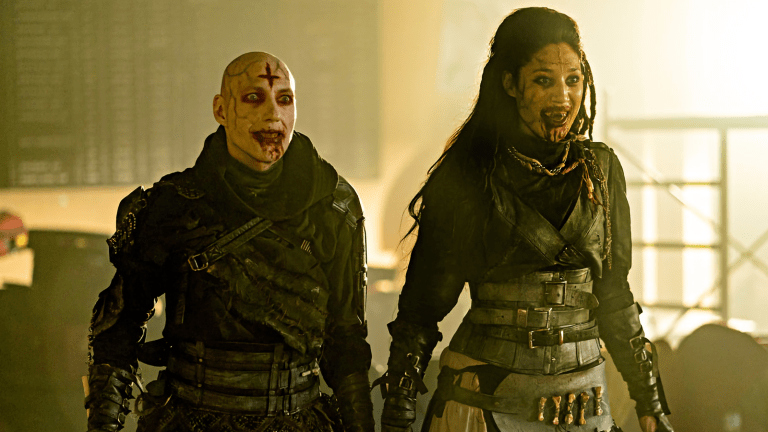 Because Van Helsing season 5 is the show's final run, expectations are high that the vampire apocalypse series will be able to end on its own terms and provide closure to fans. Showrunner Jonathan Lloyd Walker, who took over from Neil Labute in season 4, recently confirmed on Twitter that production has wrapped, so fans won't have long to wait to see a conclusion to the story of Vanessa Van Helsing, the descendant of the famed vampire hunter who has the power to reverse the conversion of humans into bloodsucking fiends.
Entering our last week on #VanHelsing I must say thank-you to a group seldom thought about at season/series wrap. Family. Partners, kids, friends… all endure a lot of stress, separation and extra work supporting cast/crew through long hours & days. YOU make the dream possible.

— Jonathan Lloyd Walker (@J_L_Walker) September 10, 2020
"We are so proud of Van Helsing and would like to thank Syfy and the amazing fans who embraced this series. We are excited to end the show on its own terms and to give our story, these characters, and our fans the conclusion they so richly deserve," Daniel March, a managing partner for the show on behalf of Dynamic Television, notably stated after the show's renewal announcement.
Van Helsing Season 5 Release Date
A 2020 release was always in the cards for Van Helsing season 5, and production delays related to the coronavirus outbreak haven't changed that expectation. Executive producer Chad Oakes speculated during the show's Comic-Con@Home panel that the series would "return late fall, early winter – November, December and back on the air for season five." We'll update this article once the exact date is known.
Van Helsing Season 5 Cast
Van Helsing season 5 will include new cast members Kim Coates (Sons of Anarchy), Ali Liebert (Bomb Girls), and Steve Bacic (Andromeda). Coates will play Olivia's husband, Count Dalibor, who makes some disastrous choices despite having the best of intentions. Liebert will take on the role of Nina, a vampire with a colorful past involving Julius and a hidden, deadly agenda. Bacic will portray the Father, a wild vampire who dresses in animal skins and has been hiding in an abandoned mine with a child.
"Kim, Ali and Steve are incredible talents and we are thrilled to welcome them to our Van Helsing family," said executive producer and Nomadic Pictures co-chair Michael Frislev in a press release after production resumed in the summer.
Lead actress Kelly Overton was notably in the background during Van Helsing season 4 due to being pregnant during filming, but this allowed other characters to step to the forefront, including Nicole Muñoz as Jack and Keeya King as Violet, both of whom had their own ties to the Van Helsing legacy. However, fans can expect to see Vanessa in full form in season 5 while still allowing for the new characters to maintain their full strength.
Male lead Jonathan Scarfe will not only return as Axel to help bring about an end to the vampire apocalypse; he'll also return to the director's chair for four episodes in Van Helsing season 5.