Features
Vampire Academy Cast: Where Have You Seen Them Before?
From Sex Education to Grownish, here's where you might have seen the cast of Vampire Academy before.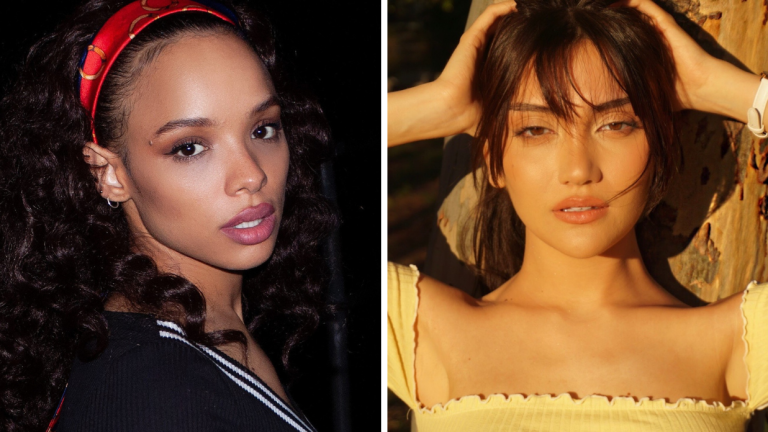 Richelle Mead's Vampire Academy is one of those beloved book franchises that should have gotten a TV series adaptation at least five years ago. Set in a world in which two distinct races of vampires—the Moroi and the Strigoi—exist, the six-book series centers the best friendship between Moroi princess Lissa and half-vampire bodyguard Rose.
While the series was made into a pretty good movie starring Zoey Deutch back in 2014, it was one of those adaptations that, while fun, didn't actually do a good job adapting its source material. Now that Peacock has announced a series adaptation from Vampire Diaries creator Julie Plec and promising "the elegance of aristocratic romance" combined with "the supernatural thrills of the vampire genre," the Vampire Academy fanbase might finally get the adaptation they've long been asking for. Today, we got our first insight into what the Peacock series will actually look like, with the announcement of the cast. Here's who will be bringing Rose, Lissa, Dimitri, Christian, and the many other characters from this book to life…
Sisi Stringer as Rose Hathaway
Sisi Stringer will play Rose, who is a vampire-human hybrid known as a Dhampir. Rose is described as "fiery and outspoken," as well as "a true fighter in spirit and in practice." She is the strongest fighter in her class, but often jumps into a fight without thinking of the consequences. This quality can sometimes factor into her love life, as well…
As with most of the Vampire Academy cast, Stringer is a relative newcomer, though you may have seen her in Mortal Kombat, in which she played Mileena. Prior to that, the Australian actress had minor roles in 2020's Children of the Corn and Bloody Hell.
Daniela Nieves as Lissa Dragomir
Daniela Nieves, who will play Lissa in the Vampire Academy TV show, has more credits on her resume. The Venezeula-born actress is known for playing Andi on the Nickelodeon series Every Witch Way and WITS Academy (Nieves is the actress on the right in the WITS Academy image above). The 24-year-old has also appeared in TV series like Snowfall, Save Me, All Rise, and Five Points.
In Vampire Academy, Nieves will play Lissa, a Royal Moroi vampire who is the younger sister to the heir apparent. When a sudden death rocks her family, Lissa will be thrust into a role she never trained for and didn't ask her.
Kieron Moore as Dimitri Belikov
Kieron Moore will star as Dimitri Belikov, a Russian dhampir and guardian who also serves as Rose's primary love interest. While Moore did have a minor role in Sex Education, the only three roles on his IMDB page are for Masters of the Air, Emmerdale Farm, and Birthday Girl.
André Dae Kim as Christian Ozera
André Dae Kim will play Christian Ozera, an intelligent and thoughtful Royal Moroi vampire who's a pariah due to his parents' unforgivable societal sins. Kim is a Canadian actor who appeared in Degrassi: The Next Generation and Degrassi: Next Class as Winston Chu, and in the CBS sci-fi series Salvation as recurring character Dylan Edwards.
J. August Richards as Victor Dashkov
Longtime TV genre actor J. August Richards will be playing the Moroi noble vampire Victor Dashkov. Highly regarded for his role as advisor and political strategist to Moroi dignitaries, Victor would do anything for his husband and two adopted daughters. Richards, of course, is probably best known for his role as vampire hunter (awkward) Gunn on Angel, as well as for playing Mike Peterson/Deathlock on Agents of SHIELD.
Anita-Joy Uwajeh as Tatiana Vogel
British actress Anita-Joy Uwajeh will play Tatiana Vogel, a Moroi vampire and political underdog who slowly takes the royal court by storm. Uqajeh is best known for her theater work. She has starred in productions of King Lear, Othello, and Cyrano de Bergerac.
Mia McKenna-Bruce as Mia Karp
Mia McKenna-Bruce will play Mia Karp, a non-royal student at St. Vladimir's Academy. Witty and cutting, she has a plan to climb her way into the ranks of royalty… McKenna-Bruce is an English actress known for her role as Tee Taylor in Tracy Beaker Returns and The Dumping Ground. She is set to appear in Netflix's upcoming adaptation of Jane Austen's Persuasion.
Rhian Blundell as Meredith
Rhian Blundell has only one IMDB credit (Nobody Girl), but Doctor Who fans might recognize her voice from her work on Big Finish audio productions. In Vampire Academy, Blundell will be playing Meredith, a smart, strong-willed Dhampir who is a keen observer — making her an excellent strategist and a valuable asset.
Jonetta Kaiser as Sonya Karp
Jonetta Kaiser will play Sonya Karp, another non-royal. Sonya doesn't care much about Moroi society, preferring instead to spend her time in the library or her gardens, and has a quiet but profound power of her own. Kaiser has appeared in productions like Root Letter, Millennials (I), and Two Sides.
Andrew Liner as Mason Ashford
Andrew Liner is best known for his role on Grown-ish, where he plays Rodney. In Vampire Academy, he will play Mason Ashford, aka Rose's main competition in the quest to become the number one Guardian-in-training.
What do you think of the casting for Vampire Academy? Let us know in the comments below.