Features
Top 100 Christmas TV episodes ever: 20 – 1
It's the final entry in our countdown of the top 100 Christmas TV episodes of all time, numbers 20 to 1. Merry Christmas to all!
Read entries 100 – 81 here, entries 80 – 61 here, entries 60 – 41 here, and entries 40 – 21 here.
20. KNOWING ME, KNOWING YOU WITH ALAN PARTRIDGE – Knowing Me, Knowing Yule
UK/Special/1995Aired on BBCdirected by Dominic Brigstocke, written by Steve Coogan, Armando Iannucci & Patrick Marber
How better to spend one's Yuletide than to peruse Alan's chatalogue? Knowing Me Knowing You was Alan Partridge's first full-fledged foray into television, and over 20 years later, its parody of the chat show format remains unparalleled. Steve Coogan's Alan Partridge is full-formed and well-rounded by this final episode: incompetent, tactless, slightly quirky and a tad socially inept. This edition of his brilliantly terrible chat show – set in a mock-up recreation of his festive living room – features Tony Hayers, commissioning editor at BBC; Christian, BBC-critical Mary; a paralysed ex-golfer and his wife; and a surprisingly prominent tray of chocolate Boaster biscuits. Alan harangues each and every one of his guests to great comic effect – his attempts to discern from Tony whether his show has been renewed for a second series are genius. But it's the utterly bizarre finale – featuring a massive Christmas cracker containing a kidney dialysis machine, and Alan Partridge in a Pear Tree – that proves the most quintessentially Partridge moment. A-ha!
19. COMMUNITY – Abed's Uncontrollable Christmas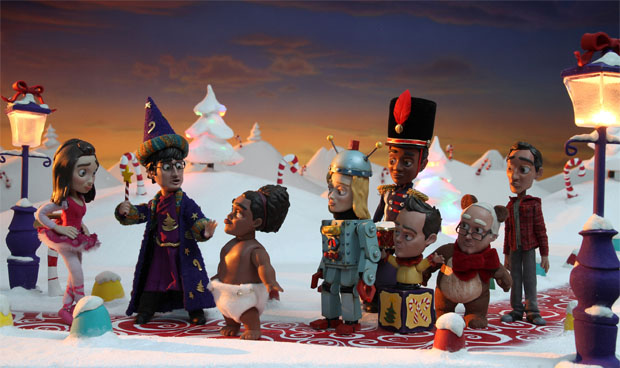 USA/Season 2/2010Aired on NBCdirected by Duke Johnson, written by Dino Stamatopoulos & Dan Harmon
Never a show willing to coast on its laurels, Community pushed boundaries further than ever before in its stop-motion animated season two Christmas episode. Ostensibly a show about an oddball study group at a community college, the comedy had developed throughout its first thirty-odd episodes to become something far more complex than a standard gang sitcom. Playing with structure, stylish flourishes, and intelligent, self-aware plotting was the name of the game. In Abed's Uncontrollable Christmas, the show gains profound emotional resonance, too. Abed awakes to viewing the world in stop-motion animation; drawing on his pop-cultural knowledge, he determines that this a reference to classic 60s Christmas specials, that it must be a sign that this year will be "the most important Christmas in the history of Christmas", and that the gang must go on a journey to rediscover the meaning of Christmas. Unsurprisingly, the gang are a tad concerned with Abed's mental wellbeing, and draft in Professor Duncan's professional opinion; this also takes place within Abed's stop-motion vision, his animated adventure intersecting cleverly with the world outside. Eventually, an explanation for Abed's break is discerned: it's his mind's attempt to deal with his mother's Christmas card announcement that she won't be able to visit this Christmas. It's an adult, complex concept, but Community pulls it off with finesse. Beyond the beautiful animation, the silly songs, the funny dialogue and the clever concept lies a deep message: we all need Christmas, but what we need from Christmas is personal. Christmas means something different to every single person: the key is that it means something. The gang's subsequent bid to help Abed get through his first mom-less Christmas – to find new meaning in the season – is beautiful. Abed's Uncontrollable Christmas is a funny episode of television. But, more than that, it's a profound treatise on the reason for the season.
18. PORRIDGE – No Way Out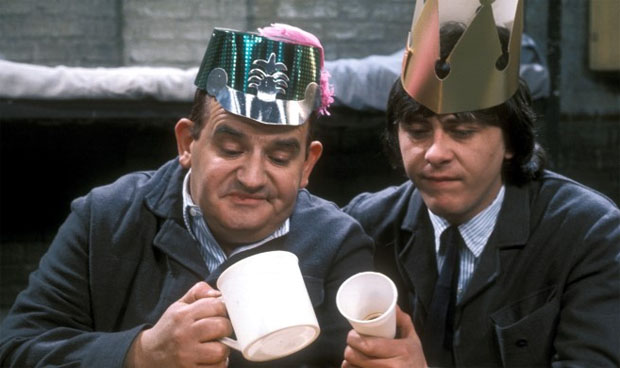 UK/Special/1975 Aired on BBC directed by Sydney Lotterby, written by Dick Clement and Ian La Frenais
Prison must be a particularly bittersweet place at Christmastime. Even if the staff go all-out to recreate the festive spirit, and everyone's feeling a little more jolly than usual, it must be more heartbreaking than ever to be missing out on the world outside: family, friends, Christmas markets, Christmas lights, parties, advent calendars, trees, the Radio Times double-issue (OK, maybe that last one doesn't apply to everyone). For a few days, the world's a little brighter on the inside; but you just know that that goes doubly so on the outside. Porridge's first Christmas special, No Way Out, does a great job at reconciling those emotions, painting Christmas in the clink as pretty bleak at first, with slivers of festive spirit breaking through the darkness at episode's end. Bleak doesn't mean there's no room for comedy, though, as this is a hilarious episode, intricately plotted – involving an escape plan and its subsequent foiling by staff – and utterly packed with classic Fletcher one-liners. A final act that sees Fletcher wind up in the infirmary after falling down the breakout tunnel is a gem, and allows proceedings to conclude on a high note, with one slam-dunk final joke and finally, a true dose of Christmas spirit.
17. FRIENDS – The One With The Holiday Armadillo
USA/Season 7/2000Aired on NBCdirected by Gary Halvorson, written by Gregory S. Malins
Thanksgiving was always the real Friends holiday tradition – the creative team tended to push the boat out for that occasion, leaving Christmas rather more in the shadows. Even though the Friends spent Christmas with us most seasons, it was often a sideline rather than a focus. There's one mighty exception, though: The One With The Holiday Armadillo, an all-time great gem from the show's seventh season. Ross is concerned that his son Ben is growing up learning only about Christmas and not about Hanukkah, so he attempts to teach him about his Jewish heritage. It backfires, though, as Ben becomes concerned that Santa won't be visiting this year. Ross attempts to get a Santa suit to dress up in to quell Ben's worries, but everywhere is sold out. Thus, one of Friends' finest sequences is born, as poor old David Schwimmer rattles about in a rather unwieldy alternative: an armadillo costume. It's an inspired recipe for comedy, and subsequent entrances from Chandler and Joey in their own costumes serve to generate yet more laughs. Elsewhere, renovations are taking place in Phoebe's apartment block, and she's growing concerned that roommate Rachel is enjoying temporarily living with Joey a little too much; her attempts to supply Joey with Christmas presents to drive Rachel away are hilarious.
16. IT'S ALWAYS SUNNY IN PHILADELPHIA – A Very Sunny Christmas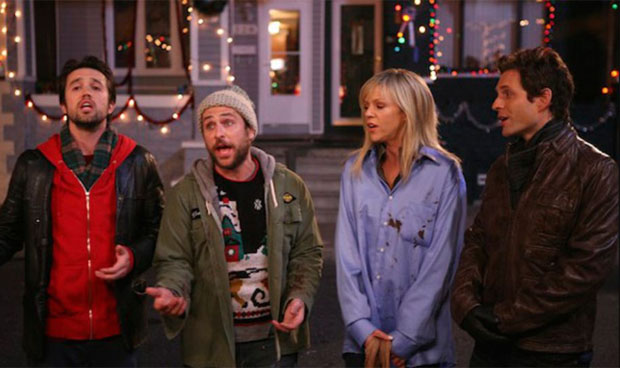 USA/Special/2009Direct-to-DVD, then aired on FXdirected by Fred Savage, written by Charlie Day & Rob McElhenney
It's Always Sunny In Philadelphia is just about the darkest, most cynical comedy on air, so it's no surprise that this Christmas special rates among television's more disturbed hours. Revenge, backstabbing, ruined childhood memories: it's all here, and it's all disconcertingly hilarious. For years, Frank (Danny Devito, in his greatest role to date) has ruined the Christmases of Dennis and Dee by purchasing the gifts they yearn for most and keeping them for himself. They seek revenge, drafting in an old enemy of Frank's to aid them in their misdeeds. The plans don't quite plan out… but they certainly make for entertaining viewing. Meanwhile, Mac and Charlie discover an old home video from Mac's childhood Christmas, which spurs them to make some darkly comic discoveries about the source of Mac's presents, and later, the role Charlie's mother played in making Charlie's spirits bright. A climactic Claymation finale drawing the gang all back together also works wonders, blissfully violent and brutally unseasonal; the whole episode culminates in a hilariously depressing denouement. It's Christmas as only Always Sunny can deliver.
15. BLACKADDER – Blackadder's Christmas Carol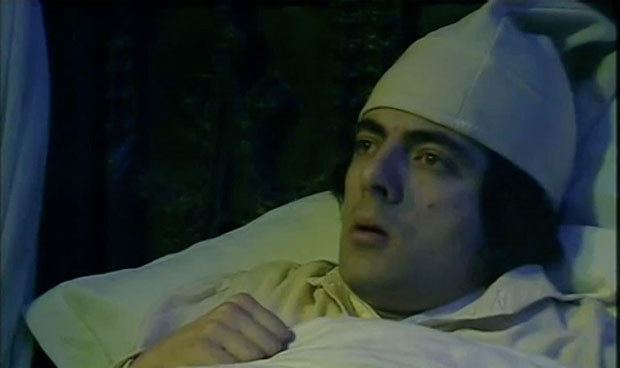 UK/Special/1988Aired on BBCdirected by Richard Boden, written by Richard Curtis & Ben Elton
Parodies and pastiches of A Christmas Carol are nothing unusual in the world of TV and film (geek TV included) – but Blackadder's unique, satirical take on the classic Christmas novel is in a class of its own. Set in Victorian England, between Blackadder The Third and Blackadder Goes Forth, we meet Ebenezer Blackadder, the most likable member of the Blackadder clan to date – extremely generous, always friendly, an all-around nice fellow. Alas, these attributes prove to be his downfall, as a run of acquaintances take advantage of his nature, to the detriment of his – and Baldrick's – Christmas plans. Luckily, the magnificent Robbie Coltrane is on hand as the Spirit of Christmas, bearing clips from Blackadders past and future, inspiring Ebenezer to change his ways and become the bad guy he always had inside him. It's an inspired turnabout, the perfect choice for this clever and twisty gem, which takes a number of clever turns throughout its extended runtime. Rowan Atkinson is, as ever, pitch-perfect here, portraying pre- and post-vision Ebenezer convincingly; look out also for Miriam Margolyes and Jim Broadbent in memorable supporting roles.
14. ONLY FOOLS AND HORSES – Christmas Crackers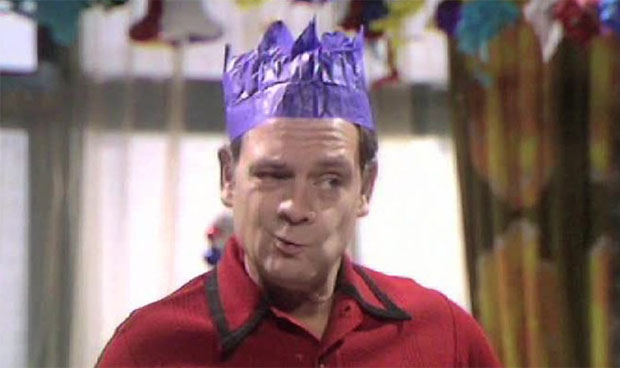 UK/Series 1/1981Aired on BBCdirected by Bernard Thompson, written by John Sullivan
The Only Fools And Horses special is a festive tradition right up there with mince pies and Boxing Day sales, an indelible icon on the landscape of the British Christmas Day. But very few of those excellent episodes actually take place during the holidays: like so many of its UK brethren, most are extended-length one-offs that actually bear little connection to Christmas. Christmas did mean Christmas back in the series' earliest years, though, and it's here that we find underrated gem Christmas Crackers, a low-key day-with-the-Trotters escapade that rests entirely on character-driven dialogue. John Sullivan's trademark sharp wit is in full supply here, as we spend act one with the family at home witnessing Grandad ruin the Christmas dinner, and act two with Del and Rodney as they venture out to the Monte Carlo Club in a bid to liven up their day and attempt to meet some women. Prima facie, this is standard sitcom material, but it's elevated beyond the confines of the format completely thanks to the consistently hilarious banter (Del's faux-French is on great form here) and the ever-stellar performances of the primary cast.
13. THE SIMPSONS – Simpsons Roasting On An Open Fire
USA/Season 1/1989Aired on Foxdirected by David Silverman, written by Mimi Pond
The Simpson family didn't celebrate Christmas too often during the so-called "golden age" of the show: of the first ten seasons, just three episodes featured Christmas prominently (with an honourable mention to season 4's Mr Plow, which featured plenty of snow but no festivities). What a triumvirate, though: there's Marge Be Not Proud, in which Bart steals video game Bonestorm from the local Try'N'Save; there's Miracle On Evergreen Terrace, which sees Bart accidentally burn down the Simpson family tree; and there's the series' first-ever episode, Simpsons Roasting On An Open Fire, the finest of the lot. Early Simpsons looks a little different from what the show would later become, the animation style and character designs not yet refined. But in tone and content, it's a show that sets the template for what's to come, subversive and sharply funny.
It's a lean Christmas for The Simpsons: Marge's savings have been wasted on removing Bart's impulse mall tattoo, and Homer can't bear to admit that Mr. Burns hasn't given his employees any Christmas bonuses this year. Taking matters into his own hands, Homer attempts a second job as a mall Santa, but it doesn't prove particularly financially fruitful, and he gambles his meagre earnings away at the dog track. All is not lost, though, as they return with losing dog Santa's Little Helper – abandoned by his owner, and welcomed by the Simpson family as the greatest gift of all. While this early screenplay is heavy on realism and light on cartoon comedy, the series' potential is still very much in evidence: Bart cites Charlie Brown and Tiny Tim as evidence Homer's gamble will win out, seconds before he loses everything.
12. THE X-FILES – How The Ghosts Stole Christmas
USA/Season 6/1998Aired on Foxdirected and written by Chris Carter
Christmastime has a long, storied association with ghosts. From Dickens' A Christmas Carol to the BBC's Ghost Stories for Christmas, there's something about the reflective nature of the season – and the repressive, cold and dark outdoors – that casts December as the perfect atmosphere for spirits to make themselves known, for our pasts to come back to haunt us: be that metaphorically or literally. The X-Files' greatest Christmas episode, a standalone entry in the series' sixth season, embraces that concept wholeheartedly. Mulder and Scully investigate a haunted house in Maryland: home to a lover's suicide pact eighty years prior, rumour has it that all couples who enter the house will meet the same fate. Once inside the house, things get spooky, as Mulder and Scully make their way through labyrinthine, contradictory layouts; meet the elderly, ghostly inhabitants; and eventually appear to be turned against each other by said spirits. It's an atmospheric, moody episode – unconventionally small-scale by X-Files standards, but all the better for it. Perfect lock-the-doors, snuggle-by-the-fireside festive viewing.
11. ER – I'll Be Home For Christmas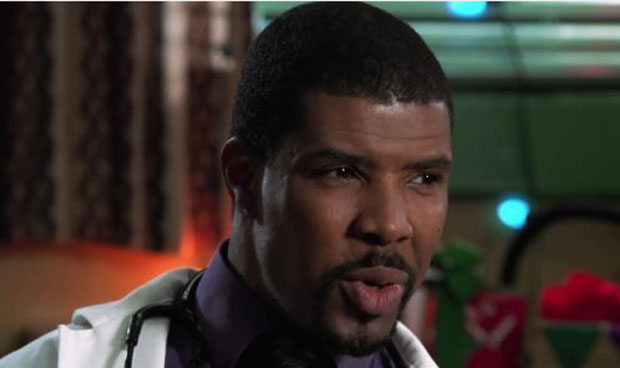 USA/Season 8/2001Aired on NBCdirected by Jonathan Kaplan, written by Dee Johnson and Meredith Stiehm
Emergencies still happen over Christmas – and don't the staff at County General Hospital in Chicago know it? Throughout its run, ER featured 15 Christmas episodes, and they tended to bring out the very best in the show, even during its waning later years. The emotional and magical nature of the season really ties in well with the show's recurring themes of desperation and hope in the face of adversity. Season 8's entry, I'll Be Home For Christmas, is the perfect example. While the serialised nature of the show dictates that not every plot strand at hand is festive, these 44 minutes feel utterly imbued with seasonal atmosphere. In his final regular appearance on the show, Dr. Peter Benton's custody trial climaxes, a satisfying conclusion to one of the series' strongest arcs that ends with on suitably joyful, tearful high; elsewhere, it's business as usual in the ER proper as it's unclear whether a critically-injured boy will survive. The staff cling to hope for a Christmas miracle in a suitably emotionally-charged plot thread. (Like this one? Also check out season 1's Blizzard – a must, even if it's not as festive as most of the show's later Christmas episodes – and season five's The Miracle Worker.)
10. MR BEAN – Merry Christmas Mr Bean
UK/Special/1992Aired on ITVdirected by John Birkin, written by Richard Curtis, Robin Driscoll & Rowan Atkinson
Blackadder might be his more acclaimed work, but let's face it: when most people think of Rowan Atkinson, they think of Mr Bean. The link is inextricable. Bean is ingrained on our cultural consciousness, and this Christmas episode is a huge part of the reason why. Episodic and largely visual in nature, like all Bean outings, the sketches featured here are utterly hilarious from start to finish, rapidly checking off every festive touchstone – shopping, cards, food, presents, crackers – with genuinely inspired material. There's the hilarious fiddling with the model Nativity scene; the comedic attempts at conducting the brass band; the desperately poor present selection (in a sequence featuring on-again off-again girlfriend, played by Matilda Ziegler). Oh, and there's the turkey. On Bean's head. Need anything else be said? Merry Christmas Mr Bean is a deserving classic of the genre, and the laughs come thick and fast.
9. FUTURAMA – Xmas Story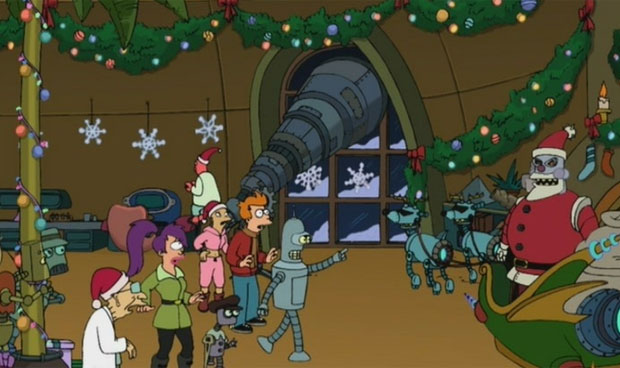 USA/Season 2/1999 Aired on Foxdirected by Peter Avanzino, written by David X. Cohen
Futurama is a wonderfully strange show, an animated sci-fi comedy set a thousand years in the future, a world where robots star in soap operas and scientists have increased the speed of light in a bid to make inter-planetary travel more efficient. Yet while the show's Christmas episode has all the irreverent trappings such a brilliantly futuristic show warrants – a Robot Santa with an unfortunate programming error, palm trees in place of now-extinct pine trees – its themes are universal. Ultimately, this is a show about a man (Fry) trapped 1,000 years in the future, spending his first Christmas away from everything and everyone he's ever loved, searching for renewed connection with distant relative Professor Farnsworth, one-eyed mutant and love interest Leela, and robot  friend Bender. Fry misses the traditions of home and childhood; whether we've moved ten miles down the road or a thousand years into the future, that's a sentiment we can all share, and this episode is a great early example of Futurama playing for drama as well as comedy. The pogoing lobster, voice-activated ski course and the hilariously violent St Nick are 30th-century icing on a traditional cake, and the interplay between sentimentality and nutso humour makes this a festive standout. (The following year's A Tale Of Two Santas is also exceptionally good fun.)
8. KING OF THE HILL – Pretty Pretty Dresses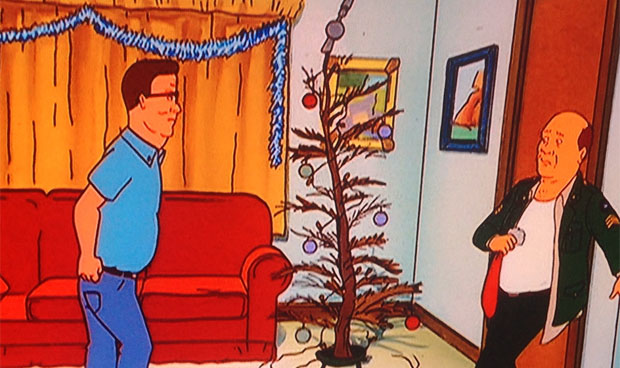 USA/Season 3/1998Aired on Foxdirected by Dominic Polcino, written by Paul Lieberstein
King Of The Hill set itself apart from the animated sitcom pack with its commitment to realistic tone. It seems apt, therefore, that its greatest Christmas episode rates among the darkest festive comedy episodes in history. Eternally-depressed Bill sinks ever-deeper into the slough of despond, ruminating over the anniversary of his wife Lenore leaving him. Attempts at suicide prompt stern responses from neighbours, including Hank Hill, but their tough love leads to a complete mental break, as Bill begins to dress as, and impersonate, Lenore. Not exactly ripe for mining comedy, you might think, but King Of The Hill manages it, addressing the dark subject matter with tact while still delivering hefty doses of character-driven humour. The screenplay is one of the most impressive in the show's history – it's attributed to Paul Lieberstein, who would later put his many talents to use both on- and off-screen in the US version of The Office. Also worthy of an entry in the classic Christmas TV canon: season 2's The Unbearable Blindness Of Laying, in which Hank goes temporarily blind after witnessing his mother partaking in sexual congress with her new boyfriend.
7. THE FRESH PRINCE OF BEL-AIR – 'Twas The Night Before Christening
USA/Season 4/1994Aired on NBCdirected by Eddie Gorodetsky, written by Samm-Art Williams
The greatest joy of The Fresh Prince of Bel-Air – a classic, workmanlike sitcom that, despite universal love of that theme tune, never truly gets its critical due – is the way it finds every possible way to take advantage of its fish-out-of-water premise. Class and social contrasts were the key to many of the series' finest moments, as Philly-born, street-smart Will Smith adjusts to life with his bourgeois aunt and uncle in upmarket Bel-Air. 'Twas The Night Before Christening, the third of the show's four Christmas episodes, draws heavily on this theme. Set several years in the future and told in flashback to the "present day", the Banks family are approaching the Christening day of newborn baby Nicky, Philip and Vivian's fourth child. As he learns of the lavish gifts his wealthy cousins have purchased for the occasion, Will feels inadequate, and in a moment of desperation, claims he's managed to get Boyz II Men to sing at the Christening. He uses their Philadelphia connection as explanation, in a bid to demonstrate that money isn't the only currency that has value. Of course, Will has no genuine means to get the band involved, and as the lie spreads, inspired hi-jinx ensue, as he attempts to make the impossible happen. The episode features a lot of music from the band's exhaustive Christmas repertoire; their smooth, R'n'B stylings are the perfect complement to one of African-American sitcom's finest half-hours.
6. THE WEST WING – In Excelsis Deo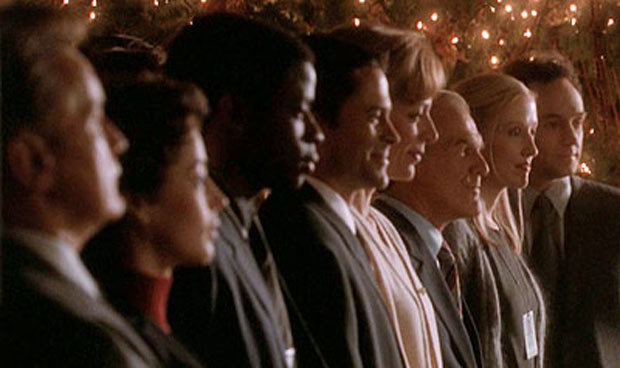 USA/Season 1/1999Aired on NBCdirected by Alex Graves, written by Aaron Sorkin & Rick Cleveland
I've always thought that one of the strangest things about being in a position of great power – like, say, President of the United States – is how you can never really switch off. Sure, you get time with your family some evenings and weekends, but you're forever waiting, on edge; you can't defer a major matter of national importance because you're relaxing in front of the box with a glass of wine. The inherent difficulty of reconciling the season of goodwill and a time of relaxation with a world that never stops turning, never pauses for breath, is the crux of The West Wing's greatest Christmas episode. President Bartlett addresses a group of excited schoolchildren with childish jokes and festive spirit; he's pulled away to be told that a teenager who was beaten to a pulp for being gay has passed away, and that it'll be important to revisit hate crime legislation in the New Year. How can a person acclimatise to such juxtaposition? How can you go back to those children and maintain that same joie de vivre? It's just one scene from Aaron Sorkin's script, as pacey and witty an affair as ever, but it speaks for the entire episode, bracing between upbeat holiday traditions and more downbeat, gloomy elements. Of an episode packed with cleverly criss-crossing plots, running the gamut from the glorious to the devastating, the funeral for a homeless veteran who died wearing a coat Toby had donated to Goodwill resonates most strongly, a touching and personal tribute from one of the show's most complex characters.
5. FATHER TED – A Christmassy Ted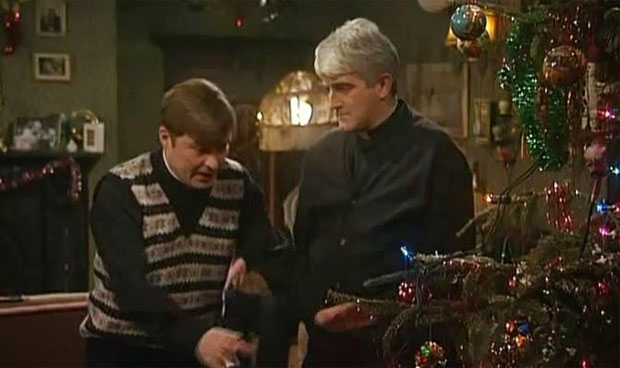 UK/Special/1996Aired on Channel 4directed by Andy DeEmmony and Declan Lowney, written by Graham Linehan and Arthur Mathews
A Christmassy Ted is a Christmassy tradition. Since its first broadcast in 1996, it's become a key part of the festive TV landscape, and it's hard to imagine a year going by without C4 or More4 dusting off the transmission tapes once again. Surprisingly, though, co-writer Graham Lineham isn't the biggest fan of the show. In both the DVD commentary and the Father Ted script book, he notes that he feels the episode runs too long – at nearly 55 minutes, it's well over double the length of a standard Ted – and he regrets pushing Channel 4 for an extra five minutes of airtime. It seems fair to say that any such concerns from behind the scenes haven't blighted the show's appeal to fans, though: so many memorable moments can be found in this gem. The Priest Chatback line, Ted's Golden Cleric award speech, Mrs. Doyle's devastation at her gift of a tea-making machine. Like all the great Father Ted episodes, the character comedy and farce are punctuated with just a touch of the surreal – Mrs. Doyle's increasingly convoluted windowsill falls never fail to amuse; the desperate, epic attempts of the gang of priests to evacuate "Ireland's biggest lingerie section" are sublimely ridiculous.
4. THE OFFICE (UK) – Christmas Special, Part 2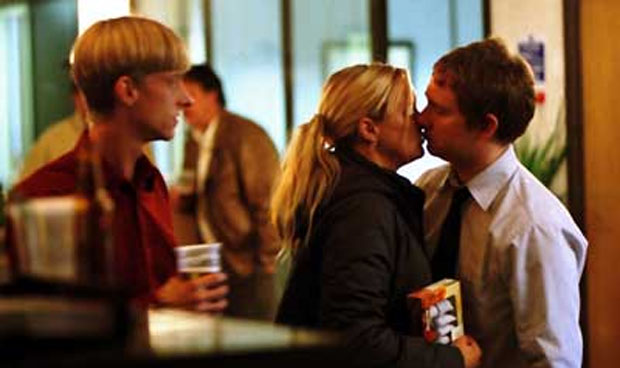 UK/Special/2003Aired on BBCdirected and written by Ricky Gervais and Stephen Merchant
Ricky Gervais and Stephen Merchant famously ended The Office at the height of its powers, after just two series and fourteen episodes. It was an act of remarkable restraint, but then again, few TV series end on quite the highs of Christmas Special, Part 2, an episode that resolves every major plot thread and concludes every major character arc with tenderness and affection. David Brent spends much of the episode seeking a date for the Office Christmas Party: as ever, he's made promises he can never live up to, and having left the office months earlier, pressure's on to look good upon his festive return. The trials and tribulations of his woman-seeking are utterly hilarious and completely in-character, but his crowning glory here is entirely independent of that: the final-act moment when he stands up to bully Chris Finch. As marvellous a character as David Brent is, though, this finale belongs to Dawn and Tim. Arriving back from the States with fiancé Lee for the party, Dawn's chemistry with Tim is immediately rekindled, and awkwardness gives way to friendship gives way to romantic inevitability. It's one of the most touching sequences in TV history, and it feels so genuinely earned. Fourteen episodes doesn't sound like a lot, but the story of Dawn and Tim is so complete, so perfect, that anything further would serve only to gild the lily. This is perfect television.
3. THE MARY TYLER MOORE SHOW – Christmas And The Hard-Luck Kid II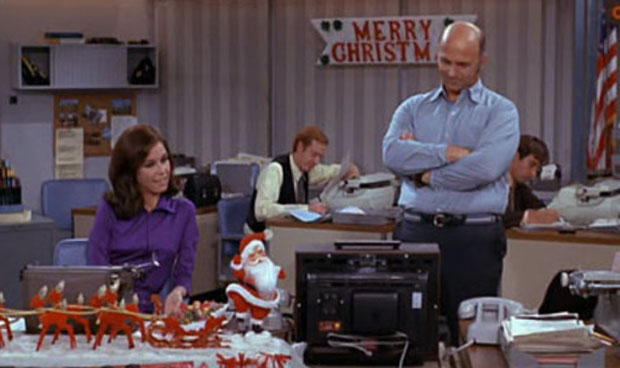 USA/Season 1/1970Aired on CBSdirected by Jay Sandrich, written by James L. Brooks & Allan Burns
Mary Richards' first Christmas working for WJM Minneapolis' Six O'Clock News is a rough one. "Christmas is just like any other day when you work in a newsroom", she's told – she has to work on the big day, leaving her unable to return home to her parents as promised. Plans to reschedule her festivities to Christmas Eve also fail, as a desperate co-worker begs her to cover his shift that day, too. Forced to make the best of a disappointing season, Mary prepares for a quiet holiday with friend and neighbour Rhoda, and finds surprisingly entertaining company in remote transmitter operator Charlie, with whom she communicates via microphone during her lonely festive shift. The Mary Tyler Moore Show signalled a tidal shift in the world of American sitcom, the first primetime comedy series to focus on a single, independent career woman, and its importance in trailblazing that route cannot be overstated. But it's also a wonderfully entertaining show, as funny and sharply drawn as you'd expect for a show co-created by James L. Brooks (The Simpsons, Taxi, Broadcast News). The show would re-visit Christmas later on, but this first festive episode truly nails the bittersweet feeling of the first Christmas from home, a funny and intelligent classic.
2. HEY ARNOLD! – Arnold's Christmas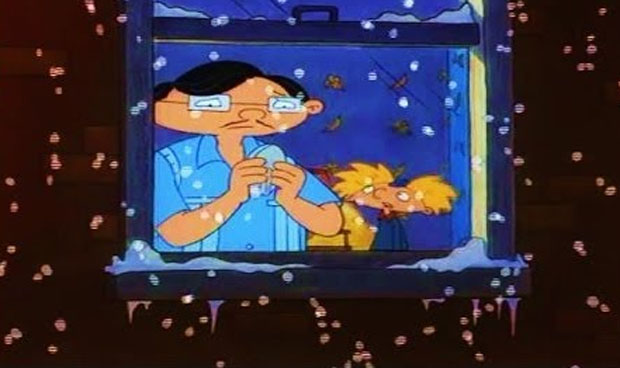 USA/Season 1/1997Aired on Nickelodeondirected by Jamie Mitchell, story by Craig Bartlett, Steve Viksten and Joe Ansolabehere, written by Steve Viksten
90s nostalgia has prompted wholesale revisitation of many childhood favourites, but few hold up to the scrutiny quite like Hey Arnold! The critically-acclaimed Nicktoon offered something truly different to other kids' cartoons, a funny fourth-grade perspective on big-city life imbued not just with awe and excitement but also a palpable sense of melancholy and a willingness to tackle life's big questions head-on. The stunning jazz soundtrack further distinguished the show from its brethren. The show's Christmas episode is its definitive moment: Arnold's boarding house is running a Secret Santa, and Arnold draws Mr. Hyunh, a Vietnamese restaurant worker. We learn that he gave his daughter to a US soldier during the Vietnam War, in a bid to secure her a safer life, and hasn't been able to track her down since. Arnold and his friend Gerald do their best to track her down as the big day imminently beckons. Meanwhile, eternally insecure bully Helga desperately yearns for the year's must-have Nancy Spumoni snow boots. The stories coalesce in a touching manner, leading to a real triumph-of-the-human-spirit conclusion guaranteed to deliver heartwarming festive feels. It's a deep Christmas special with an emotional intelligence far beyond its years.
1. FRASIER – Miracle On 3rd Or 4th Street
USA/Season 1/1993Aired on NBCdirected by James Burrows, written by Christopher Lloyd
Frasier was a truly magical sitcom, a show where the sum of the constituent parts – the stunning ensemble cast, the team of top writers – conspired to become something truly transcendent. (It might also be the only spin-off in television history to surpass its predecessor in quality – and that's no mean feat, Cheers is a fantastic programme.) Throughout its eleven years on-screen, we spent Christmas with the Cranes eight times, and a number of those episodes are exceptional holiday programming – but Miracle On Third Or Fourth Street, from the first season, is the finest. When Frasier learns that his son won't be with him for his first Christmas in Seattle – mum Lilith will be taking him on a once-in-a-lifetime trip to Austria – he slides into the slough of despond, arguing with dad Martin and writing off the holidays entirely, volunteering to work the Christmas afternoon slot at his radio station. Unsurprisingly, the callers to his call-in psychiatry show are particularly despondent themselves, and post-broadcast, he ventures to a cheap diner in a bid to drown his festive woes.
The episode, penned by co-creator Christopher Lloyd (no, not that one) and directed by sitcom legend James Burrows, is a masterclass in the juxtaposition of light comedy and dark drama: Frasier's day is dire, as Christmases go, but there's sunshine to be found and warmth to be had if you're willing to look in the right places. Humour is mined at every turn, as all the great Frasier scripts do: from act-one bickering over Christmas décor right through to Frasier's bitter sarcasm at the final diner scenes, laughs come thick and fast. What really sets the episode apart from the pack is its deftly-handled undercurrent of melancholy, the upset and resentment that seeps through the comedy giving way to more measured disappointment, before a neatly understated finale that leaves things on a warm note. It's an episode that captures everything great about the season: the family arguments, the disappointments, yes, but also the solace to be found in humility, the desire for joy and laughter, and the simple pleasure of spending time in the company of fellow man. "Miracle" is a microcosm of Christmas as a whole; it's the greatest festive episode of all-time.