Reviews
Tokyo Vice Is a Michael Mann Throwback
The Michael Mann-produced HBO Max series is an out-of-date crime drama that's still fun.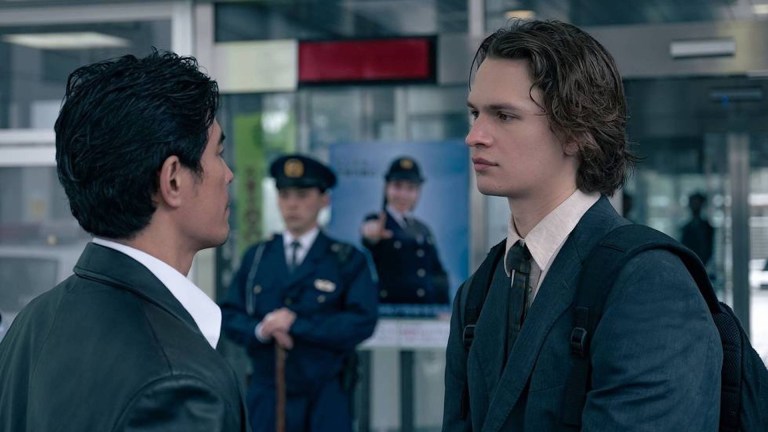 This Tokyo Vice article contains no spoilers.
HBO Max crime drama Tokyo Vice begins by going back to the past…twice.
The eight episode series opens in 2001. Floppy-haired journalist Jake Adelstein (Ansel Elgort) and Tokyo police detective Hiroto Katagiri (Ken Watanabe) enter into the top floor of a plush Tokyo restaurant to have a meeting – or more accurately be threatened – by the number two figure in a Japanese crime family. After the yakuza boss delivers his ultimatum (which amounts to "don't publish this story, or else") Tokyo Vice flashes back even further in time to the beginning of its story in 1999, when Jake is fresh out of college and preparing to apply at Tokyo's premier newspaper, Mainichi Shimbun (a fictional stand in for the real Yomiuri Shinbun).
Though the Y2K era may not feel that long ago to some folks *clutches Beanie Babies*, Tokyo Vice is very much a period piece. There's no issue with that, of course. Due to the statute of limitations, many good crime dramas take place in the past from Goodfellas to Boardwalk Empire to Peaky Blinders and much more. Michael Mann, who executive produces Tokyo Vice and directs the first episode knows the allure of both crime and history as well as anyone, having directed The Last of the Mohicans, Heat, and Public Enemies.
Tokyo Vice's clear-eyed love for a bygone era where men are men, dames are dames, and cigarettes are sweet is both the show's best and worst feature. This is a Michael Mann-ian throwback for better or worse. It's a classic story told well but it doesn't present any new tricks in the TV noir category.
Part of the reason why Tokyo Vice feels a little dated is because it is. The series is based on the real adventures of Jake Adelstein, an American journalist from Missouri who made a life for himself in Tokyo and ultimately published an action-packed 2009 memoir about his time there called Tokyo Vice: An American Reporter on the Police Beat in Japan. Had Tokyo Vice, the TV series, arrived closer on the heels of Adelstein's memoir, it may have had an easier time finding its place among the crowded TV landscape. For one, TV was far less competitive in the early 2010s but also the show's depiction of the professional journalism class feels even more ancient than its 1999 timeframe. It hews far more closely to the '70s All the President's Men era rather than our current content-saturated market.
Those who did not pay close enough attention to Tokyo Vice's trailer (like yours truly) might not realize that Elgort's Adelstein is a crime reporter and not some sort of suave private investigator. And those same people will also get a real kick out of the unbelievable amount of training, prep, and testing Adelstein has to go through to get a job at a newspaper. That Tokyo Vice presents an outdated media landscape is not necessarily a problem. Again, this is an avowed period piece after all. But it does make the existential question that all TV shows must face hard for the show to answer, that question being "so why are you here?"
Around 500 new scripted TV series are presented to cable and streaming subscribers a year (and that's not to mention unscripted content and existing programming). What makes Tokyo Vice cut through all that clutter? It's certainly not that the show presents anything new. Its story is old and its themes are older. It's also not the presence of Ansel Elgort, who despite being a capable actor, feels as though he's increasingly thrust upon audiences in stories that don't call for him…particularly given his history of past sexual assault allegations. There's also the fact that Tokyo Vice becomes the umpteenth story about a white man "finding himself" in Japan with an entire nation full of Japanese people as supporting characters. Funnily enough one of those Japanese people is often played by Ken Watanabe (The Last Samurai, Letters from Iwo Jima) who, like always, deserves better than what he gets here.
In the end, however, Tokyo Vice's argument as to why it should be watched comes to do mostly vibes. And it must be said that those vibes are quite good. Though dated as a hard-boiled crime noir, Mann and company make a compelling argument for why those types of crime dramas became so prevalent as to be cliché in the first place. Through the first five episodes screened for critics, Tokyo Vice is frequently a breezy, entertaining watch – even with beefy full-hour episodic running times.
Elgort, for once, doesn't feel out of place. His moppety enthusiasm for Jake's chosen culture comes through and he enjoys some clear chemistry with much of the Japanese cast, particularly with Shô Kasamatsu, who is great as brooding yakuza pup, Sato. Rachel Keller as beautiful club hostess Samantha (Legion) and Rinko Kikuchi (Pacific Rim) as Eimi largely rescue the show's two most prominent female characters from underwritten status, with the former continuing to prove herself as one of TV's most underrated actors.
More important than anything else though, is that the show's love for the decadently grimy Tokyo of the late '90s really comes through. As Jake follows his story from dance clubs to yakuza dens with stops made to chat with kindly widows throughout, it's not hard to see why he's left Missouri behind forever for his new home. Chain smoking whole packs of Japanese cigarettes while listening to the Backstreet Boys has never looked so good.
The first three episodes of Tokyo Vice are available to stream on HBO Max now. New episodes premiere each Thursday.