News
Titans Season 4's Huge Cameo Brings Back Classic DC History
Beast Boy's trip through the Multiverse in the latest Titans episode was an opportunity to pay homage to classic DC history.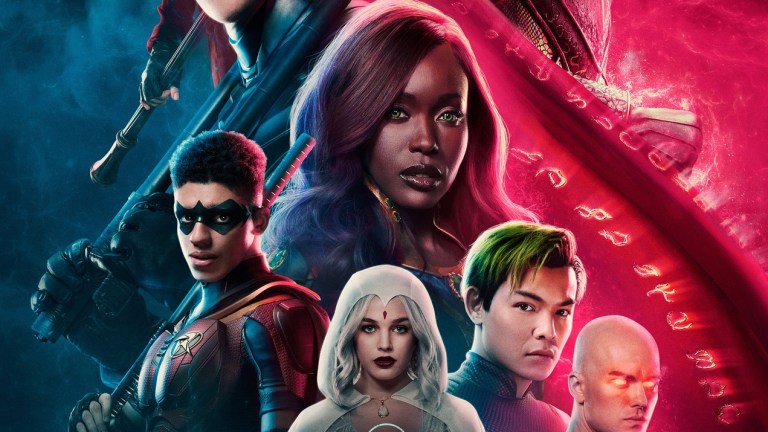 This Titans season 4 article contains spoilers.
With shows like Loki and movies like Spider-Man: Into the Spider-Verse, Marvel has established itself as the source for multiverse stories in television and film. But comic book fans know that Marvel was relatively late to the multiverse game, having been beaten to the punch several decades earlier by the DC story "The Flash of Two Worlds."
So it was more than a little satisfying to see Gar Logan aka Beast Boy take a trip through the Red that connects all of the DC worlds in the ninth episode of Titans fourth and final season, "Dude, Where's My Gar." As Gar (Ryan Potter) moves through the Red, we get glimpses of various other DC properties, including Courtney Whitmore (Brec Bassinger) of Stargirl, Swamp Thing (Derek Mears) from the short-lived 2019 series, as well as he and Cyborg's animated counterparts from Teen Titans Go! (voiced by Greg Cipes and Khary Payton, respectively).
But the biggest surprise was the appearance by a certain Scottish magician. One of the holes in the Red opens up to reveal a bald man in a library who looks at the Gar and says, "I can see you. Do you see me?"
That man is, of course, real-life comic book creator Grant Morrison, who has written nearly every character in DC Comics, and quite a few in Marvel as well. Morrison's dialogue in the scene draws directly from their groundbreaking run on Animal Man in the late '80s. In that comic book series, the titular hero is searching for the source of his suffering, a journey that leads him to Morrison's doorstep in Glasgow. Morrison explains to Animal Man that they have written all of the terrible things that happened to Animal Man's family for the sake of the readers. Then Animal Man turns around and faces the reader, shouting, "I can see you."
For episode writer Geoff Johns (based on a story he wrote with Potter), Gar's trip through the Multiverse gave him the perfect excuse to put Morrison in the show. "Because I was adapting a lot of what Grant Morrison had done in Animal Man with the Red and Freedom Beast, I thought it would be awesome if Grant themself was one of the people in the multiverse," Johns explained to DC.com.
Johns and Morrison have a long history of collaborating at DC Comics, most famously as two of the five main creatives on the 2006-2007 series 52 (along with Greg Rucka, Mark Waid, and Keith Giffen). "Grant is the master of the multiverse to me, which is why it was important to tip my hat to them," Johns said. "It was an opportunity for me to say thank you."
Of course, this isn't the only time this version of the Titans have been involved in a multiversal adventure. The Titans briefly appeared bathed in red during the Arrowverse Crisis on Infinite Earths crossover. And as that storyline taught us, all DC stories are in canon, and all parts of the multiverse exist. And that was a lesson today's writers learned by following people like Grant Morrison.
Titans season 4 streams Thursday on HBO Max.