Features
Tim Mielants interview: directing Legion season 2
We spoke to director Tim Mielants about his work on Legion season 2 and Peaky Blinders season 3...
Belgian director Tim Mielants made his name in his home country by directing multiple episodes on the shows Code 37, Zingaburia and Cordon. It wasn't long before English language TV came knocking: he directed two episodes of The Tunnel for Sky Atlantic, before being snapped up by the BBC to direct the entirety of Peaky Blinders series 3. Since then, he's directed three episodes of Legion (Fox's X-Men TV series headed by Fargo's Noah Hawley) and four instalments of The Terror (AMC's frightful thriller set in the frozen arctic).
Last month, we were connected with Mielants by an international phone line to chat about his work on Legion. He directed season 1 episode 5 of the Dan Stevens-starring surreal superhero series, before being called back by showrunner Noah Hawley to shoot season 2 episode 1 and season 2 episode 5…
When you first got involved with Legion for season 1, what was that process like? Did you get in touch with Noah Hawley or did he reach out to you?
I think Noah told me he saw season 3 of Peaky Blinders, and he was very intrigued by how I approached directing it. And so he sent me a script, and I read it, and I thought, like, 'Woah man, I can't do this. I think it's great, it's amazing, but I'm not the right guy for this. I think I can't pull that off.' And then we talked over the phone, and I said to Noah, 'The reason why I don't think I'm the right guy is because I got no Marvel experience. In Europe we don't read the comics, we only know Asterix. So it's not my part of the world. But I'm still a big fan of surrealism.'
And he said, 'Yes, that's actually what I need. I want to have that crossover.' And that's how I started getting involved in the series. It was a beautiful experience.
That first script that he sent you, was that the episode you ended up directing?
I think it was the first episode? Don't get me wrong, I thought it was beautiful and wonderful. It was something I had never read before. I was just worried, as you can imagine, like, how is it all going to be? What is it all going to look like? I was worried and afraid, but I'm so happy that he turned me over and I gave it a shot.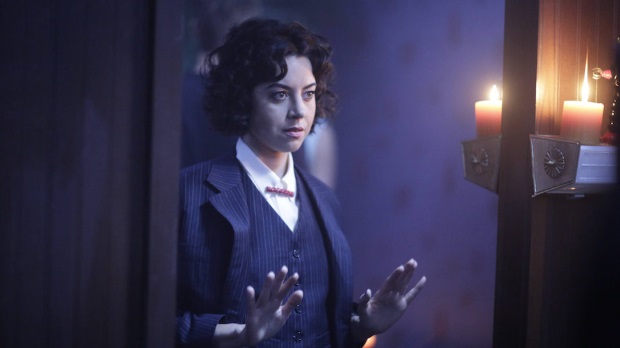 On the first episode of Legion that you directed, season 1 episode 5, what were the biggest challenges? Which scenes or shots were hardest to get?
What was very challenging was the mirror scene. The big mirror sequence. It looks probably easy, but it was like, Noah always pushes me to approach every sequence in the most practical way, not to use so much CGI. So, what I did was like, not to use mirrors, but like, mirror the rooms. Build another room. The mirror version of the room. And there's no mirror in the centre. And I used body doubles and I made like a double door, so the actresses were running from one door to another door. It was what we called a one-shot thing, where we feel as if it is a mirror image in the mirror.
That was very challenging because I got it all figured out, but you're never sure if it's going to work. It worked for practical reasons. The thing is, nobody talks about it. I am so proud of it! Nobody realises it is actually a body double. It's very frustrating, like, it was too good a mirror image! [Laughs] It's a frustration.
What's it like working with a showrunner who's also a director? Does Noah Hawley have a lot of input and feedback for you as you go, or does he leave you to it a bit? How does that relationship work?
Yeah, I got the biggest respect for Noah. I think, for me, he's one of the most interesting television makers at the moment. I approached this in the most humble way, so whatever I can learn from him, I'm just open for everything. And I want him to like whatever I do. But at the same time, he wants you to have a personal touch and to give a personal connection to the material. You come up with ideas with references and he says 'Yes I like it' or 'No I don't like it' and step by step, scene by scene, it's very trial and error. That's what it is. We do it together, really.
Season 2 episode 1 obviously sets up a new status quo, where it's jumped forward a year and lots of things have changed. Did it feel like you were making the same show as season 1, or did it feel very different for season 2?
To me, it feels very different. I think Noah, he never makes season 2. It's always a new show, in a way. I think Fargo is a good example, but I think it's the same with Legion. I think it feels to me, he always says, 'This is a new show. Look at it as a new show.' We kept the same characters, but we can approach it from a different perspective.
One of the really memorable things for me in the season 2 premiere is all of those chattering teeth. What was it like filming that and making it scary? I imagine it was quite strange in the room, to be filming that?
Yeah, we always knew that the sounds would build up. So it was like, imagining what the sound will be like when you see it in the edit. And yeah, we were very lucky. It seemed to work, so, yeah. We got lucky there.
Yeah, it came out very well! And the dance battle in the nightclub will go down as a very memorable part of the episode, as well. How much planning went into that and how long did it take to shoot?
We shot it in one day, but we had a lot of camera set ups. We talked about Dancing In The Dark, and how Lars von Trier shot his dance sequences from very different angles. What the dance sequence is… most of the time, in Marvel shows, you get at the end of the episode a big fight battle. And Noah said, 'What if we don't do the fight battle? What if we do a dance sequence? It can appear as a fight sequence.' So that was very challenging, 'Right, how can we make it aggressive enough? How can we make the dance sequence look like as if it is a fight sequence in a way?'
And we came up with wind machines and vibrating cameras and lights and flares and everything. But we were collaborating with choreographers, so, we did rehearsals for a long time.
When you watch the finished sequence, the editing is in such a rhythm with the dance moves. Before you filmed it, did you have an idea of which bits you would want to cut into at a close angle?
Yeah, I knew that, if I can cross cut from extreme angles, it will appear aggressive or powerful, and that's something I had in mind from before we started shooting.
You've also directed episode 5 of season 2, which is coming out very soon. Can you tease anything about that episode? Was there a scene in that one which was kind of the big one?
It's an interrogation episode, so it's a little bit… what's very challenging is like, 'How can we keep that Legion approach?' And you'll have to look for yourself whether or not we succeeded in it. That was the big challenge, and it's nice to work on that idea. So there is an upside-down room… you'll get to see it.
I look forward to it!
When you direct an episode of Legion, how much information do you get about where the story is going in the long term? When you watch it as a viewer it feels like lots of random things, but when you look back at the end of the season it makes a bit more sense. When you direct, do you get to know more?
Yeah, I get a proper sense. They explained me everything, so I knew, straightaway, I understood that the main characters are at the centre of it and that you have to be emotionally engaged with them. It's about them, and it's about their relationships. That's something, and I know where everybody will go to – what the arc will be – and I think that's very important for me, to understand to direct those episodes.
Was it strange for you to go from doing a whole season of Peaky Blinders into doing individual episodes of things again?
Yeah, I always love to do a marathon. Like Peaky, or Cordon in the past. Then you are involved in every step of the character, you know where they are going to. But at the same time, Legion has totally different challenges. Like, we often have, 'How the hell are we going to do this?' So it would be rather impossible for me as a director to do a whole season… I feel like, Legion, that would be suicidal.
Just before I go, I'd like to ask very quickly about the Russian orgy scene that you did on Peaky Blinders.
[Laughs] Yeah?
My editor spoke to Paul Anderson about it, and he said that "the director didn't hold back" when shooting it. What are your memories of that day? How did you create that atmosphere, and how did you kind of pull it all together?
I think all the credit goes to the guys who brought all these people together, because they were really going for it! They were just going for it. [Laughs] It was extraordinary to look at and to be involved with it through the filming process. It was very remarkable, and it was an experience. All the credit to the casting guys, yeah, absolutely. It was mental, and a lot of fun.
Tim Mielants, thank you very much!
Legion continues Tuesdays at 9pm on FOX here in the UK.