Features
The Wheel of Time Season 2 Reveals Characters Wrestling with Fate
It's not just the Dragon Reborn who must contend with destiny in The Wheel of Time season 2; his friends also have their parts to play.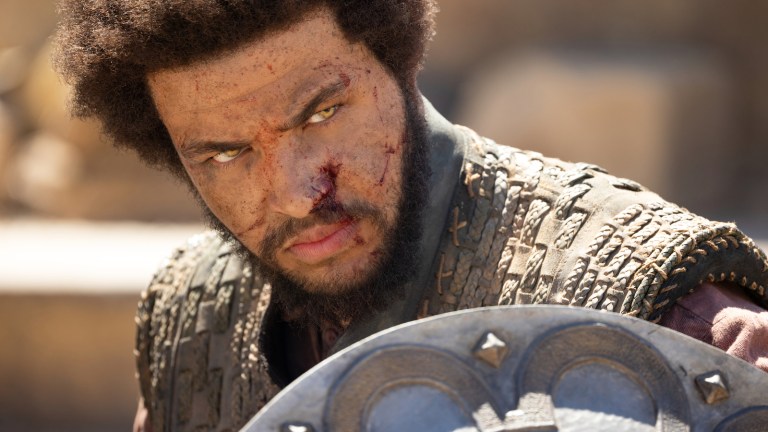 Note: These interviews took place before the SAG-AFTRA strike began on July 14.
The dangers of the quest unfolding in The Wheel of Time aren't just about defeating the Dark One; there's also the question of whether the Dragon Reborn will be a champion for good or evil. Similarly, the others in Rand Al'Thor's life must choose their path or have it chosen for them. Several of those who portray these other destiny-driven characters on the show spoke with us about the fate that steers their lives in season 2.
Perhaps few characters felt the battle between good and evil within themselves more than Mat Cauthon, portrayed in season 2 by Dónal Finn. Having been corrupted by the tainted dagger he acquired in Shadar Logoth, Mat now has some decisions to make during his recovery. "He has to turn inward and get reflective and be introspective about the behaviors and the choices that he made in season 1 and what's brought him here. I think that kind of fuels a sense of redemption for him," says Finn, who inherited the role from Barney Harris.
Finn understands that his character is struggling with the same question that many of his peers are dealing with; specifically, how much control do they really have? "That's something that's motivating him throughout the season: questioning what his role is and what kind of person he wants to be," he says. "Because such a big factor of The Wheel of Time is the idea of destiny and predetermination and if we have a say in where we end up."
Meanwhile, Perrin, played by Marcus Rutherford, seems to be worried that his abilities could be more dangerous than helpful, but he is introduced to a mentor of sorts in The Wheel of Time season 2 named Elyas (Gary Beadle). "It's quite a scary concept to come to terms with, but I think he's started to feel that there's something within him that's a bit different that he's almost too scared to admit it," says Rutherford. "That animalistic rage is something that he's really scared to even think about again, and Elyas is making him question that as we come into season 2."
With many of the characters scattered to the winds in The Wheel of Time season 2, Perrin's isolation could give him the time to understand his powers, and Rutherford mentions that Elyas' advice will support that idea. "[Perrin] feels quite separate from everyone else, and what Elyas is showing him is a different life that is quite daunting to be fair: to be living out in the woods away from other people," says Rutherford. "He's telling him that the Aes Sedai and other people won't understand him."
A new character who seeks to embrace the Aes Sedai way is Elayne, played by Ceara Coveney. Elayne's fate is tied to her royal upbringing, but her wealthy pretentiousness is tempered somewhat by her interaction with Egwene as a fellow novice at the White Tower. "There is a certain groundedness that comes with knowing your fate from the day you were born. And I found that it really helped to bounce off Egwene," says Coveney. "I think Elayne is very much trying to make friends and work around the other characters that she interacts with, so it definitely made it a lot easier."
Elayne is a favorite character of many readers of Robert Jordan's The Wheel of Time novels, and Coveney hopes that her matter-of-fact portrayal will appeal to viewers as well. "I really wanted to focus on the fact that this was her reality and she doesn't know any different," she says. "She doesn't necessarily play into royalty because that's just who she is. I think the challenge of the fantasy genre is that, as much as all of these things are so magical and mystical and mythical, to the characters it's their reality."
As for the Dragon Reborn himself, Josha Stradowski was very coy about what lies in store for Rand Al'Thor, who, by letting everyone think he is dead, has separated himself in a journey of self-discovery in The Wheel of Time season 2 that best illustrates the battle with fate. "Prepare to see a Rand who is running away from himself," teases Stradowski, "but also be prepared to see a Rand who is finding himself."
This is of course only a few of many other characters fighting their own destiny in The Wheel of Time season 2, and fans are anxiously awaiting to see where everyone else has ended up since the events of last year's finale. The Prime Video series returns with its first three episodes of the season on September 1, 2023.