Features
The Wheel of Time: Rosamund Pike Teases a 'More Human' Moiraine in Season 2
Last season's The Wheel of Time finale placed Moiraine in a more vulnerable position, allowing Rosamund Pike to branch out in season 2.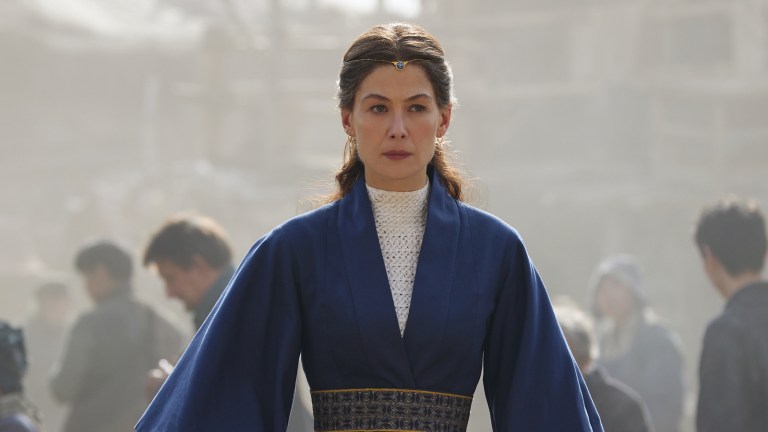 Note: This interview took place before the SAG-AFTRA strike began on July 14.
As most good finales do, the end of The Wheel of Time's first season placed many of its characters in completely different situations than those they found themselves in throughout the earlier part of the story. As the group of Two Rivers exiles fractured, Moiraine, the woman who protected them and most understood the conflict at hand, also found herself broken. Rosamund Pike, who portrays Moiraine, spoke to us about the changes in store for her character in season 2.
When an Aes Sedai is stilled, she becomes disconnected from her source of power, but it's about more than just losing the ability to weave spells. Being cut off from the True Source is like missing a limb. "Losing the Power, for an Aes Sedai, is akin to losing some essential part of yourself," says Pike. "It's like entering a deep depression, and we come to know that many women who have been cut off from the Power have killed themselves within a year. Now it says a lot for Moiraine's resilience that she does not do that and instead she hunkers down."
But hunkering down can also mean cutting oneself off from those who could support her in her depression, including her Warder, Lan (Daniel Henney), who is also experiencing a loss by having his intimate connection to Moiraine severed. Being stilled has removed that magical bond. More than that, Pike mentions that we'll learn about other similar losses in her character's life in The Wheel of Time season 2.
"Prepare to see a more human Moiraine than we've seen hitherto," she says. "Prepare to see a Moiraine battling against the biggest loss of her life so far, probably since her father, which we also come to understand something of later in the season." Although the Aes Sedai must deal with her own feelings, it's likely the dynamics of family and relationships will also need to be seen in a new light.
It's not unlike what Pike herself went through in joining the production of The Wheel of Time in Prague, far from her own family. "An actor's life is always — if you've ever had memories of your first day at a new job and all the anxiety that goes with that and meeting new people, then we do that three times a year as an actor: meet an entirely new 150 people that we're working with. But it's been very nice to have, for the last four years, some consistency as well as this amazing playground of [author Robert] Jordan's imagination to create in."
Fortunately for Moiraine, there are other powers she will have at her disposal in The Wheel of Time season 2. "She relies on her smarts, her wit, her incredible network of spies," says Pike. "She's in the Blue Ajah — it's like MI6 — and we start to see all of those other things in play when we've almost been beguiled by the One Power. That's been the biggest firework in the sky when it comes to Moiraine. But now we see what she's about underneath that, and she fights the same enemies but without her greatest weapon."
Fans of The Wheel of Time will be able to see for themselves the aftermath of Moiraine's loss of power when the show returns to Prime Video with its first three episodes premiering on September 1, 2023.