News
The Watch Trailer: A Punk Rock Take on Discworld
The new trailer for BBC America's The Watch reveals a chaotic city guarded by a band of magical misfits from Terry Pratchett's Discworld.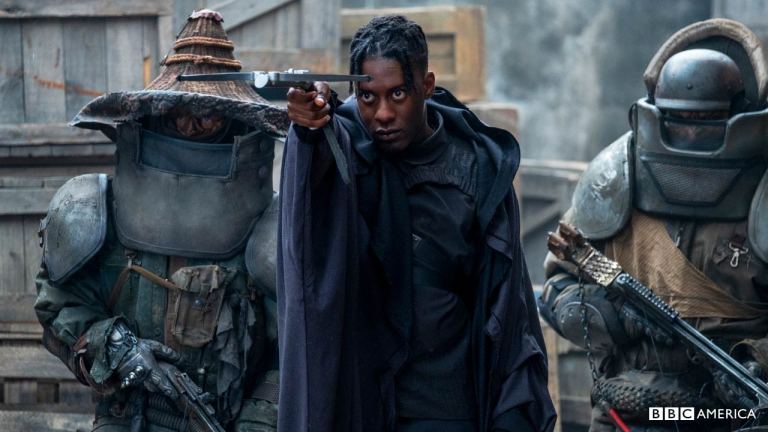 Make no mistake: The Watch is inspired by Terry Pratchett's Discworld offshoot series, The City Watch, but the BBC America series is very much its own animal, much the way Dirk Gently's Holistic Detective Agency took its own direction from Douglas Adams' novel on the same network. However, if the trailer coming out of New York Comic-Con's virtual panel is any indication, there's plenty of chaotic fun to be had in this version of the story.
The eight episodes of The Watch's inaugural season will follow recognizable characters such as City Watch Captain Sam Vimes (Richard Dormer), the last scion of nobility Lady Sybil Ramkin (Lara Rossi), the naïve but heroic Carrot (Adam Hugill), the mysterious Angua (Marama Corlett), the ingenious non-binary forensics expert Cheery (Jo Eaton-Kent), the dictatorial Lord Vetinari (Anna Chancellor), and Pratchett's iconic personification of Death voiced by Wendell Pierce.
The Watch is described as a character-drive, punk rock thriller which will follow the City Watch "as they fight to save a ramshackle city of normalized wrongness, from both the past and future in a perilous quest." In the NYCC panel, cast and crew spoke of the guards having to adjust their views of justice in a city full of assassins, thieves, and a city leadership indifferent to crime. Although the trailer below doesn't reveal much, it's clear that Captain Vimes and his regiment are often left to their own devices.
The Watch has met with some skepticism from fans of the Pratchett novels who feel the city of Ankh-Morpork, its City Watch, and the larger Discworld series deserved a more faithful adaptation. Executive producer Richard Stokes spoke to this in the panel on October 9, 2020. "The books are incredible," he said, "but what was very clear from the early part of development was that none of the books individually lend themselves to an eight-part series… so we had to do a sort of pick-and-mix of the best bits across the range of books and invent our own series, invent our own world."
Showrunner Simon Allen is the inventor in question. "With events in our own world making the insanity of Discworld seem outrageously familiar, there couldn't be a better time to bring Terry's fun, fire, and fury back to the small screen or a better place than BBC America," he said when The Watch was originally greenlit. "The Watch is a distinctly British but defiantly global, exhilarating thriller that is disruptive in its approach to the fantasy genre and also big on the themes of mortality, inclusion, alternative facts and justice."
The panel also revealed January 2021 as The Watch release date, without being more specific than that. Stay tuned for more news as it becomes available.