News
The Walking Dead Season 11 Episode 24: Series Finale Release Time and Season Recap
The Walking Dead comes to an end with season 11 episode 24. Here is where and when you can watch the zombie series' swan song.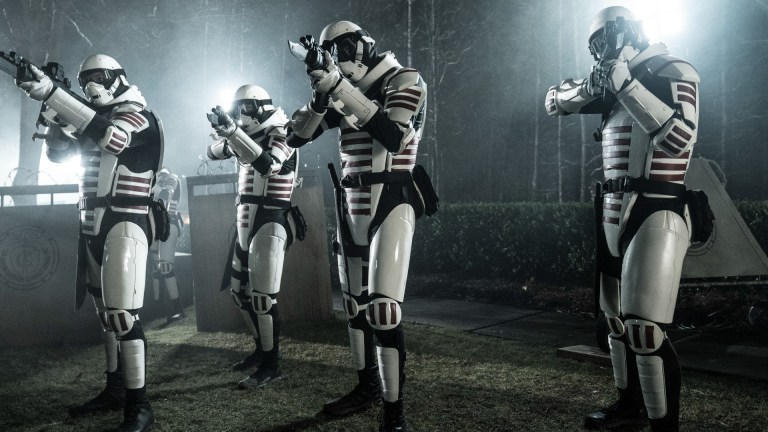 The end is almost here. The Walking Dead, the show that wanted to live forever, is now coming to a close…sort of. Though the series based on Robert Kirkman's long-running zombie comic of the same name is airing its series finale on Nov. 20, the franchise itself will carry on in the form of numerous spinoffs.
Still, spinoffs or no, this is a fairly big moment in genre TV history. First premiering on Halloween night 2010, The Walking Dead was an instant ratings success for AMC and remained as such for much of its 11 seasons. It helped usher in a new era of fandom-friendly television for its network (which was coming off big prestige hits like Mad Men and Breaking Bad) and helped bring zombies back into the mainstream. With the 24th episode of its 11th season, The Walking Dead will finally be calling it quits.
It's been quite the ride for undead soap opera. Like many other TV shows that reach double digit season-orders, it cycled through several show runners (starting with Frank Darabont, before moving on to Glen Mazzara and Scott Gimple before settling on Angela Kang for the past few seasons). It also featured quite a few notable casting shakeups, losing its main character Rick Grimes (Andrew Lincoln) midway through season 9 and saying goodbye to other heavy hitters like Michonne Hawthorne (Danai Gurira), Glenn (Steven Yeun), and even Carl Grimes (Chandler Riggs).
The show's final season has focused on its central collection of post-apocalyptic survivors, led by Daryl Dixon (Norman Reedus) and Carol Peletier (Melissa McBride), as they struggle to overcome the authoritarian nightmare of a community known as The Commonwealth. Here is when you can expect to watch the final episode and a brief recap of everything that's happened in season 11 thus far.
When Does The Walking Dead Series Finale Come Out?
The Walking Dead season 11 episode 24, the series finale titled "Rest in Peace," will premiere Sunday, Nov. 20 at 9 p.m. ET on AMC. Typically, AMC streams its shows one week early on streaming service AMC+. That will not be the case for the TWD finale. In lieu of an early look at the finale last week, AMC+ subscribers were treated to a special called The Walking Dead: The Making of the Final Season. Per its TV Guide listing, "Rest in Peace" will be a super-sized episode that runs until 10:30 p.m. ET.
Naturally, AMC is making a big deal of this long-awaited finale. Fans who tune into the network at 8:30 p.m. ET will be able to check out The Walking Dead: Red Carpet Live, a Chris Hardwick-hosted event that will be "a mix of The Walking Dead cast arrivals on the red carpet, a look back at some of The Walking Dead's greatest moments, and teasers to the highly anticipated series finale. Following the episode at 10:30 p.m. ET will be the final episode of The Talking Dead, also hosted by Hardwick.
The Walking Dead Season 11 Recap
The Walking Dead's 11th and final season consisted of three parts of eight episodes each. This means that episode 1 premiered all the way back on Aug. 22, 2021. In case you've forgotten everything that happened since then, here is a brief rundown of The Walking Dead season 11 at large (not just the preceding seven episodes leading into the series finale).
The Reapers
The first third of The Walking Dead season 11 deals with Alexandria's conflicts with a group of post-apocalyptic paramilitary types know as "The Reapers." When crops fail at Alexandria and our heroes face some food insecurity, Maggie (Lauren Cohan) comes up a plan to scavenge Meridian – a place she lived after leaving with Georgie's crew, which was eventually taken over by The Reapers.
The conflict spans all eight episodes and includes the discovery that Daryl's former girlfriend Leah Shaw (Lynn Collins) is a member of the Reapers. She rises to leadership after executing Pope for not caring enough about his people. Eventually Maggie, Daryl, Negan (Jeffrey Dean Morgan) and company emerge triumphant over the Reapers.
Eugene's Group At The Commonwealth
While the rest of Alexandria/Hilltop/Oceanside/Kingdom deals with The Reapers, Eugene's group consisting of Eugene (Josh McDermitt), Ezekiel (Khary Payton), Yumiko (Eleanor Matsuura), and Princess (Paola Lázaro) endure a lengthy intake process at the Commonwealth.
The Commonwealth is an enormous community and as such there are many bureaucratic games to get through to become a resident. Ultimately, Eugene and company are granted access to the safe haven within the Commonwealth's walls. Yumiko is granted a job as a lawyer befitting her pre-apocalyptic legal experiences, while the rest of the group gets more working class tasks. Eugene runs into some trouble when he punches Governor Pamela Milton's (Laila Robins) spoiled son Sebastian (Teo Rapp-Olsson).
Alexandria Meets the Commonwealth
At the conclusion of episode 9 (the season 11 part 2 premiere) The Commonwealth makes first contact with Alexandria, having received its location from Eugene. We then flash forward to six months later to discover that Daryl is a member of The Commonwealth's white "clam shell" armor-clad soldiers while Maggie is still in charge of Hilltop and resisting assimilation.
Aside from Maggie's political disagreements, things seem to be going pretty well for the Alexandrian folks in The Commonwealth. The ice cream is abundant and the healthcare is effective…albeit with a long waiting list that much of the working class folks can't seem to crack. During this time, Eugene discovers that the woman who he thought was Stephanie was actually Max Mercer (Margot Bingham), super soldier Michael Mercer's (Michael James Shaw) sister.
The Rotten Core
As if it weren't clear enough by that healthcare fiasco, things in The Commonwealth aren't what they seem. Sure, there is the usual level of political corruption one might expect from a large geopolitical entity, but way down in the rotten core of the society, things are really bad. Governor Milton's helper Lance Hornsby (Josh Hamilton) is running all sorts of selfish schemes that put the community at risk, including one led by Sebastian that sends poor people out into the zombie-saturated world looking for treasure to bring back (they all mostly die).
Meanwhile, the every day folks at The Commonwealth are starting to get fed up with how unfair everything is. As evidenced by a disgraced former soldier named Tyler Davis (Cameron Roberts) freaking out, it becomes clear that the center of Commonwealth society cannot hold.
R.I.P. Sebastian
And fall apart The Commonwealth does, thanks to the actions of Eugene and Max. Pamela, looking to move past all of these ugly allegations about corruption, holds the city-state's usual anniversary celebration. Unfortunately, she plans to feature Sebastian in it heavily to assure citizens that he's not the spoiled brat he seems.
Welp, he is. And Max gets Sebastian on tape bragging about how Commonwealth citizens are dumb sheep. She and Eugene play that audio over the anniversary ceremony, triggering an angry riot. In all the chaos, some walkers (who were previously Commonwealth janitors killed by Lance's goons) bite and kill Sebastian.
Eugene on Trial
Naturally, Pamela moves to make Eugene, the most outspoken and rebellious of the Alexandrians, the scapegoat for Sebastian's death. He is placed on trial for his crimes with the expectation that fellow Alexandrian Yumiko will prosecute him. Instead she operates as his defense attorney. Eugene is found guilty in a sham trial anyway. Thankfully, the Mercers arrive at his holding cell to rescue him.
Outpost 22
While Eugene goes on trial for his "crimes," the rest of his group is rounded up and placed on busses heading off to a terrifying work camp known as "Outpost 22." There, the fully authoritarian Commonwealth soldiers work them down to the bone on a project to build a railroad route between The Commonwealth and another community. That community's name? Alexandria.
Yes, Negan, Ezekiel, Kelly (Angel Theory), and whole bunch of other folks are in an Alexandrian work camp. Negan and Ezekiel are able to lead an uprising to overthrow their Commonwealth jailers. Meanwhile, Daryl, Carol, Maggie, and Connie (Lauren Ridloff) sneak through the Alexandria sewers to rescue baby Hershel. Unfortunately they cannot find Gabriel (Seth Gilliam) and Rosita's (Christian Serratos) daughter.
The Governor Unleashed
In the penultimate episode of The Walking Dead, the liberated prisoners of Alexandria and a handful of Commonwealth defectors board a train back to the city to overthrow Pamela. Unfortunately Pamela sniffs out the fact that Mercer is helping the Alexandrians and lays a trap for them in The Commonwealth train station.
A shootout ensues, killing Tyler Davis and seemingly mortally wounding Judith Grimes (Cailey Fleming). Daryl orders a hasty retreat and the group runs off to to the hospital to find treatment for Judith. Unfortunately, a whole group of (unusually intelligent) walkers have breached The Commonwealth gates. Pamela plans to hide in the estates while the walkers tear apart the lower class of the city.
Going into the series finale, all of our characters are trapped inside The Commonwealth with walkers bearing down on them, save for one group still on the outside. That consists of Aaron (Ross Marquand), Jerry (Cooper Andrews), a recently one-armed Lydia (Cassaday McClincy), and maybe Elijah (Okea Eme-Akwari) if he's not dead already.