The Umbrella Academy Season 2 Opening Scene Debuts
Netflix has unveiled a first look at the apocalyptic opening minutes of The Umbrella Academy season 2.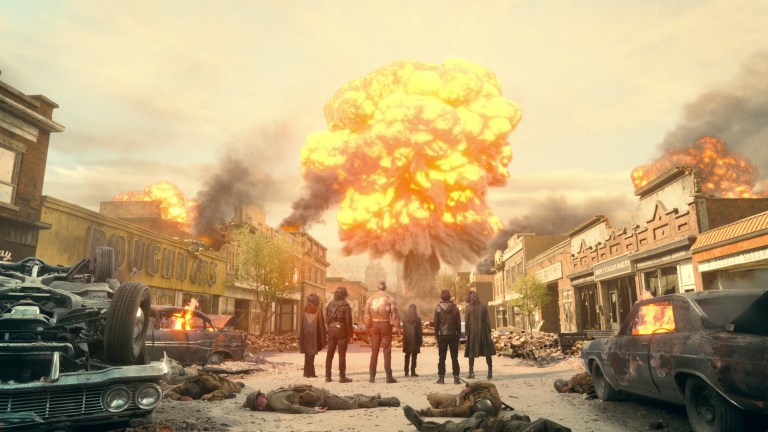 The Umbrella Academy season 2 is about to come back with a bang…a big, big, big, big bang.
Netflix has released a first look at The Umbrella Academy's second season in advance of its July 31 premiere. And it isn't just any old clip, this is the second season's opening act. Keep that in mind as you watch the unexpectedly climactic three minutes below.
If Netflix doesn't make viewership data public then it sure doesn't make show budgets public either. It's fair to assume, however, that Netflix originals that perform well in their first season are bound to receive some more cash for their second. And the most compelling evidence we have for that yet is in that clip you see above.
There is some decidedly epic stuff going on here. As has been previously revealed, The Umbrella Academy season 2 opens with the Hargreeves siblings arriving in the early 1960s. And as if usual time travel wasn't complicated enough, each Hargreeves arrives at a different point in the timestream. Number Five (Aidan Gallagher) is the last to get plopped down. In the clip we see his first moments in Dallas, Texas on November 25, 1963. It just so happens that those are also humanity's last moments on Earth.
Yes, The Umbrella Academy season 2 begins with the end. Though the show was always quite apocalypse-focused in its first season, this season ups the ante by just getting the apocalypse out of the way early on. That apocalypse involves Soviet troops on American soil, nuclear launches, and a healthy dose of Frank Sinatra's "My Way." Thankfully it also involves temporally displaced former assassin Hazel (Cameron Britton) to provide Five with some instructions.
"If you want to live, come with me. There's no time to explain. Those are nukes, old-timer," Cha-Cha's former partner says.
Five listens to his old enemy and jets off to times unknown to regroup and figure out a way through this. The Hargreeves who Five leaves behind aren't so lucky.
In addition to being a bold, explosive attention-grabber, that opening scene serves as a pretty useful introduction to the show's returning characters. While some fans were frustrated by The Umbrella Academy's hesitancy to use their powers in season 1, all those powers are on full display here. Vanya (Ellen Page) uses her mastery of sound to truly destructive ends. Klaus (Robert Sheehan) summons a ghost army of U.S. soldiers. Luther (Tom Hopper) is very strong and very angry. Allison (Emmy Raver-Lampman) can manipulate reality through her lying. Ben (Justin Min) is still dead but also has monsters coursing through his ghostly form. Diego (David Castañeda) can…flip and stuff.
All 10 episodes of The Umbrella Academy season 2 are set to premiere on July 31 on Netflix. Unless the world retroactively ends on November 25, 1963 of course.