Features
The Timeless Yet Underappreciated Allure of Eva Green
Eva Green's latest project, The Luminaries, premiered this week on Starz. From Casino Royale to Penny Dreadful, let's take a look back at the French actress' prolific yet underrated career thus far.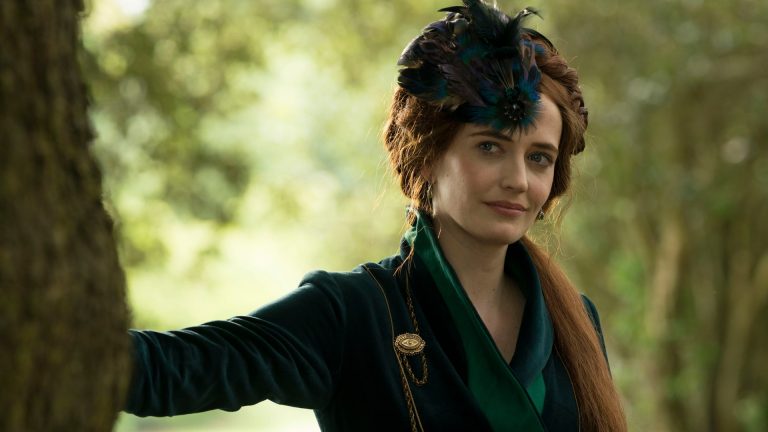 It's 2006. James Bond, as rendered in this particular iteration by franchise newcomer Daniel Craig, is on a train to Montenegro as he prepares for his upcoming mission: a poker tournament, where he will compete against the notorious private banker and criminal mastermind known as Le Chiffre (Mads Mikkelsen). However, there's one factor Bond hasn't taken into account, and it's the well-dressed woman in a business suit who elegantly sits herself across from him in the train car. But Vesper Lynd (Eva Green) isn't merely the agent to the British Treasury that she asserts herself to be — over the course of the story she'll become the first woman that Bond truly, deeply gives his heart to, as well as the first one to subsequently break said heart. Hers is a role that demands assertiveness and vulnerability, a captivating beauty with a keen mind, and someone audiences would absolutely believe capable of being The One Who Got Away, the woman all of Bond's future romantic entanglements or physical diversions can never quite measure up to. With all of that in mind, it's no wonder that producing team Michael G. Wilson and Barbara Broccoli, as well as casting director Debbie McWilliams, were drawn to a French actress who had only starred in a handful of films before Casino Royale.
For Eva Green, Vesper Lynd was the part that would cement her status as a name on the rise, but her acting career had begun just three years prior. With The Dreamers, in 2003, Green starred opposite fellow French actor Louis Garrel as artistically inclined siblings who become entwined with an American exchange student, played by Michael Pitt. The film was helmed by controversial director Bernardo Bertolucci, and in an interview with The Guardian after the release of Casino Royale, Green spoke about how both her agent and her own parents attempted to discourage her from taking the part considering Bertolucci's reputation for not allegedly securing his actors' consent (most notoriously with Maria Schneider on the movie Last Tango in Paris). Ultimately, Green stated there were no issues between herself and Bertolucci during production, and the end result is a film that unflinchingly speaks to her talents as an actress. She gives the character of Isabelle depth that indicates a sort of ageless wisdom in certain scenes, but other moments have her displaying naivety that reveals just how young and inexperienced she truly is. It was this performance that soon led to director Ridley Scott casting Green as Sibylla in his 2005 movie Kingdom of Heaven, a role she accepted only a week before production.
When it came to potentially playing a Bond girl, however, Green had reservations; she turned down the role when it was first extended to her, but reportedly came around to the idea after she had an opportunity to read the script and saw that the character was being written with more complexity than a mere sexual object. Now, 15 years later, it's almost impossible to envision anyone else bringing the alluring and guarded character from Ian Fleming's original novels to life on-screen. Vesper is the first woman James Bond truly develops romantic feelings for, and, st simultaneously, she is the one most easily poised to completely destroy any chance he has at finding love again. This potential is realized after her cutting betrayal and subsequent death. Green won several awards for her portrayal, and it was arguably this role that catapulted her into recognition. It seemed that, in spite of Green's initial fears that she would be typecast post-Bond, only the sky was the limit when it came to future projects.
However, Green's career since has largely consisted of smaller, independent films interspersed with the occasional big-name property. She has led movies like the simmering psychological thriller Cracks (which was directed by Ridley Scott's daughter Jordan) and sci-fi drama Womb, enjoyed a short-lived stint in the role of Morgan le Fay on Starz's Arthurian-set series Camelot, and was the first actress to inhabit the role of the witch Serafina Pekkala in the film adaptation of Philip Pullman's The Golden Compass. She has also starred in a total of three Tim Burton films to date, beginning with Dark Shadows in 2012 (based on the famous soap opera), Miss Peregrine's Home for Peculiar Children in 2016, and Disney's Dumbo in 2019. All three premiered to mixed critical reviews. These days, most genre fans likely remember her best from her appearances in the sequels to two action-packed franchises which both released in 2014 — 300: Rise of an Empire and Sin City: A Dame to Kill For. Later that same year, the premiere of a show known as Penny Dreadful would allow Green the chance to demonstrate the full scope of her acting abilities, as she stepped into the Victorian-era show to inhabit the powerful medium and clairvoyant known as Vanessa Ives.
Penny Dreadful ran for a total of three seasons on Showtime, and Green was inarguably its lodestar, despite sharing the screen with other acting luminaries such as Timothy Dalton, Helen McCrory, Patti LuPone, Rory Kinnear and Harry Treadaway. Her breakout television role neatly intersected with the path of another actor's return to the small screen, Josh Hartnett, and amidst such supernatural threats as witches, undead creations and ancient vampires, the chemistry between Hartnett's Ethan Chandler, himself a secret werewolf, and Green's Vanessa made up for a significant part of what kept audiences tuning back in every single week right up until the show was unexpectedly concluded on June 19, 2016. Vanessa Ives is a tragic figure from the start, a woman whose power has made her both desirable to evil forces and the product of scorn, not to mention a target for those who believe a woman should not be able to possess that much capability. Watching the series now, it's difficult to fathom an end result in which there is any happiness for her, but that makes Green's performance all the more captivating, as well as all the more heartbreaking.
As hypnotic as Green is on screen, and in spite of the seemingly effortless gravitas she brings to any fictional part she occupies, her biggest and most consistent struggle is finding the next project that is worthy of her talents. Understandably, she has made attempts to avoid being pigeonholed into any one type of character, but since the conclusion of Penny Dreadful, most of her filmography has not quite replicated the conditions that made her such a dynamic presence on that series. Recently, she was cast in another Starz TV show, a miniseries adaptation of Eleanor Catton's novel The Luminaries, and while her depiction of Lydia Wells, another role steeped in mysticism, has garnered her positive reviews, the common critique appears to be that she simply does not appear enough — which, in fairness, could be said about most of her post-Penny Dreadful work.
Green is hands down one of the greatest screen presences of our time, and more people should be familiar with her filmography. Looking to the future, the hope is that she'll be given a role that isn't merely another quirky witch or femme fatale or supporting cast or in a project that is quietly released direct-to-video. Her wealth of talent means that she should have her pick of anything she wants. Perhaps with the announcement dropping earlier this month that she's been cast as Milady in a big-budget movie adaptation of The Three Musketeers (reuniting her with her Dreamers co-star Garrel), she's already taking the steps she needs to cement her growing legacy as an actress.
Do you have a favorite Eva Green role? What would you like to see the actress do next? Let us know in the comments below.