Features
The Terror Arrives to Turn Your Blood to Ice
Two ships trapped in the Arctic wastes are stalked by a supernatural being in AMC's new historical horror tale.
In 1845, two of the British Royal Navy's most advanced ships, HMS Terror and HMS Erebus, set out for the Arctic in order to force the Northwest Passage, a route that would connect the Pacific and Atlantic Oceans via waterways through the Canadian Arctic Archipelago, a labyrinth of more than 36,000 islands at the northernmost edge of North America.
Under the command of Sir John Franklin, who was overall leader of the expedition and captain of the Erebus, and Francis Crozier, captain of the Terror, the two ships made their way north but soon became icebound in Victoria Strait. By 1848, all 129 men aboard the two ships — including Franklin and Crozier — had died or vanished. Although they were likely plagued by starvation, illness, food poisoning and the brutal environment, the fate of most of the men remained unknown — along with that of the ships, until their wrecks were finally discovered under the ice in 2014.
The story of the Franklin Expedition has been fascinating source material for many works of fiction and non-fiction over the years, and in 2007, horror/sci-fi/historical novelist Dan Simmons published The Terror, his epic work of fiction based around the incident. In Simmons' superb novel, the crew of the two ships descend into madness, savagery and even cannibalism — all while being stalked by an unseen predator that they first mistake for a polar bear but which turns out to be something far worse, far older and far more powerful.
Simmons is one of the best horror and sci-fi writers of the past 40 years — often blending both, along with fantasy, history and mythology — and his books include the classic science fiction series The Hyperion Cantos and the brilliant horror novel Carrion Comfort. But strangely, none of his works have been translated to the screen — until now. The Terror, a 10-part limited series adaptation of Simmons' novel, premieres tonight as a two-hour special on AMC, starring Ciaran Hinds (Justice League) as Franklin and Jared Harris (The Crown) as Crozier.
Harris, along with executive producers/showrunners Soo Hugh and David Kajganich, were on hand at a studio in the Silver Lake area of Los Angeles recently to discuss The Terror, with props, costumes, models and presentations about the visual effects also on display as an introduction to the story's bleakly accurate historical setting, a vast white wasteland beyond the reach of civilization.
Asked whether he and Hugh wanted to stick as closely to the book as possible or deviate from it, Kajganich remarked, "I think in the case of any sort of long form adaptation, you want to do two things at the same time. You want to honor what people love about the book, and for people who haven't read the book, we wanted to give the experience in the show of what it felt like to read that book for the first time because it's such a fantastic adventure."
Kajganich continued to say that the showrunners nevertheless wanted to "mix things up," explaining, "Our thematic take on the material is very close to Dan's but required flipping certain things here and emphasizing other things. Characters who are very small parts of the narrative of the book are much bigger in our show, and we have other characters who are a bigger part of the book but are sort of reduced in the show. It's all meant to give as surprising an experience watching it as it is to read the book, so we had a lot of fun in the writer's room."
"It's such a pleasure to get source material that you love," added Hugh. "And Dan gave us the greatest gift, which is his trust, because he understood that we're not going to be able to tell this story exactly like the book. But because we were such big fans, I think Dave and I feel very confident in saying that fans of the book will be very happy with what we kept."
Kajganich stressed that historical accuracy — as much as was possible, given the enigma of what actually happened to the crews of the Erebus and the Terror — was a key element in creating the show. "We have the benefit of some research that Dan didn't have when he wrote the book," said the writer and producer. "Since he wrote the book, both ships have been discovered and there have been a number of dives to bring up archeological artifacts. So certainly they know more about where they ended up.
"We tried very hard to include all of those things in our narrative, which certainly might have points of departure from the book," continued Kajganich. "But I think people who get the bug from either reading the book or watching the show in terms of learning about this actual history will be gratified to see the lengths we went to, to try to make the show accurate to what they can find in the archeological record."
For Harris, whose credits include TV series like Mad Men, Fringe and The Expanse, as well as movies such as Sherlock Holmes: A Game of Shadows, Lincoln and The Man from U.N.C.L.E., he was instantly compelled to take the part of the haunted Crozier as soon as he read the material: "You know within a couple of pages whether you're in good hands or not," he said. "I got the script and it was just incredibly well written, but also had great restraint to it because one understood that there were areas where the story was going to go but they were holding back, you know? It was really exciting to see."
Harris noted that taking on the role of Crozier presented, for him, an interesting challenge in terms of how to play a real historical figure. "There were three different Croziers," he explained. "There's the historical Crozier, there's Dan Simmons' Crozier, and then there's the show's Crozier. They're all the same person but there are different aspects of the story involved in it. So it was interesting to talk to (Hugh and Kajganich) about which elements of the historical character to keep, which parts to let go of, where they had taken Dan's character and what they needed from him for this story. At the end of the day, it's their version of Crozier that you have to deliver, because they made decisions about the narrative, and that's what the responsibility is, to fulfill that narrative."
The fate of the real-life Crozier remains one of the Franklin Expedition's enduring mysteries, and Kajganich — who was originally hired to adapt the novel as a feature film before it was developed as a TV production — says that the blending of genres is what makes The Terror such a unique tale.
"It's a really strange mix of genres," he says. "At points, it a horror story. At other points, it's a high adventure story. There are episodes that we rolled and cut like westerns. This was a lot of fun. We made sure that everyone knew, all of our collaborators, particularly the editors of the show, that we didn't need to be consistent. Episode 1 doesn't need to feel episode 10 in our show, because the whole thing is this downward spiral… it was really important to us that people didn't keep their habits of consistency. We wanted things to devolve in a way that the eye would understand even if the brain didn't."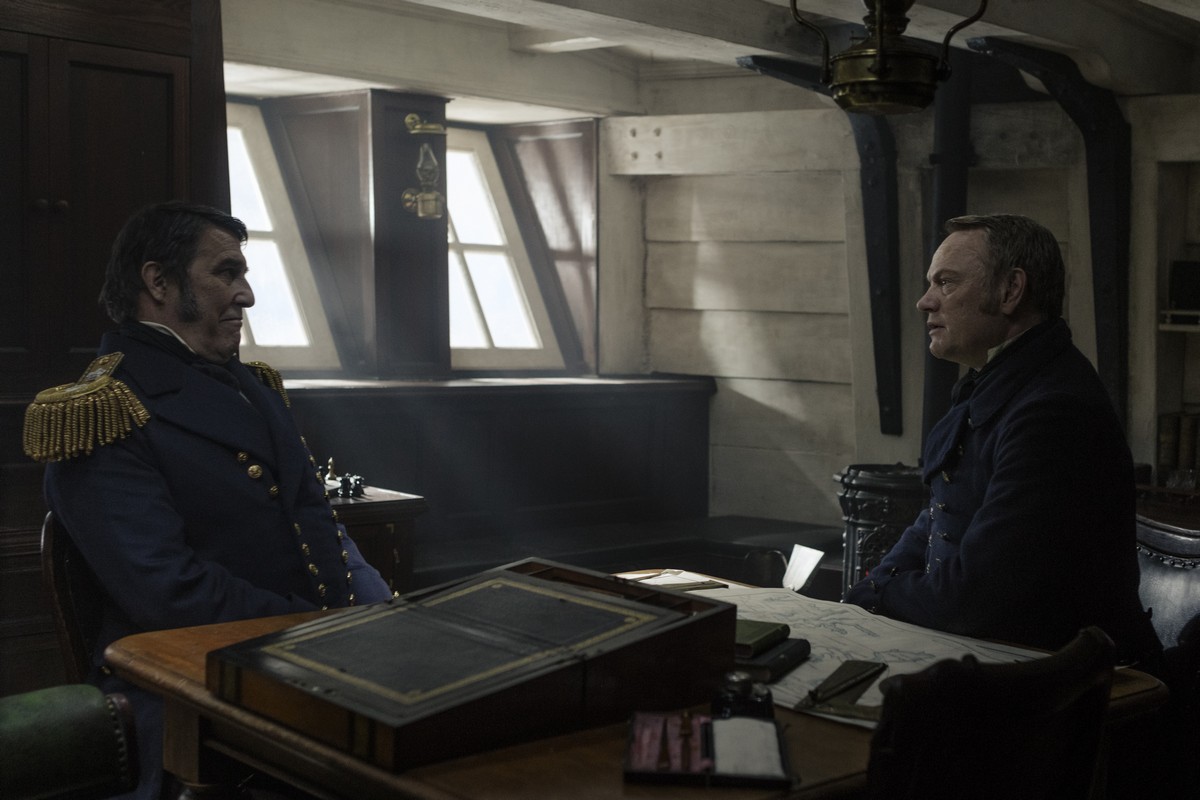 Both Kajganich and Hugh also had nothing but praise for Simmons — who they say has seen and approved of their adaptation — and acknowledge that he has a wealth of other books just waiting to be adapted, including his legendary Hyperion quartet (which has been in development at Syfy). "Hyperion is the Holy Grail, right?" says Hugh. "It would be amazing to see that come to the screen. When you look at what he did in The Terror — the cross cutting of time — we knew we couldn't do that for the television rendition of it, but the way he definitely crossed time and did so much research…few writers can take that on and succeed."
"One thing that I love about Dan's work, which is also something that I love about Stephen King's work, is that he's smart enough to understand that the genre elements that he's sort of trafficking in can't be the main force," offers Kajganich. "It really has to be characters. You are either going to fall in love with the characters or you're not. Dan has a very kind of slow, methodical way of building characters that you also see in someone like Stephen King or Dickens." Kajganich concludes, "We owe Dan a whole heck of a lot… I've adapted things in the past that aren't character based and it's a horrible time."
Surely it's not as horrible a time as the doomed men of the Erebus and Terror are about to have, when The Terror premieres tonight on AMC at 9:00 p.m. ET/PT.