Features
The surprising voices of CBeebies
The unlikely stars behind some of your kids' favourite TV characters...
It's 7am. You and your child have already been awake for over two hours. You're sitting on the sofa, struggling to keep your eyes open, barely even able to hold up the mug of coffee that represents the only barrier between your brain and unconsciousness. In an attempt to curb their energy and quieten them down for just a few precious minutes, you've put your beloved offspring in front of the telly and switched on CBeebies – at least that way, you can claim they're getting a bit of sensible, educational content in the process.
Suddenly, through the mist that envelopes your sleep-deprived, heavily-addled brain, you can hear the bouncy, CGI animation is accompanied by a strangely familiar voice. It's a voice that sounds like it shouldn't be there, a voice you're more used to hearing when listening to podcasts on your way to work.
"Hang on…" you think. "Is that… Adam Buxton?"
Welcome to the vast and expansive land of CBeebies Guest Voices. Barely a show goes by on the BBC's pre-school channel (a channel whose very existence is, incidentally, absolutely the greatest public service the Corporation performs) without a recognisable star from across the geeky media sphere – or from more mainstream comedy, drama and entertainment – lending their dulcet tones somewhere for a sneaky extra paycheque.
So whether you're new to CBeebies, have been watching it for several years, or are just keen to find out where David Tennant might have been hanging out without you noticing, here's our guide to some of the voices you might recognise but not necessarily be able to immediately place…
Hey Duggee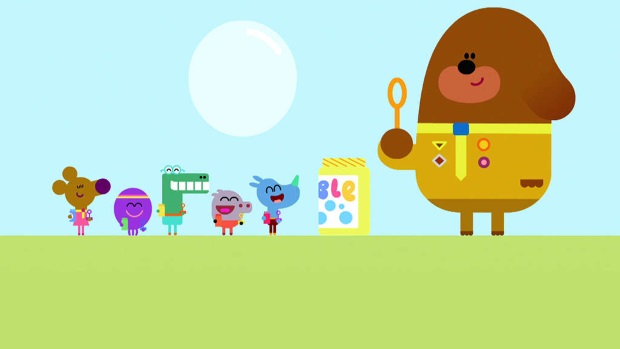 The greatest show on CBeebies – heck, one of the greatest shows on television full stop, as we've written about before – the multi-award-winning animation Hey Duggee has among the many tools in its arsenal an excellent voice cast. The headline act, of course, is narrator Alexander Armstrong – it's impossible to watch Pointless now without imagining him introducing it with a "Hello, squirrels!" – but the show has also featured regular guest contributions from the superb Lucy Montgomery (Brian Pern) and Morgana Robinson (House Of Fools).
Tree Fu Tom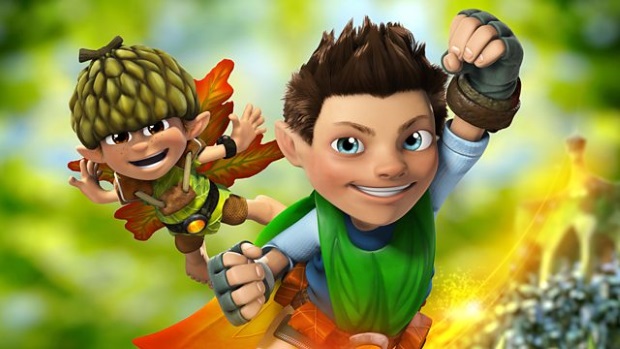 In the long and proud tradition of animated pre-pubescent boys being voiced by adult women, this show's titular character is voiced by former Doctor Who companion, Ace herself, Sophie Aldred. And that's not the only Who connection, either: for the first series, Tom's sidekick Twigs was voiced by David Tennant, making this a Doctor-and-companion team up that even Big Finish has never got around to pulling off.
Oh, and a fun extra bit of trivia: the live-action version of Tom, seen at the beginning and end of each episode, is played by Aldred's own son.
Teletubbies
This may come as a surprise if you're not a seasoned CBeebies-watcher, but: yes, Teletubbies is back. New episodes began to be made in 2015, and although they very much followed the formula of the original 1990s run, they also assembled a brand new, all-star voice cast.
Taking over as the "Time for Teletubbies!" narrator was Daniel Rigby (Eric & Ernie); while assorted voices have also been provided by Fearne Cotton, Jane Horrocks, David Walliams and Jim Broadbent, with the latter frequently heard to shout "Sausages, sausages, sausages!" No, really.
Octonauts
He might be familiar to you as a Geordie petrol station attendant in Alan Partridge; or maybe as an irritating Eastern-European meerkat trying to sell you insurance. Either way, the voice of Captain Barnacles is maybe one of the most recognisable on British telly, Simon Greenall.
Sarah & Duck
One of CBeebies' most delightful and funny cartoons, Sarah & Duck is given extra heft thanks to being narrated by the magnificently-voiced Roger Allam (The Thick Of It). It's also had guest voice appearances from Andy Nyman (Ghost Stories) and Mark Heap (Green Wing et al) – and its geek creds are further strengthened thanks to having several episodes written by Whoniverse alumnus Eddie Robson.
Messy Goes To OKIDO
Kudos to whoever thought it would be a good idea to have Adam Buxton voice an absolutely deranged, inquisitive blue monster in this series that started life as an educational magazine. As you can imagine, it involves lots of shouting, which "Count Buckules" manages with aplomb.
Clangers
When it was announced that the classic stop-motion animation would be returning in 2015, it was always going to be tough to replace the immortal Oliver Postgate with someone who could bring the same sense of absolutely reassuring friendliness. So in selecting Michael Palin, all we have to say is: job done. (Incidentally, the American redubs of the show get… William Shatner.)
Biggleton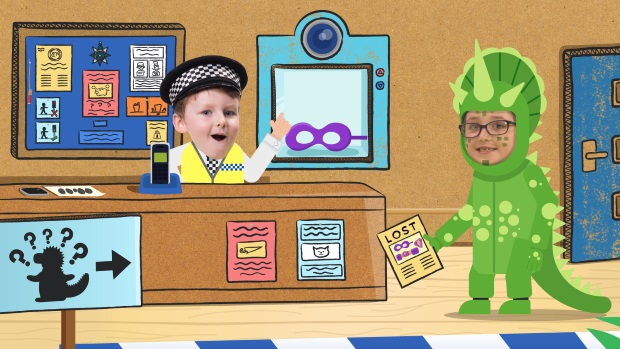 This is honestly one of the weirdest voice actor selections you'll ever encounter: the narrator for this enjoyable show in which child actors pretend to be adults in a cardboard town is… Eamonn Holmes. Stranger than that… he has to sing in it. Regularly. What has been heard, can't be unheard.
Eamonn's erstwhile GMTV co-host Lorraine Kelly, meanwhile, performs similar duties on Raa Raa The Noisy Lion, albeit without the singing. And another stalwart of factual morning broadcasting, Nicky Campbell, can be heard on My Story.
Tee And Mo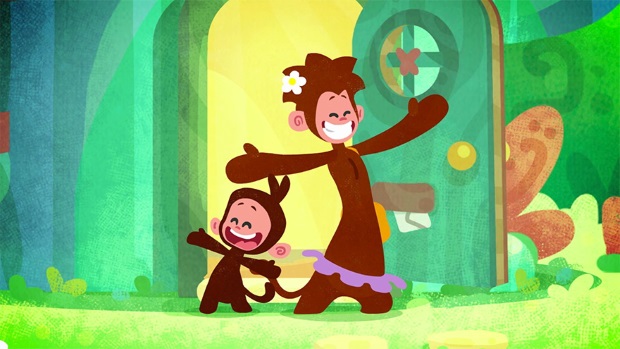 When Lauren Laverne was fronting the indie-punk teen titans Kenickie in the late 1990s, she surely can't have imagined that twenty years later she'd be presenting Desert Island Discs. Or that she'd be narrating – and singing songs in – an absolutely adorable series of short cartoons about a monkey mum and her energetic son.
Boj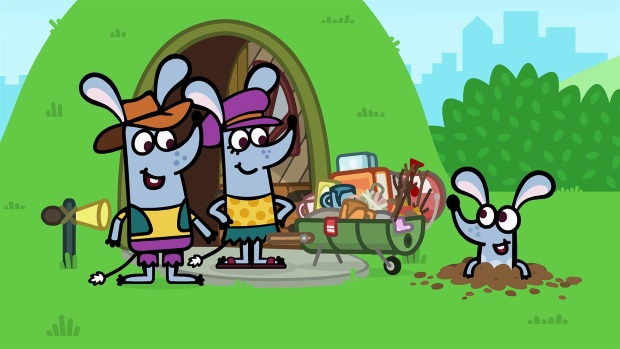 Still, though, Tee And Mo can't lay claim to being the show with the most successful UK chart act behind it. That honour surely has to go to Boj, the not-actually-Australian cartoon about an Australian burrowing marsupial (he's a bilby, in case you were wondering), which features four-time chart-topper Jason Donovan as Boj's dad.
Footy Pups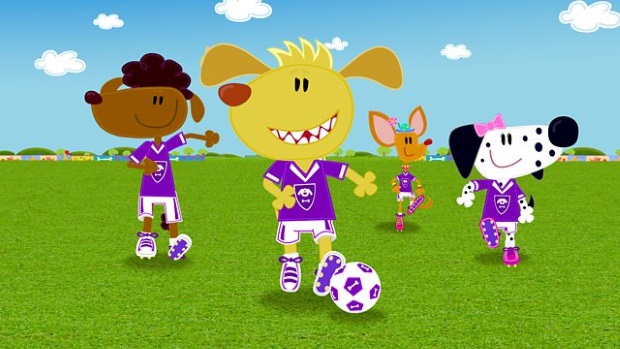 It's probably not all that surprising that Footy Pups – which blends live-action kids' football skill lessons with the animated adventures of a canine team – would turn to a real life commentator for its voice-over; but it's still quite impressive that they got John Motson involved.
Meanwhile, Radio 5 Live commentator Conor McNamara can be heard rather unusually voicing the parrot Squawk, on the pirate-themed, Crystal Maze-esque gameshow Swashbuckle.
Bing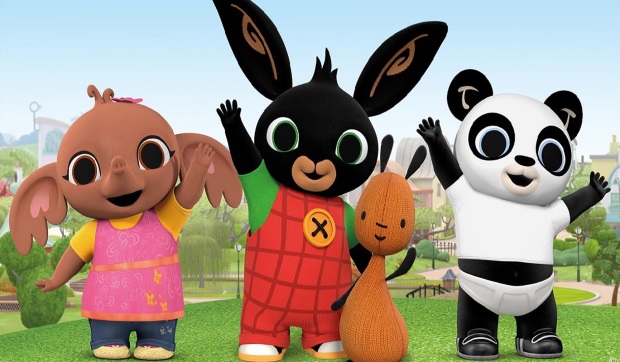 He may be one of the most revered actors of his generation, but to parents up and down the land it's really quite difficult to imagine Mark Rylance as anything other than the voice of Flop, Bing Bunny's… well, is he a parent, a carer, or what? We don't know, but we just hope he never gets around to explaining to Bing his dubious opinions on Shakespeare authorship.
In The Night Garden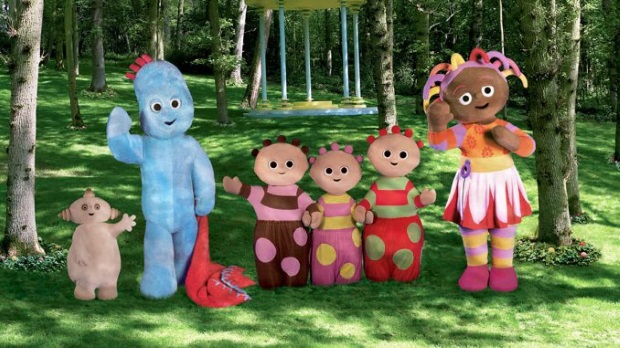 In many ways, the daddy of them all. Over the last decade, countless millions of children the UK over have gone to bed every night with the strains of the surreal, dreamlike Night Garden in their ears – and with the soothing voice of Derek Jacobi guiding them along the way. We're not certain whose idea it was to hire Jacobi to be the sole voice of all 100 episodes, but they ensured his voice will continue to evoke Proustian rushes for an entire generation of kids – even if they don't know him as Claudius, Cadfael or the Master…