Reviews
The Simpsons Gleefully Cancel Themselves
The Simpsons breaks the internet with "You Won't Believe What This Episode is About - Act Three Will Shock You!"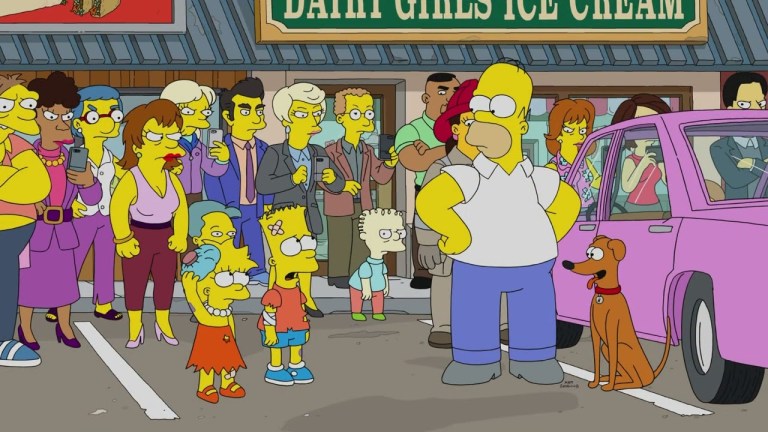 This The Simpsons review contains spoilers.
The Simpsons Season 33 Episode 14
Spoiler alert: this The Simpsons season 33 episode 14, review is filled with clickbait. "You Won't Believe What This Episode Is About – Act Three Will Shock You!" is more than an overlong title, it's a very current and radical installment in the long-running series.
Okay, radical is going too far, but it is timely, progressive, and long overdue. Herstory is more than an amazing industrial vacuum rental slogan. After 33 years, this is the first episode where The Simpsons features an all-female creative team. It was written by Christine Nangle, directed by Jennifer Moeller and co-directed by Debbie Spafford with HeeJin Kim as the Lead Background Layout artist and lead timer Esther Lee. And Marge is not the only one to live out her wildest dreams. The creative team takes on every complaint leveled against their show, and sardonically skewers them with extreme subversion.
On the surface, the episode is commenting on cancel culture, but once you steam clean the carpet, it becomes apparent the joke is also on The Simpsons itself. Much of the more offensive forms of humor the series enjoyed in their early days has been buffed and waxed as much as the animation has been smoothed. The show went from rude upstarts to politically correct standard bearers. The opening salvo in the viral mess of the episode is Homer committing what looks like a heartless crime, locking Santa's Little Helper in his car on a hot day. When he is confronted, Homer points out he was getting organic food from a women's owned business. He is accurately delineating a chasm in society which exists beyond words. What is a personal standard if the masses are still blinded by labels?
The episode opens promisingly, it has been cleaned of its couch gag. In an overt segment of foreshadowing, Marge rushes the family through breakfast, which includes a great sight gag of her funneling syrup down Homer's throat through a waffle (something this writer must try), so she can enjoy a "spa day" with a new vacuum. She banishes Homer, Bart, Lisa and Santa's Little Helper from the house. It is worth moving the couch just to hear Julie Kavner's read of Marge's line, "This must be how Catholics feel after confession."
Homer drops the kids off at the trampoline park, which is comically located in a mini-mall of clinics and hospitals, and takes Santa's Little Helper to the dreaded dog park. Lenny's character is rounded out somewhat, admitting he got a dog because he finally realized human companionship is a nonstarter. But then he goes on to become a caricature of the most annoying kind of human being there is: a dog lover. Santa's Little Helper has quite the origin story, and any proud dog owners would love to regale a fellow dog lover with it. Yet all Homer can say is he thinks "the house dog came with the house." Don't expect him to click on cute puppy memes.
Lenny is deep into his canine culture, setting up tribalism and microaggressions as very subtle allegories. The footage of Homer's reaction on finding he locked the dog in the car goes viral first among dog lovers, then cat lovers, and finally to horse lovers, before it unites the entire community against Homer.
Just when Homer thinks it's over, the sign at the front of the church reminds him how little comfort he will find there. His initial anti-apology captures the frustration of public contrition. Even Bart commends Lisa on capturing Homer's voice. He is truly sorry that people's skin is now thinner than gas station toilet paper. He then goes on to inadvertently test the thickness of the stain glass windows, sending Reverend Lovejoy flying and getting tagged the "Pastor Pusher" on the interweb.
Characteristically, Homer looks for solace in "fast food and slow friends," but he can't go anywhere. Moe won't take him. Krustyburger won't serve him. The only place that will have him is a right wing gathering promising "pariahs welcome," and they don't have sea food. The Simpson family response is intriguing because they take it in stride. "Thank you for your rage," Bart tells an angry caller. Lisa speaks for the entire series when she says miming to online rants is "what comedy is nowadays." But then they leave Homer out of the one night he looks forward to all year, the Prawn-a-Thon at Dead Lobsters. This is a sad betrayal.
Homer has been a public pariah before, in the episode "Gummi Venus de Milo," and was also forced to make a public apology. His explanation wound up upsetting another small subsection of the community, lovers of old-timey bicycles. In "You Won't Believe What This Episode Is About – Act Three Will Shock You!" everyone on Neighborhub agree to condemn what appears to be nonchalant animal endangerment. Even Mr. Burns releases the hounds on such blatant disrespect, saying, "Such behavior does not represent the values of Evil Corp."
Burns doesn't run the evilest institution in the episode, however. Theo (Kumail Nanjiani) is a very inventive villain. We know some evil is going to be revealed but he conceals it very well in plain sight. He runs an internet victim company named The Institution. Their clientele would most easily be classified as offenders, Springfield residents who want to "steam clean their reputational carpets," as Marge puts it. This alone should make him suspect, look at who he hangs around with.
The Institute is a playground of cancel culture proxies with entire wards dedicated to problems like accidental replies to cell calls, comedians who say material too soon, and offensive Halloween characters. Homer, who is tired of reputations being based on past behavior, meets the most reviled of Springfield's social network.
"Lemonade Karen" Lovejoy called 911 on Sherri and Terri's sidewalk stand, the Toilet Rocker forgot to turn off his live feed while at a urinal, Kirk "Juicebox Dad" Van Houten harassed a coach to take his son out of a game. These are all careless accidents, born out of rage. They are all representational of shaming fads, and awfully perfect candidates for redemption. The internet loves to define and to call out horrible people, and revels in those caught in the act, and doesn't care if it's a misinterpretation. When the public relations gestures are transparent, the fix becomes a caper, and this is where they spam us with cutting-edge satire.
The "Suicide Squad" suspense of the breaking-and-entering sequence works because it is relatable. All the expendables have to do to install the "universal eradication code" and erase the bad reputations from the global mainframe is walk past an office full of computer screens. Each is showing a clickbait title. They are as irresistible as Medusa's eyes and just as costly. They can turn readers into pillars of salt for lifetimes while they wait for them to upload. The clickbait examples are inspired: photos before choking deaths, reasons you may never use a stapler again, what does she look like now. These are exposed as a distraction to the larger issues, which the episode succinctly and expertly dishes out. Ex-presidents and their kids, evil Russians, criminally abhorrent, perennially corrupt, and all of history's other current monsters get lost in the swirl of "Lemonade Karens" and "Jukebox Dads." The second act ends with valid objections, spoofed engagingly and succinctly.
The shocking thing about Act III is how heartfelt Homer's apology is. It is indeed sad commentary that forgiveness is surprising. "You Won't Believe What This Episode Is About – Act Three Will Shock You!" is a marvelous satire on the wired generation and mass-knee jerk reactions. It takes the spiral of viral condemnation on an almost dystopian trip, and offers utopian answers. There's no substitution for true contrition, but people have to be willing to listen. The Tik Tok spoof in which anchorman Kent Brockman features at the end highlights how nothing will be changed after the great contrition speech, which brings the episode squarely back to classic Springfield.
The Simpsons have been on both sides of the argument. They were accused of breaking politically correct taboos, and equally criticized for adjusting for a more inclusive creative and talent staff. They don't let themselves off the hook, and they are not making excuses. "You Won't Believe What This Episode Is About – Act Three Will Shock You!" is clickbait you should not pass up.
Editor's note: A previous version of this article omitted Esther Lee's contribution to the episode, and misspelled HeeJin Kim's name/misidentified her job title. Our apologies to all involved.