News
The Right Stuff Disney+ TV Series Release Date Revealed with New Trailer
Disney+ is set to launch a television series adaptation of The Right Stuff, chronicling NASA's legendary Mercury 7 missions.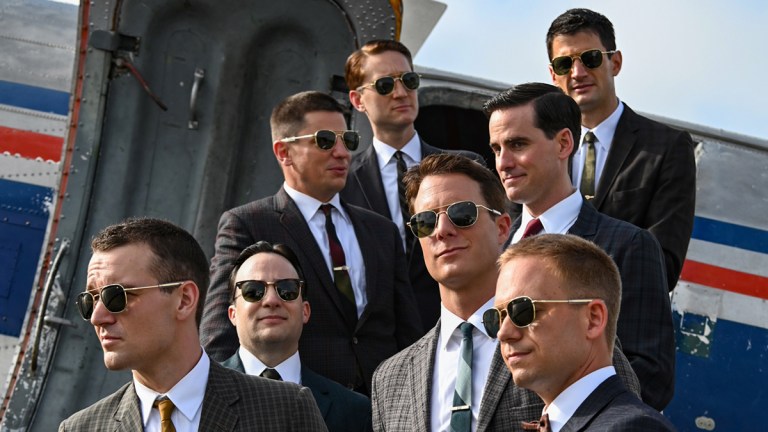 In an interesting turn of events, National Geographic's television series adaptation of Tom Wolfe's The Right Stuff became a Disney+ streaming offering, reviving the seemingly-abandoned cultural attribute of wonder and optimism.
Nat Geo, which went into development on the 8-episode television adaptation of The Right Stuff back in 2017, made the move this past May to export its scripted original to Disney+, setting a fall release window. The series will, of course, live up as the namesake of Wolfe's 1979 novel and director Philip Kaufman's iconic 1983 movie by chronicling the Space Race-era story of NASA's 1958-1963 Project Mercury, specifically the lives of the pioneering astronauts who endeavored to reach farther than ever past the atmosphere, becoming celebrities in what could be considered America's first reality show.
In the latest news, Disney+'s The Right Stuff now has a specific release date charted. You can also check out the just-dropped trailer for the series just below.
The Right Stuff Release Date
The Right Stuff will premiere in the streaming television orbit of Disney+ on Friday, October 9.
Interestingly enough, The Right Stuff series release date will arrive only a few weeks before the 37th anniversary of the four-Oscars-accruing 1983 film, which hit theaters on October 21, 1983.
The Right Stuff Trailer
The trailer for The Right Stuff has arrived, chock-full of feels-inspiring footage recreating the exploits of brave individuals who went to space utilizing technology exponentially dwarfed by your desktop solitaire game.
Just below is a behind-the-scenes teaser for the series, dropped a few months prior.
The Right Stuff Details
The series stars Patrick J. Adams (Suits) as Major John Glenn, a family man driven by principles, and Jake McDorman (What We Do in the Shadows, Lady Bird) as Lieutenant Commander Alan Shepard, each man legendary test pilots in their own right who are set to embark on a series of missions that will alter the course of humanity upward. They are joined by a cast of Mercury participants in Micah Stock as Deke Slayton, Aaron Staton as Wally Schirra, Michael Trotter as Gus Grissom, Colin O'Donoghue as Gordon Cooper and James Lafferty as Scott Carpenter
As Courteney Monroe, president, National Geographic Global Television Networks, expresses of the move in a statement:
This true story of scientific innovation and human perseverance could not be more timely. National Geographic's The Right Stuff is an aspirational story about exploration, ambition, determination and resilience and reminds us that human beings can achieve the extraordinary when united by a common purpose. This series provides a compelling behind-the-scenes look at the flawed, but heroic Mercury 7 astronauts and we are thrilled that it has found its perfect home on Disney+."
To which Ricky Strauss, president, Content & Marketing, Disney+, adds:
"As our audiences around the world turn to Disney+ to find inspiration and optimism, we believe the true-life heroism of the Mercury 7 will showcase the tenacity of the human spirit and inspire a new generation to reach for the stars. The wonderful team of storytellers at National Geographic, Warner Horizon Scripted Television and Appian Way have crafted a compelling and entertaining tale and we are honored to give it a global home as the first scripted Disney+ original series from National Geographic."
Mark Lafferty (Castle Rock, Halt and Catch Fire) serves as showrunner and executive producer here, joined by Chris Long (The Americans, The Mentalist), who directed the first episode. The series was initially shepherded by Michael Hampton of Leonardo DiCaprio's Appian Way. Thus, DiCaprio (who's not in the cast,) will represent his shingle as an executive producer, joined in that capacity by Jennifer Davisson. They will be joined by executive producers in Will Staples and Howard Korder, along with consulting producers in Thelma Schoonmaker and Danny Strong, and Hampton is onboard as a co-producer.
The Right Stufff's move from Nat Geo to Disney+ mirrors one made with docuseries The World According to Jeff Goldblum, which was made available upon the platform's November 12, 2019 launch. However, The Right Stuff clearly represents the major migration of a peak television project that features space-program-esque ambitions and a packed cast, taking on the overwhelming task of—not screwing the pooch—living up to director Philip Kaufman's iconic 1983 film adaptation of the same name, which garnered an array of Oscar nominations, along with wins for sound, effects, film editing and notably Best Original Score for Bill Conti (of Rocky fame).