News
The Purge Canceled After Two Seasons
While The Purge film franchise lives on, The Purge TV series won't be making it to season 3.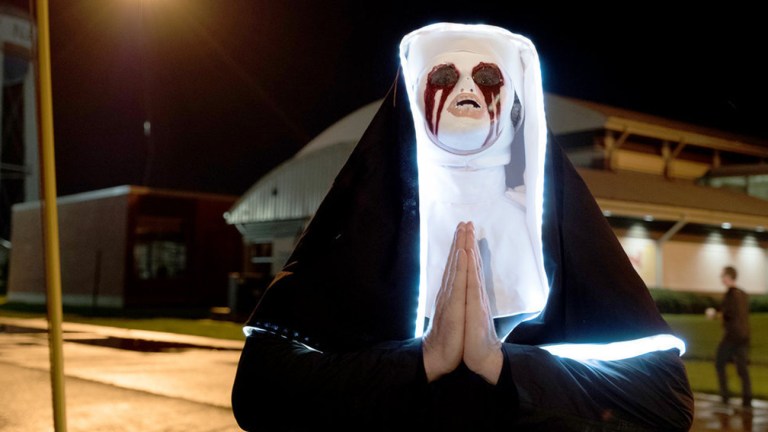 Looks like we've survived another purge…for now.
As first reported by Deadline, USA Network has opted not to proceed with further seasons of The Purge, cancelling the series after two seasons. The network also bid adieu to its other drama adapted from a Universal film in cancelling Treadstone, the series set in the world of the Bourne films. 
The Purge was based on the long-running film franchise of the same name, set in an alternate history United States where once a year, all laws are suspended and citizens are permitted to commit any crimes they'd like for 12 hours. The TV series was an anthology with each of its two seasons covering a new cast of characters as they navigate through this dystopian version of the U.S. (though the fascist New Founding Fathers of America party has achieved a 1% unemployment rate, which is pretty great for a dystopia). 
Season one of the show starred Gabriel Chavarria, Amanda Warren, Colin Woodell, and Hannah Emily Anderson. It followed several seemingly unrelated characters as they experienced the night of a Purge. Season two begins right after the most recent Purge has ended and presents characters dealing with the consequences of the night and preparing for next year's. Dominic Furmusa, William Baldwin, and Fiona Dourif starred in the now-final season of the show. Thomas Kelly served as showrunner for both seasons while original creator James DeMonaco executive produced.
Despite the popular movie tie-in, The Purge had a tough time attracting a consistent audience at USA. While the show's first season performed decently enough, ratings fell sharply in its second season. Deadline notes that The Purge and Treadstone are only the latest of several scripted dramas to get the axe at USA Network, amid a larger trend of scripted content struggling on basic cable. With networks like TLC, A&E, and even TBS/TNT transitioning more towards reality and event programming, this could be the end of an era for USA. Guess we'll always have Mr. Robot.
The Purge and its Treadstone counterpart are also both unlikely to be revived elsewhere, as corporate ownership of both shows remain wrapped up in NBC Universal. Universal, USA Network, and the show's studio UCP are all under the NBC Universal umbrella. This isn't an instance of a studio getting a chance to shop around for other networks. The studio is the network here. For now, The Purge will just have to live on as two seasons available to stream on Amazon Prime.