Reviews
The New Pope Review (Spoiler-Free)
Fans of HBO's The Young Pope will find the new installment working with much of the same, plus John Malkovich. What's not to like?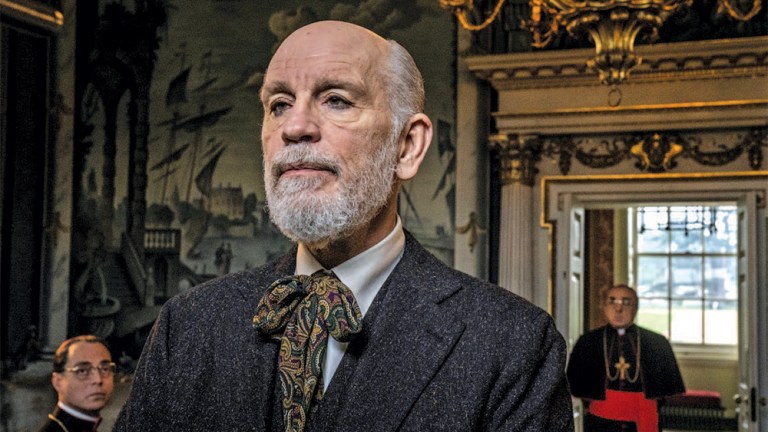 This The New Pope review contains no spoilers.
Meet The New Pope, same as the old pope, or HBO's previous installment The Young Pope. Created, written and directed by Italian iconoclast Paolo Sorrentino, 2017's The Young Pope was a fascinating, meme-generating exploration of the inner lives of the Catholic Church's most powerful players. Lead by a Chaotic Good performance from Jude Law as Lenny Belardo aka Pope Pius XIII, a smirking, snarky, sexually-charged yet conservative man of faith, The Young Pope was a surreal look behind all of the church's pageantry and striking imagery that asked viewers to look at Holy Men as men. 
Sorrentino's campy vision and eye-catching juxtapositions were always the show's backbone, but Law was its captivating star. However, The New Pope begins with Lenny out of commission, lying in a coma after suffering heart failure at the end of last season. With the handsome and ever-popular Pope Pius unable to lead his flock, cults around his personality are popping up, while Islamic terrorists are issuing threats against the Church. To bring stability, Vatican Secretary of State Angelo Voiello (Silvio Orlando) believes it's time to select a successor (wow, Succession really is on everyone's mind). Voiello was an interesting agent of chaos in the first season, but in the five episodes screened for review, here he appears as something like the protagonist. Voiello knows he'd be a wonderful, stable hand as the leader of the Church, but he isn't quite trusted enough to get the necessary votes, so instead Voiello throws his weight behind British socialite Cardinal John Brannox (John Malkovich), who's something of the anti-Pius.
Replacing campy Jude Law with an even more deliciously hammy actor is a brilliant bit of casting, but Malkovich mostly keeps his performance from going overboard. Brannox is a fragile man, haunted by a lifetime spent trying to please his aristocratic parents and live up to the potential of his twin brother. He's a centrist who gives careful thought to all of his decisions, and is something of a do-nothing dandy compared to Lenny's pugnacious, confrontational spirit. Still, Voiello must delicately push Brannox in the right direction with the same caution he took with Pius. 
Sorrentino's pacing still feels unlike anything on TV. Perhaps it's his European sensibility, but the show never makes what one would call the obvious choice in a given scenario and tends to focus on emotional beats or relationships that other series would zoom right past. There's still something provocative about the material, evident from the show's title sequence which places Sofie Tukker's "Good Time Girl" over images of nuns sexually gyrating in front of a pulsing neon crucifix. The series' sets and set design are so immaculately detailed and vibrant that you could watch the show on mute and still get some sort of enjoyment out of the experience, and as I mentioned with the title sequence, no show is better at utilizing an anachronistic soundtrack. The New Pope has got style to spare.
The only way that the series gets bogged down is by focusing on too many characters and subplots, like last season's Esther, who feels lost without her connection to Lenny, and the overall lack of screen-time for Law, who was doing some career best work as the wrecking ball Pope Pius. Also, much of the series main themes – corruption, sex, greed, and faith – remain not only unchanged, but are represented in much of the same ways. Still, the pizazz with which everything is presented, visually stimulating with a wry sense of humor working underneath, makes The New Pope a welcome, if not wholly necessary, continuation.