Reviews
The Magicians Season 5 Episode 2 Review: The Wrath of the Time Bees
The Magicians juggles multiple plot threads skillfully while providing time to grieve and room to hope for a change in Fillory.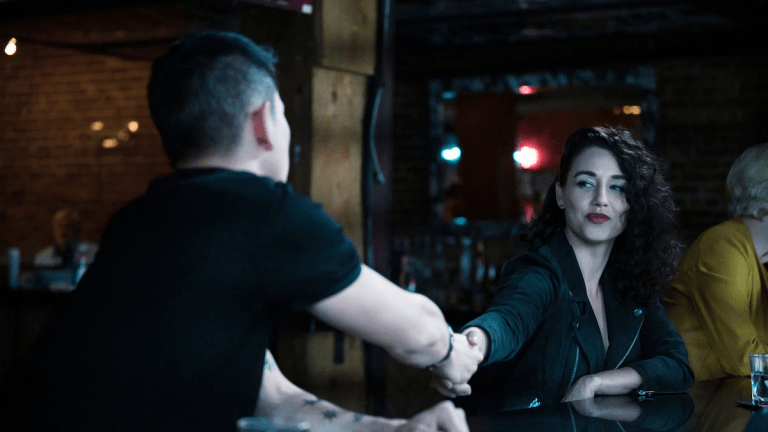 This The Magicians review contains spoilers.
The Magicians Season 5 Episode 2
Following Stephanie Quinn's example, no one here is going to tell The Magicians fans how to grieve, but if "The Wrath of the Time Bees" didn't help bring some closure for those who miss Quentin Coldwater, nothing will. This episode provides a helpful turning point for Alice even as Eliot is still finding his way, but with Julia and Kady progressing through their respective investigations and Margo finding some measure of victory in Fillory, the story is picking up speed nicely right after the premiere. In that regard, the show manages to respect Quentin's legacy without wallowing in grief or indulging in denial.
After all, we saw where denial got Eliot. In perhaps the most understated arc of the episode, the former High King's solo journey has him stumbling somewhat conveniently into Jane Chatwin's time-sheltered, non-linear existence, but the subsequent theft of her time travel paraphernalia sets up the multiple attempts to save Josh and Fen, framing Eliot's apathy with a brilliant metaphor: frustrated with failure, Eliot says to Margo, "I don't get why you keep trying to fix something that wants to be broken," and she knows as well as we do that he's not just talking about Fillory. And his choice to use an anywhere-anywhen stamp to send a message to Quentin "before the Seam" is foreboding in the extreme.
Overlooking the somewhat pat coincidence of Eliot's encounter with Jane is easy, though, because of the smooth way in which she discourages using time travel to undo death while in the same breath admitting that her first change in Timeline 1 was to save Eliot in order to embolden a grief-stricken Quentin. That being said, The Magicians did a great job of instantly showing us the consequences of Margo's incursions into the past while still allowing us to see some of the action from 300 years ago to provide context. And the use of the "Permanence" body spray was a nice touch to explain away any paradoxes viewers might nitpick.
further reading: The Magicians: Quentin and The Grieving Process in Season 5
Although Alice also performs a sort of resurrection of her own, her journey has a nice beginning, middle, and end to it, and the intersection with Julia's story was particularly enjoyable. Who else would know what to do with a twelve-year old Quentin golem other than the girl who knew the original at that age? And who can deny the poignant beauty of paralleling Quentin's habit of starting books over so that the story doesn't end with Alice's unwillingness to let go? Like young Q said, her friend's gift wasn't his life, it was hers, and that story just started. The question now is whether it will continue alongside Julia's or go off on a new path.
The new focus for the ex-goddess seems to be investigating why some surges are deadly and others aren't, and the Circumstances (a wonderful reference from the books that took surprisingly long to appear in The Magicians) are a big part of it, even explaining why Alice's Quentin was so young. While Dean Fogg's "Professor Ex" was a dead end (pun intended), it's possible that Alice's suggestion to visit Daniella Markus, the author of "Circumstantial Prognostication," could bear fruit. Although this plotline remains somewhat nebulous thus far, the setup alone provides enough intrigue to keep our attention.
As for the continuing mystery of the missing book depository, we received more insight into Kady's character than we did clarity about why the building was stolen. But before that, the idea that someone would be worried enough about the investigation to erase the memory of Kady and her hook-up not only raises the stakes for this tangent in the overall tale; it also provides a perfect way to include Penny and his psychic "memory VR" skills while his new professor gig and the strange signal that made him Travel are on hold. But what really added depth to this arc was the reminder that Kady's addiction will always be with her, and her effective leadership of the hedges is not something to take for granted.
All of these storylines work because of the solid foundation the previous seasons of The Magicians and especially the strong characters provide. It would be enough for each character to make forward progress in their respective adventures, but this episode takes the extra step of linking the different tales thematically and allowing us to learn more about the characters we love and already know so well. Touching on each of these storytelling elements while following multiple threads is something this show has always done well, and it's encouraging to see that in the second episode of season 5, nothing has changed. And everything is about to.
Check out all of the news and reviews for The Magicians season 5 here.