News
The Holzer Files Season 2 Confirmed (Exclusive)
The Holzer Files season 2 will arrive on Travel Channel in 2020.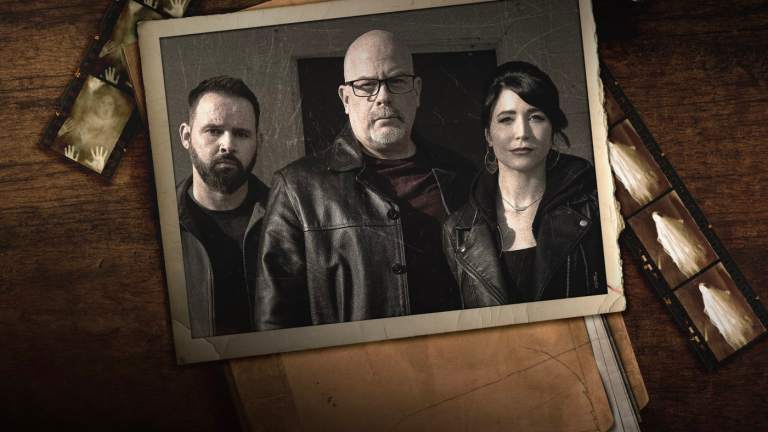 The Holzer Files will remain open. Travel Channel announced today that its ghosthunting show has been renewed for a second season. The Holzer Files season 2 will premiere in late 2020.
The unscripted paranormal series re-examines the investigations of famed ghost hunter Hans Holzer through the lens of popular radio show host and investigator Dave Schrader, psychic medium Cindy Kaza, equipment expert Shane Pittman, and researcher Gabe Roth – with guidance by Holzer's own daughter, Alexandra Holzer.
The announcement comes days ahead of Holzer's 100th birthday. Before his death in 2009 at age 89, Holzer had authored more than 120 books on the paranormal, extraterrestrial life, witchcraft, and more. During a four-decade-long career, which famously included his involvment in the "Amityville Horror" house case in 1977, Holzer also taught parapsychology at the New York Institute of Technology, and worked as a consultant on Leonard Nimoy's late 1970s paranormal TV series In Search Of….
Within the course of the show, Alexandra reopens her father's case files, along with thousands of his documents, letters, photographs, and audio-visual recordings. According to the network, "the team compares their findings with Holzer's to see if their modern research sheds new light on these half-century-old investigations."
Among the first season highlights included the team's investigation of the Ayers-Allen House in Metuchen, New Jersey, where in 1960 Holzer supposedly found entities dating back to colonial times. The show also revisited Holzer's tragic case from Tyler, Texas, in an episode titled "The Devil in Texas." Perhaps most dramatic was the "A Grave Revenge" episode where the investigators traveled to the Whaley House, which Hans Holzer considered the most haunted home in America – and where Schrader appeared to be physically shoved by an unseen force.
"Having heard so many claims over the years of physical contact with spirits, I had yet to have something like that ever truly happened to me, [but] getting knocked on my ass at the Whaley house was really a highlight for me because it showed the claims that so many people have made around the world of physically being touched, pushed, something," Schrader says. "It actually happens, and I took the full front attack on this."
Further reflecting on the first season, Schrader says he was excited to re-acquaint the world with Holzer's work, and to given the influential ghost hunter the recognition due to him. Moreover, he says, "I love the fact that we were able to visit a few cases that Hans Holzer was never able to get to…He had written about because of the correspondence with the experiencers, but never got the official green light to go in and investigate … now they're letting us in because of our association with Holzer."
With The Holzer Files season 2, Schrader says he hopes to go further and "open up some of these cases that eluded him," as well as pursue new cases currently taking place, and "try to bring people the help we know Hans Holzer would have had he'd been around today."
Schrader also says he would like to involve the original "trance mediums" that Holzer worked with who are alive and remain active.
The Holzer Files season 2 arrives on Travel Channel later this year while first season episodes will continue to repeat on the network. And TravelChannel.com currently features exclusive videos, and episode recaps.