Features
The Handmaid's Tale Season 4 Teaser Says Unite and Fight
Hulu gives fans a glimpse of what's next for June in The Handmaid's Tale season 4, now delayed until 2021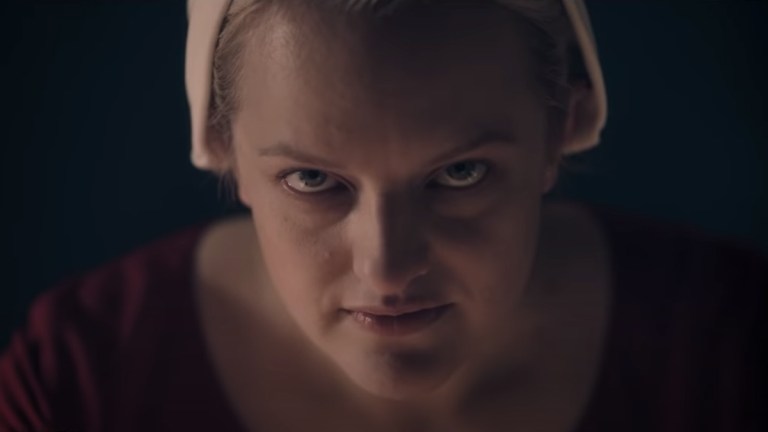 The last we saw June in The Handmaid's Tale season three finale, she was being borne away by a cortege of fellow Handmaids after dealing Gilead an audacious blow. Her iron will combined with the support of her fellow prisoners had taken Gilead's most precious economic resource right out from under it. As promised, she'd got the children out.
June and a network of Marthas rescued over one hundred stolen kids – smuggled out under cover of night onto a plane and into Canada, some to be reunited with parents they'd been separated from for years, others who had been born in Gilead and taken at birth from their Handmaid mothers.
June took a bullet in the process, and ended the season bleeding but smiling.
So, what's next for Gilead's public enemy number one? We'll have to wait until 2021 for season four to arrive, but there's a hint in the new footage spotted in this new Hulu teaser.
We break it all down below…
'I can't rest'
Picking up where things left off, we hear June's internal monologue over finale footage of her bleeding body being walked through the woods after the plane left. 'I can't rest,' she thinks. 'My daughter deserves better, we all deserve better.' As long as Hannah is still somewhere in Gilead, June has promised she will be too. With baby Nichole safe in Canada and the Waterfords both under arrest and awaiting trial, June needs to take down Gilead for the sake of Hannah and all the others.
'Change never comes easy'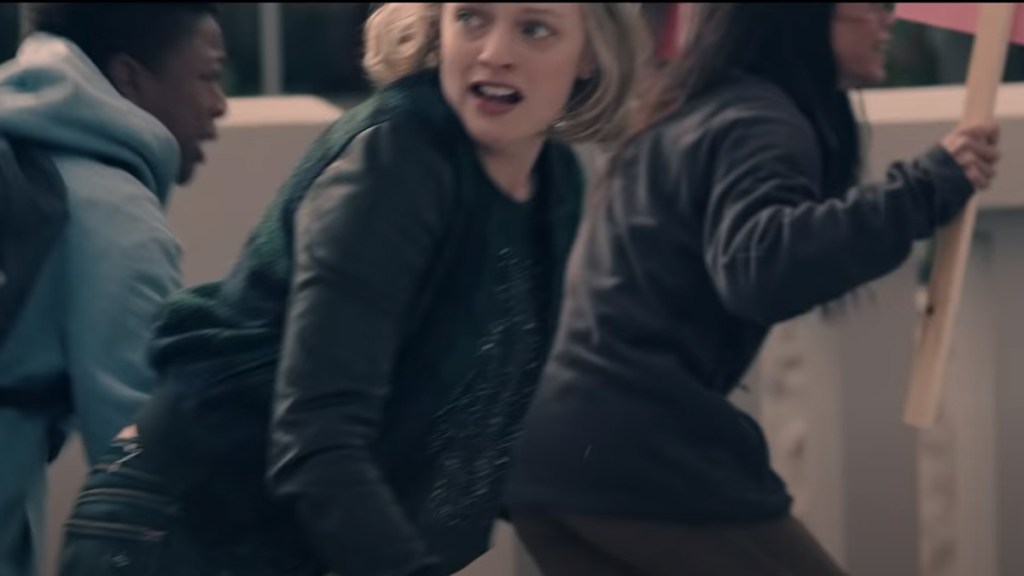 After flashbacks to the civil war that played out on the streets of America before Gilead established its cruel regime, we revisit past peril. A pre-Gilead June and Moira are seen among the fighting. Emily is seen smuggling baby Nichole over the border as June muses on the sacrifices of war.
'This war isn't going to win itself'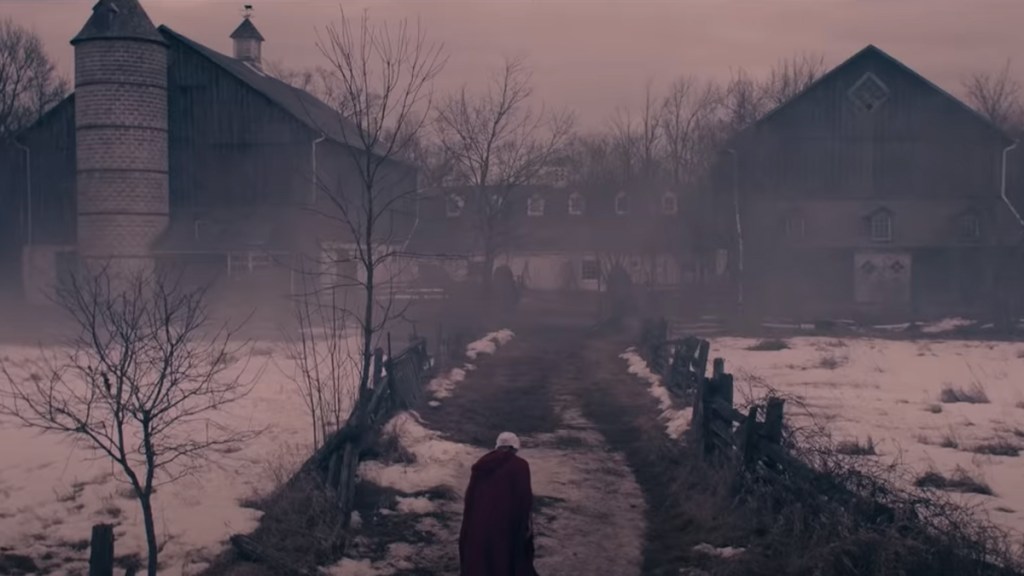 Here, June looks as though she's walking up to a new location, perhaps the rural house in which she and the other Handmaids hide after the plane took off. Disguised in what looks like the uniform of Marthas, we see Janine, Brianna and the others from June's district huddled and hiding in a cellar, looking terrified as if they've just been discovered (see below).
'It's June's legacy'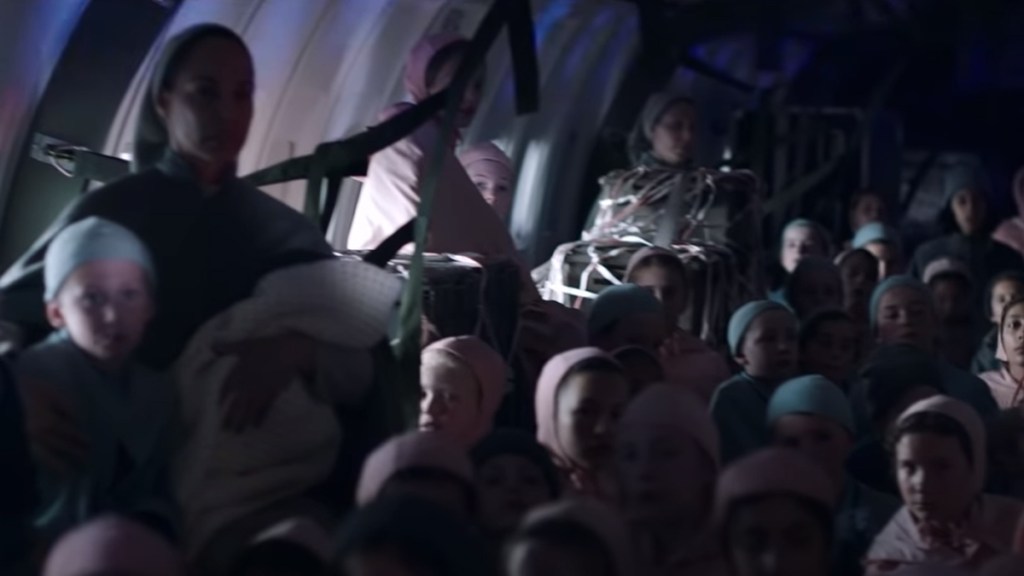 After revisiting the moment the plane lands in Canada and Moira first lays eyes on the Gilead children, we see Bradley Whitford's character Commander Lawrence speaking to an unseen person and declaring the children 'June's legacy'. It's likely he's speaking to Nick here, now also a Commander. Nick says 'she changed me, changed you' over a shot of June and Commander Lawrence attending his wife's funeral. 'She does have strong claws, that one' says Lawrence of June.
'It's not safe anywhere'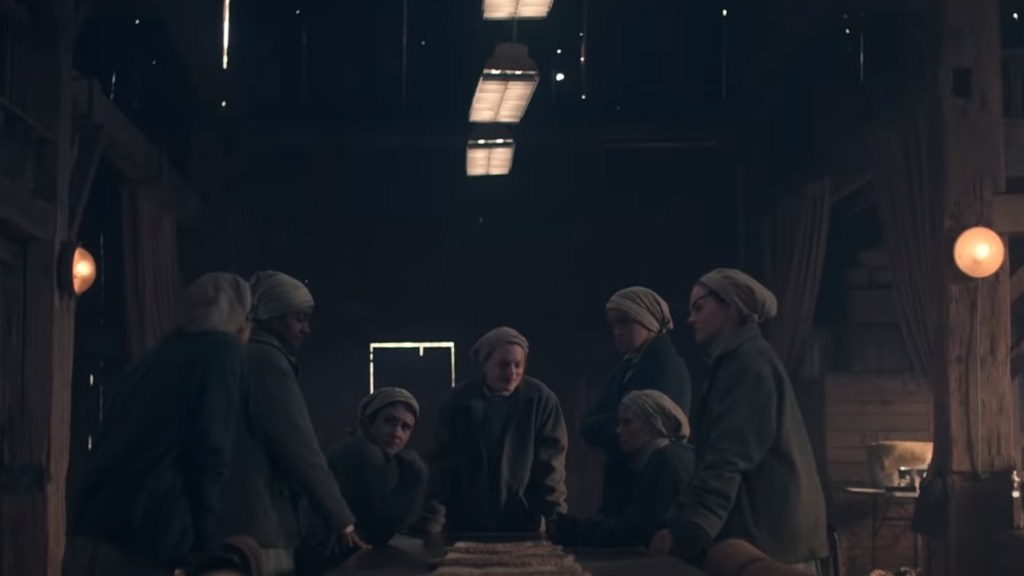 This is certainly new footage, showing a bloodied June on a bed of red Handmaid's cloaks, after the events of the finale. We also see the six Handmaids who bore her away walking through the snow, and then the whole group inside a new safe house location plotting their next move with Alma telling them all that they're not safe anywhere and that they should all just leave.
'These women deserve to be helped'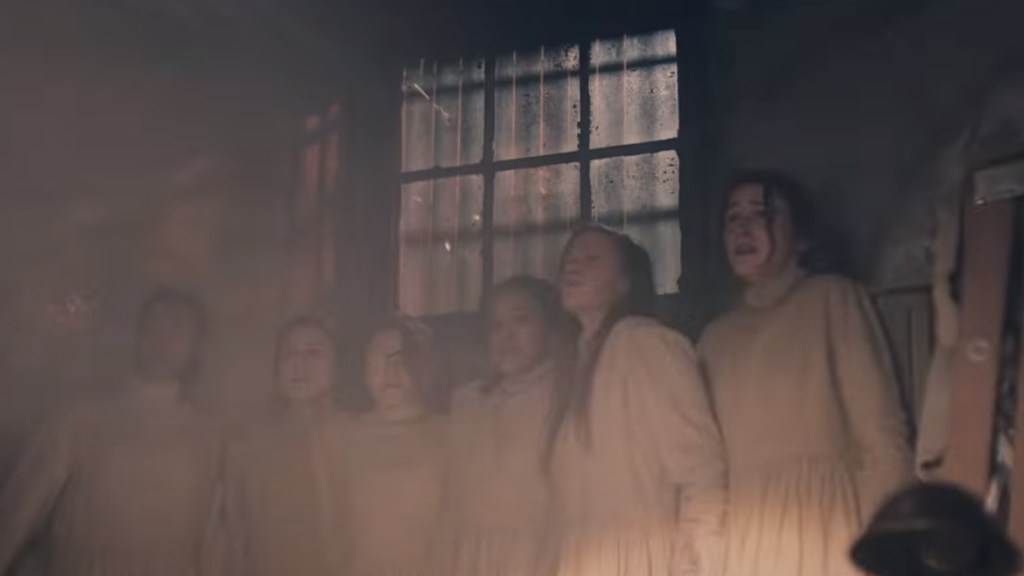 After re-establishing the violent threat of Gilead with shots of the Guardians and their guns, we hear June say that she can't do this alone. The next shot repeats the moment that Emily and Rita met in Canada, hinting at the new bonds about to be formed in season four, and a wider network of support across the border.
'Blessed be the squad'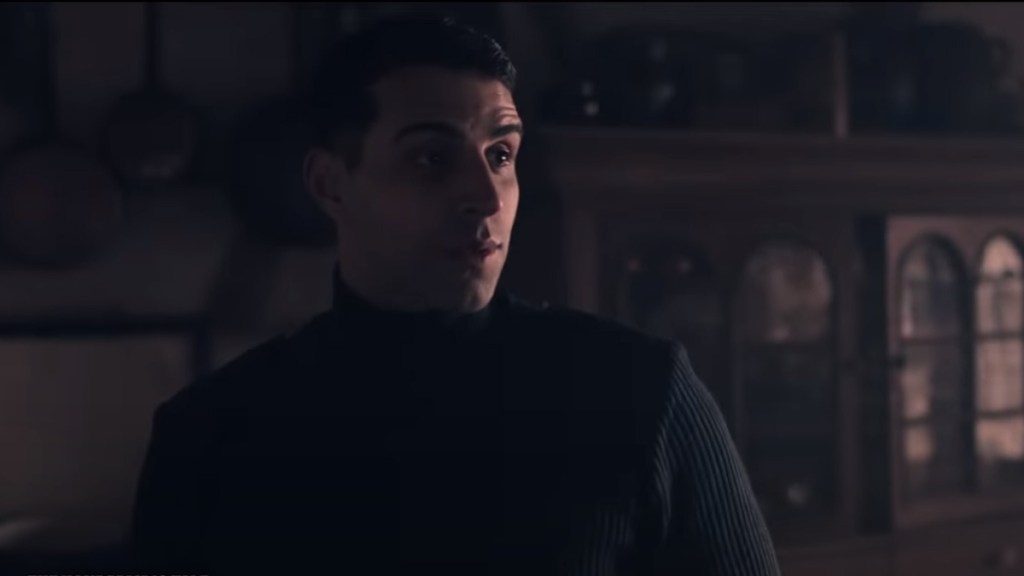 In what look like the same safe house location, a mystery man dressed in what looks like a Guardian uniform reveals himself an ally with the blasphemous 'Blessed be the squad'. Is he one of the establishment sympathetic to Mayday?
'…beyond redemption'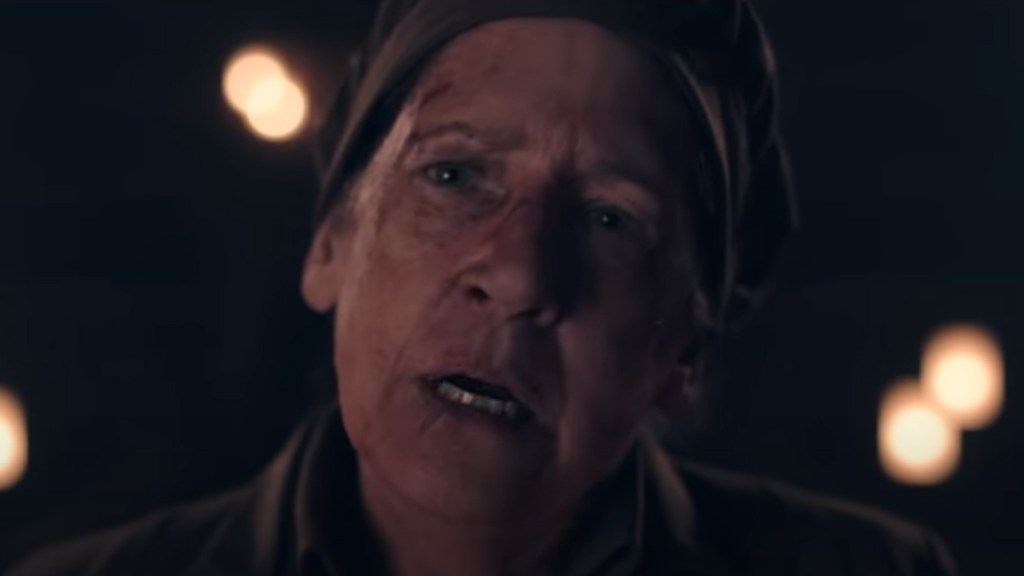 A glimpse of a beaten-up Aunt Lydia here, addressing an unknown party. Her voice plays over scenes of June smuggling Nichole out in the season two finale, Lillie Fuller detonating the bomb that destroyed the new Rachel and Leah Centre in 'First Blood' and Fred Waterford's season three arrest. Lydia speaks of June being 'out there planning who knows what kind of atrocities to visit upon our righteous nation.' She berates herself for never seeing June for 'what she clearly is… beyond redemption.'
'We're just getting started'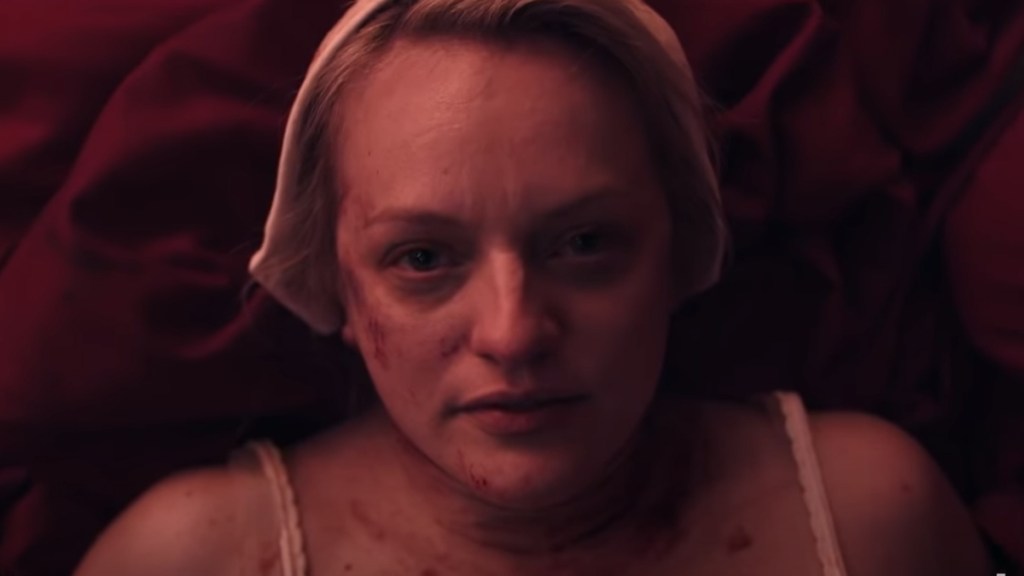 Then it's all-out action. There's a reminder of the Handmaids of Washington DC, wearing their barbaric masks, there's a shot of Luke's perilous escape from Gilead, there's a clip of June murdering Winslow in season three, and Commander Lawrence being led away by Guardians with his voiceover saying 'What happens in the next few weeks will determine the future of this country.'
Next year, says the teaser caption: unite and fight.
The Handmaid's Tale season 4 is due to arrive in 2021.