Reviews
The Gilded Age Episode 8 Review: Let the Tournament Begin
Scandals abound as the penultimate episode of The Gilded Age season 1 heads to Newport, Rhode Island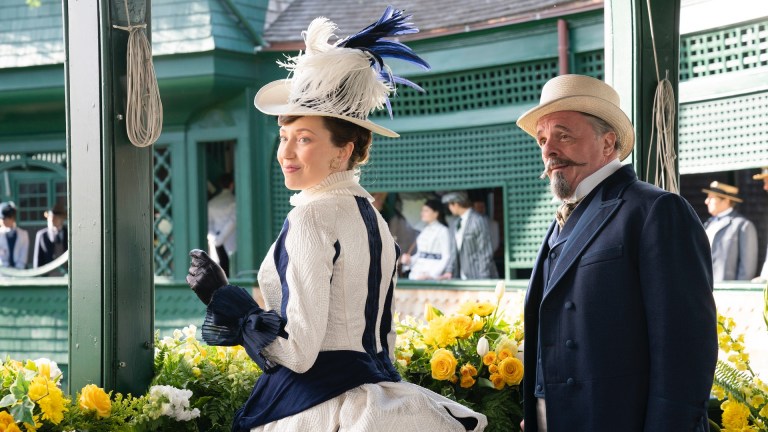 This The Gilded Age review contains spoilers.
The Gilded Age Episode 8
The penultimate episode of The Gilded Age takes Bertha's attempts at breaking into society on the road to Newport, Rhode Island. There's still a lot of action happening in the city with the characters left behind. Before Bertha and Gladys visit the seaside, preparations for Glady's debut ball are well underway. Carrie Astor and the other teenagers are learning the quadrille steps. Mrs. Russell conveniently has an entire band stage in the basement. Costumes and dress fitting are underway. We hope plans for the big night proceed smoothly after Newport.
Meanwhile, George isn't trying to burden Bertha with the details of the pre-trial hearing for the railroad derailment. The lawyers can't find any dirt on Dickson and this is very frustrating. George is confident there's a piece to the puzzle missing and demands that Pinkerton himself needs to find dirt to undermine Dickson's claims. What will they find?
In Newport, we finally meet the mysterious Mrs. McAllister. She would fit in very well with the Charity Karens except she also has a southern twang in her voice. Mr. McAllister is busy convincing Bertha she should build a summer home in Newport. There's a lot of talk about the Astor's home at Beechwood. Bertha immediately sees the appeal of the sun and the sea breeze. Newport isn't just about sitting in lounge chairs, many of the elites also go to the casino to play games and network.
Oscar is using Newport to get closer to Gladys. They play tennis doubles together and Gladys is having fun. There's just one little problem with Oscar's plan: John is also in Newport and they have to pretend they're only occasional acquaintances. Mrs. Fish accidentally makes things worse by inviting the Russells, Oscar, and John to dinner at her house. John claims he's in Newport to have fun but is he also trying to one-up Oscar at his own mission of finding a wife? Who will succeed?
For the folks who love The Gilded Age for dishing out the drama with the staff of the elites, this episode manages to pack in a lot of chaos downstairs. First of all, Baudin, Bertha's chef, is seen arguing with a mystery woman. We haven't seen him do a lot outside of side-eying Bannister so this is very interesting. He's clearly hiding something. Secondly, Jack, the footman for the Aunts, has been very cagey about what he does on his day off. Bridget the housemaid is convinced he's dumped her for another girl. It turns out he's been visiting his mother's memorial stone. His mother died in a forest fire when he was 9 and they weren't able to recover her body for burial. Even though Bridget a few episodes back revealed she had a terrible relationship with her mother, she still knows what grief feels like. These two situations are merely appetizers for the biggest staff scandals of the episode.
At the Aunts' house, we've seen for the past few episodes that Armstrong really doesn't like Peggy. Mr. Raikes delivers his legal findings in letter form and it's clear Amstrong read it before Peggy could. Ada and Mrs. Bauer also agree that Armstrong is shady as hell and Peggy decides to tell Agnes the entire story to stop whatever scheme is happening. Marian ends up being the first person to hear the whole story because she has decided to say yes to Raikes' marriage proposal.
Peggy told the story of her love for the pharmacy stock boy, Elias Finn, a while back. She now reveals that she eloped with Elias and moved to Philadelphia. Peggy had an extremely rough pregnancy and she had a stillborn baby boy. Arthur Scott pulled some legal shenanigans to annul the marriage without her consent as Peggy was experiencing postpartum depression. Peggy asked Raikes if he could track down the midwife who delivered the baby to find out more information but he was unable to. Armstrong interpreted the letter as evidence Peggy was an unwed mother which is fanfiction.
Agnes after hearing the whole story immediately sides with Peggy but stops short of firing Armstrong on the spot as Bridget is too inexperienced to take her place. Agnes also knows the pain of miscarriage/ stillbirth. Peggy decides that living with the Aunts and working as Agnes' secretary is ruined now thanks to Armstrong so she decides to move out. Agnes tries to persuade Peggy to reconsider but it's too late. Peggy hasn't quit working for the Globe but has decided to move back to Brooklyn with Dorothy. It's very clear that confronting her dad is going to be her biggest struggle in the season finale.
Although many people would say Peggy's story was obviously predictable, there is one element where it's clear that Dr. Dunbar steered The Gilded Age scripts away from more damaging stereotypes for Black women characters. The episode makes the point clear that Peggy was not unmarried and pregnant. In addition, stillbirths and other pregnancy complications that could have been diagnosed or even prevented with modern medicine are conditions that crossed racial lines in the 1880's. Fathers or male relatives' undoing elopements was also something that a white middle or upper-class man would have also done if they believed their daughter needed to be "saved".
Armstrong's bullying also makes Peggy realize that her job with Agnes was really a temporary situation and it was not ideal to be faced with all sorts of microaggressions every day. Even though we don't see Fortune and the Globe in this episode, we know that there's more reporting to be done. There's clearly time for Peggy to become the in-universe version of famed Black journalist Ida B. Wells.
The biggest staff scandal comes from George's office. As George's lawyers are busy trying to find dirt, Marian is in Bloomingdale's shopping for gloves when Mrs. Dickson leaves her wallet behind. She's heard that name before in association with George so she brings the lost item over to the Russells. George is confused because he knows a Mrs. Ainslie works for him as his stenographer.
The truth unfolds at the pretrial hearing as George angrily forces Dickson to identify his wife turned secretarial spy. "Mrs. Ainslie" confessed that she stole a memorandum that was about an interior decoration estimate that was used as Dickson's evidence for foul play with the train axles. Dickson was also siphoning money from the company. The judge ruled that George is exonerated while the Dicksons will have to go trial for fraud charges. George may be an evil capitalist, but he didn't cause the derailment.
Back in Newport, the discussion once again turns to Mrs. Astor's house. Bertha is very curious and there's a suggestion to take a carriage drive there. Mr. McAllister suggests they can try and get a tour while Mrs. Astor isn't there. He bribes the stern butler and then all of a sudden Mrs. Astor shows up! Bertha has to sneak out the servants' entrance. Everyone is staring at her nice dress as they're plucking chickens, smoking, and beating the dust out of the rugs. The disconnect and the irony of this closing scene is top-tier comedy!
Will Mrs. Astor find out about the sneaky house tour? What will happen with Marian's decision? Who will show up at Glady's debutante ball? We will find out next week on the season finale of The Gilded Age!