Reviews
The Gilded Age Episode 4 Review: A Long Ladder
Despite a reduction in tension, The Gilded Age's latest develops its characters and dynamics particular well, most especially a conflict between Peggy and Marian.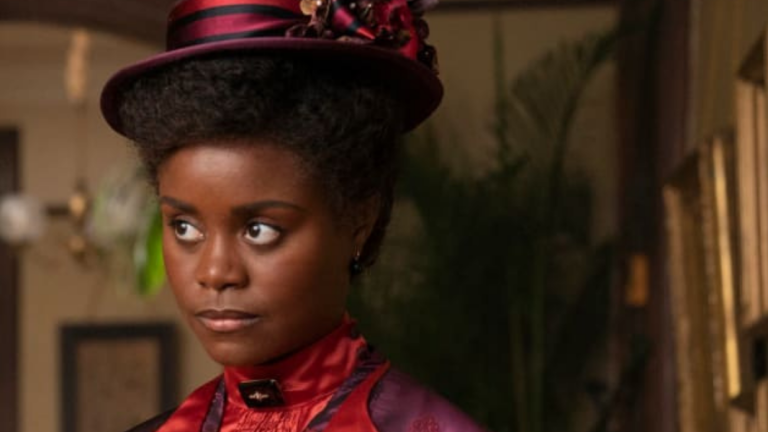 This The Gilded Age review contains spoilers for Episode 4.
After the rise in tension in last week's episode of The Gilded Age, "A Long Ladder" may feel like a letdown. However, this episode is clearly the beginning of Russell's transition from being outsiders to insiders. Although new developments are introduced for several characters, the unanswered questions from the last episode are just underneath the surface, making for a solid mid-season installment.
Peggy finds out The New York Globe is interested in publishing her short story. T. Thomas Fortune is a hands-on sort of editor. He's operating a printing machine instead of hiding in the office. The Globe's readership is primarily African Americans who are politically divided. Fortune asks Peggy about whether she thinks the Republicans deserve their continued support. At this time, the Republicans were seen as more willing to support social reforms than Democrats were. Peggy says she can't pick a side when she isn't allowed to vote as a woman. Fortune asks her to write an editorial about women voting. Things are starting to look up for her writing career, so she takes that good news to gloat at her Mother's birthday lunch.
Marian is still mulling over Mr. Raikes' offer of marriage. Aside from Agnes' consternation, she's not even sure what her choice should be. Hanging out with the Charity Karens is rubbing off on her as she drags Peggy into Bloomingdales Brothers. Yes, this is the beginning of the high-end department store we know today as Bloomingdale's. Peggy's uncomfortable with the 1882 version of being followed around the store, however, Marian wants to use her allowance. She runs into Mrs. Chamberlain who is looking at a wood-carved jewelry box. Their conversation is awkward but it turns out Mrs. Chamberlain has taken a shine to Marian. Where will that end up?
Meanwhile, it appears George Russell is not being officially blamed for Alderman Morris' suicide. Charles Fane who appears to be Morris' successor says that Morris' own moral failings caused what happened. This appears a very cruel point of view compared to today's however was very common at the time. Fane is more willing to cooperate with George as long as Bertha gets a proper entrance to society in return for putting the second railroad station back on track. Unfortunately for Oscar, his plans to approach Gladys again now that she isn't bankrupt are derailed by George's continuing distrust of his intentions.
Things are finally looking good for Bertha Aurora Fane invites Bertha to a concert at the Academy of Music. George wants Bertha to eventually sit on the board for Clara Burton's Red Cross. Aurora also tells Bertha that she may not get an invite to meet Mrs. Astor directly but her friend Ward MacAllister keeps track of the Four Hundred most elite New Yorkers. What will happen at the concert?
Meanwhile, at the Aunts' house, Bannister takes Pumpkin for his daily walk when he gets scared by a horse yet again. This time unfortunately he runs right out of his collar and can't be found. Ada is absolutely inconsolable while Agnes tells her to get over it. How could Ada get over it, Pumpkin is her best friend! Pumpkin thankfully turns up a bit dusty over at the Russels. His cute face interrupts Bertha firing Gladys' current governess Mrs. Grant as she's been too loose with controlling who Gladys talks to. The Russell staff clean Pumpkin up and send a message to the Aunts that he is OK. Agnes is suspicious that bringing Pumpkin back could be used as an excuse for Bertha to shove herself into their good graces. Bannister ends up retrieving Pumpkin from the Russells staff but not before some interesting convos between Bannister and his counterpart about table setting customs and menus. Etiquette and household management are also playing a role in the war between the new money and the old guard as although the servants may not have a personal opinion, their livelihood often depends on making their boss look good.
Marian ends up making her own house call. The very wooden box she was eyeing at Bloomingdale Brothers ended up delivered as a gift. She knows Mrs. Chamberlain is behind it but she refuses to tell the Aunts who the sender is. Mrs. Chamberlain knows Marian has to play nice with the Aunts so she's not at all mad about Marian returning the gift. It's a shame she's a social pariah for being Mr. Chamberlain's mistress and a child before they were officially married as she has great taste in fine art. There's a Degas casually laying around and her collection would be worth millions or even billions today. Marian finally hears Mrs. Chamberlain's version of her life story and it's clear the Aunts are piling on a marriage that was clearly a loving one. Maybe that's why the Charity Karen widows are REALLY mad at Mrs. Chamberlain, it's jealousy vs. caring about the ten commandments.
Back at the Russells, Bertha is not the only one attempting to climb the social ladder. Mrs. Turner who has spent the past few episodes trying to hit on George with no results makes her most tone oblivious move yet. She climbs into George's bed completely nude and attempts to seduce him. She claims Bertha doesn't care about serving his "desires" but she can. He tells her he doesn't want a mistress. George would love to fire her on the spot but realizes Mrs. Turner could easily weaponize Bertha's trust. He tells her to get out and never speak about the rejected advance again. There was a similar plotline in Downton Abbey but Fellowes clearly takes advantage of HBO's leniency on nudity for maximum dramatic effect. The difference here is that George hasn't sent any mixed signals at all.
Speaking of one-sided interest, there is also an update on the situation between the Aunts' maid and footman. Bridget keeps pushing Jack away after their theater date but he keeps trying to figure out why she keeps pushing him away. Mrs. Bauer overhears her crying and she whispers about her mother allowing something to happen. Based on the language of the era it appears she was molested or another form of abuse as a child which makes her distrustful of men. Both are single so unlike Mrs. Turner, Jack might be able to convince Bridget to go on a second date if she tells him about her past.
Agnes is pleased by Peggy's publishing update and gives her permission to take the day off to meet her parents. Arthur and Dorothy Scott live in a brownstone house in the Fort Greene neighborhood in Brooklyn. Peggy's dad owns a pharmacy and her mother is active in neighborhood affairs. They have Black domestic workers. In the 1880's Fort Greene was where the Black middle and upper-class New Yorkers lived. Today, the neighborhood still has some descendants from this era living there as well as newer Black diaspora residents. Peggy's parents are clearly hiding some issues to present a united front in persuading her to come back home. Peggy shares the good news about the New York Globe but is completely uninterested in coming back to live with her parents or seeing old friends from the neighborhood.
As if there wasn't already a ridiculous amount of tension at the Scott table, Marian makes it 100 times worse by stopping by unannounced and becomes a Baby Karen viewers of color feel immediate revulsion towards. Marian assumed the Scotts were poor so she tries to give Mrs. Scott a pair of old shoes. Peggy is especially incensed as she doesn't consider Marian a friend the way Marian does. Fellowes loves writing social faux pas and class conflict scenes but it's so clear this time around Dr. Erica Armstrong Dunbar's influenced the way this scene was written. All of the emotions Peggy expresses are authentic and hit way too close to home for viewers of color.
Marian leaves the Scotts unable to smooth the situation over. She has one more challenge remaining: her invite to the Academy of Music. Marian sits next to Bertha who is more than ready to steal the show from the orchestra performing. At intermission, Mr. Raikes suddenly appears. He's the companion of Mrs. Schermerhorn, who he met through connections at work. Marian hasn't said yes or no definitively to the marriage proposal but she sees Raikes fitting into the world of the Aunts. Bertha advises Marian to be careful as Raikes is likely spending money he doesn't have to keep up with the Joneses. The episode ends with Marian being swept away by the orchestra.
Although every episode has featured elements of 1882 New York City which still exist, seeing Fort Greene as it was 140 years ago was a special treat for this current Brooklyn resident. Bloomingdales and the now Brooklyn Academy of Music is also still thriving today. Peggy and Marian's falling out also has a lot of realism in today's world. Who is Ward McAllister and will Bertha finally get on the Four Hundred List? Is Marian actually romantically interested in Raikes or is it the mood music? Is Raikes interested in Marian because of their shared past or for access to a richer future? These questions and more hopefully will be answered on next week's The Gilded Age.