Features
The Dragon Prince Season 3: What to Expect
We learned new things from the cast and crew about The Dragon Prince Season 3 (and beyond!).
The Dragon Prince season 3 doesn't have a release date quite yet but that didn't stop the cast and crew from showing up at San Diego Comic-Con to give us some insights into the next season and beyond.
Some of these facts are from the panel that included show creators Aaron Ehasz and Justin Richmond along with Jack DeSena (Callum) and Pula Burrows (Rayla). Others come from an exclusive interview with Den of Geek that included Ehasz and Richmond.
Season 3 Will Be The End of The Dragon Prince… Sort Of
No, don't worry! The show isn't cancelled. In a presentation at the panel the creators showed off that season 3 (with the book name "Sun") would be the final part of The Dragon Prince as it is now. However, after that there's the hope that Netflix will commission more of what the creators called "The Saga". "The Saga" would encompass a series entitled The Dragon Prince: Name Withheld (not the actual subtitle, just a place holder) and a third series that wasn't given a name. That second series will have two books (aka seasons) in it, with the first titled "Earth". The third series would also have two books.
Aaron Ehasz stressed that fans have to create the demand to ensure the entire story gets told.
The Dragon Prince Season 3 Plot Developments
It was teased that Gren and Amaya will reunite. Paula Burrows teased that coming up we'd see some "impactful" moments that touch on Rayla's history. We'll also find out why the dragon egg was kept alive.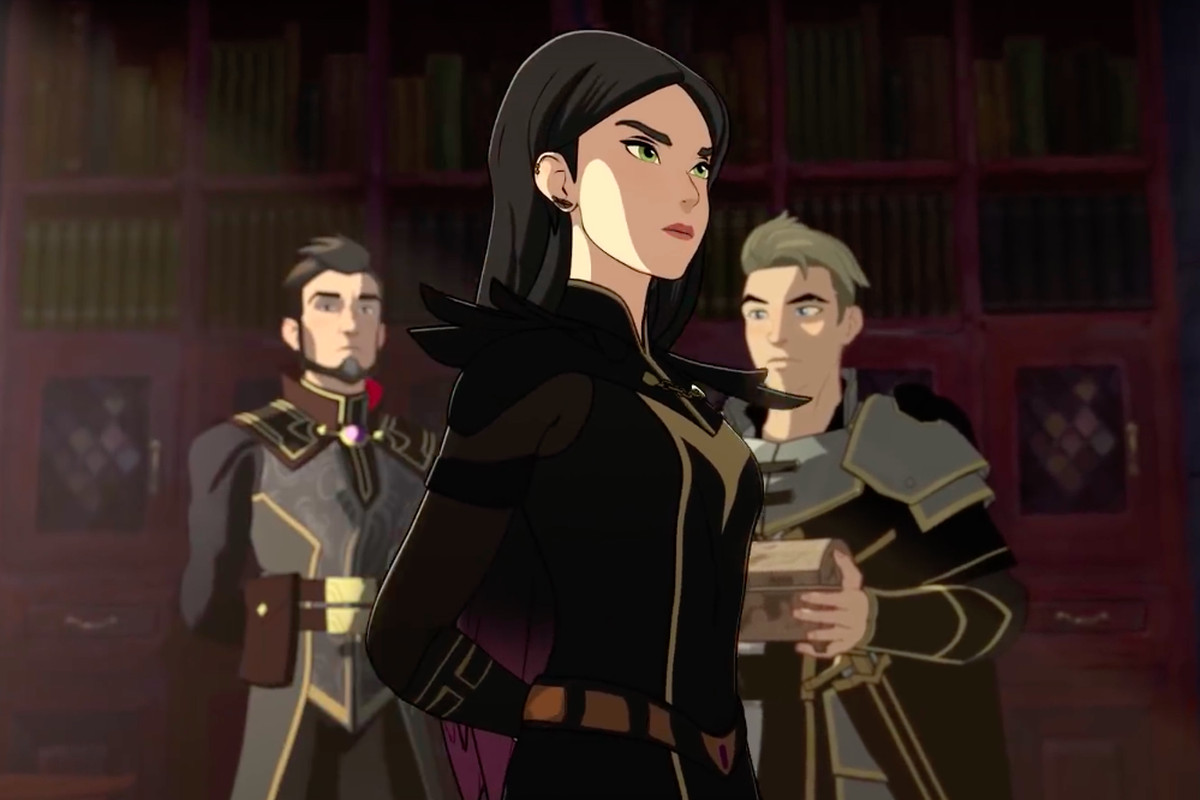 Claudia Will Be Tested
While Ehasz was quick to reassure that Claudia is "hilarious and her own quirky self" in season three she's also going to "have to face some dark things. Claudia is going to be tested in big ways." He elaborates that she'll do anything to keep her family together and that includes some "very twisted things. Having her powers but also her motivation, you can just see where it's going to bring her to some difficult places."
The Dragon Prince Season 3 Footage Description
At the panel we got to see a lengthy clip from season 3 that actually linked up with a scene from the very beginning of the series. Remember in the intro of episode 1 where we saw a human use dark magic for the first time? Well we get to see a scene set just before that with the human speaking with Sol Regem. He tells the human to give up dark magic or he would destroy the entire city. As we saw in episode 1, things don't exactly go well for Sol Regem.
read more: Give The Dragon Prince a Chance
Soren Will Grapple With His Mission
With essentially being asked to kill kids, Soren will start to question why. Ehasz elaborates, "he is complicated enough that I don't know which side he'll come out on. He obviously wants to make his dad proud. It's going to be a great season for Soren." 
Season 3's Animation is Improved
A huge point of critical concern for the first season of The Dragon Prince was its animation, which felt a bit jittery and under par. Thankfully season two dramatically improved it and Justin Richmond says they introduced new technology in season three to make it look even better.
"There's some really amazing sequences that we definitely could not have done in season one, we weren't ready for it. I think it looks absolutely incredible."
The Dragon Prince's Deep Lore 
Fans were given a look at the timeline of Xadia and it give just a cursory glimpse of how much thought has been put into The Dragon Prince's universe. 5000 years ago was "The Era of the First Elves", which was described as Xadia's "mythical, Biblical first days." Next up is the "Rise of Elarion" which was 2000 years ago and saw humans find their way to magic. 1200 years ago was Era of Sol Regem.
read more: Everything New on Netflix
1000 years ago was the division of Xadia, the era of Luna Tenebris, and The Mage Wars. 300 years before the series was the "Era of Avizandum." This era includes two stories the team behind The Dragon Prince would love to tell, including "The Fallen Star" and "The Orphan Queen." The modern era, where the show takes place, was called "The Return of Aaravos." 
The Orphan Queen
One of the stories set in the "Era of Avizandum" was "The Orphan Queen" which the team hopes to be able to tell in the series, upcoming tie-in novels, or perhaps a feature film! The story follows a human girl who grows up without her parents. She takes a dangerous journey to Xadia and ends up saving the world. A nice bit of connection has her as Ezran's first royal ancestor.
Terry: The Earthblood Elf
While fans weren't sure if this was a joke on the pane, Ehasz confirmed that an Earthblood Elf named Terry is coming to the show, though not in season 3. Richmond did say that Terry is "hilarious" and Ehasz elaborated that Terry has "powers that are similar to Toph" (from Avatar: The Last Airbender.)
Special thanks to Hazel for her help with the interviews for this article.
Shamus Kelley is a pop culture/television writer and official Power Rangers expert. Follow him on Twitter! Read more articles by him here!
Read and download the Den of Geek SDCC 2019 Special Edition Magazine right here!