Features
The Bridge: what to expect from series 4
According to creator Hans Rosenfeldt and its stars, here's what The Bridge series 4, starting this Friday on BBC Two, has in store...
It's been a painfully long wait for UK viewers, but it won't be long now until we hear the opening bars of that unforgettable theme tune again. Saga and Henrik are heading back to our screens, and this time they're on BBC Two, so all your subtitle-dodging friends are going to get hooked. Good news, eh? There's a cloud attached to this silver lining, though. The change of channel isn't just a nod to the show's immense popularity. It also, sadly, serves as a valedictory gift to the dynamic duo as they embark upon their final case. Series four will be our last journey across the Øresund Bridge.
On the evidence of the first episode – screened at the BFI last month – it's going to be a very worthy conclusion to one of the most consistently fascinating TV shows ever made. Two years after the successful resolution of the Emil Larsson case, we find Saga and Henrik still struggling with the personal crises they were faced with as they raced to solve that series of horrendous murders. Henrik's considering giving up on the search for his missing daughters, while Saga's got lots of time to contemplate her woes from the confines of her prison cell. Yes, you read that correctly. Our favourite Swedish detective (and let's face it, that's a crowded field) has been the victim of a miscarriage of justice engineered by her dreadful mother, whose last act of malice was to frame her daughter for her 'murder'.
While Saga awaits the outcome of an appeal against her guilty verdict, Henrik's despatched to investigate a brutal killing: the stoning to death of the head of Denmark's immigration service. We're quickly swept up in a compelling mystery, as the refugee crisis, political terrorism, and homophobia bring the usual thoughtful topicality to what is perhaps the most brutal case so far. Dark, multi-layered, and often very funny, the first episode serves up everything we've come to love about The Bridge while throwing us off balance with the shocking revelation of Saga's fate. Lead actors Sofia Helin and Thure Lindhardt and co-writers Hans Rosenfeldt and Camilla Ahlgren were all present for a Q&A session after the screening. Based on that fascinating insight into the show's creation, here are five things we can expect from The Bridge's final run…
A complex case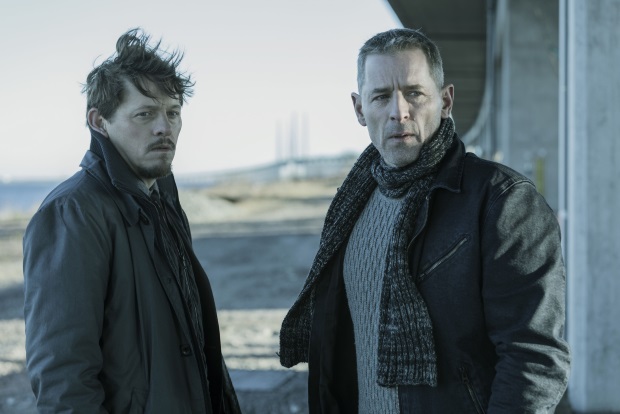 As anyone who's followed The Bridge from the beginning is well aware, the amount of plot and sheer number of characters in each series is impressive. The fact that all the disparate story strands end up being woven together into a cohesive whole is testament to the storytelling skills of Rosenfeldt and Ahlgren. You won't be surprised to learn that a huge amount of effort is put into the plotting process for each series. Rosenfeldt explained that he starts with the crime itself, then works backwards, building the story around a social issue at the heart of each series; this 'multi-plotting' leaves us with the satisfyingly tangled web of narratives that are The Bridge's trademark, all of which shed some light upon the questions posed by that central theme.
Series four runs to only eight episodes, rather than the usual ten. While this will disappoint some viewers, Rosenfeldt explained that the new setup actually worked well due to the shorter shooting time allotted to them for series four. He also let slip that a tricky production issue was solved by this change. With the final two episodes planned as a feature film and therefore largely unalterable, material would be moved around between earlier instalments during the writing process, leaving a big gap by the time they got to episode eight and a major headache for the writers. To everyone's relief, the streamlined series four had no such problems.
A central theme
Series three's key theme of family was explored with immense sensitivity and compassion, teasing out all sides of a number of apparently intractable social problems. In series four, the theme is identity, and the sophistication of the storytelling is every bit as impressive. We're introduced to a typically varied set of new characters, all with their own complicated motivations.
Identical twin brothers happy to confuse their dates seem to inhabit a different world from that dwelt in by an Iranian refugee fleeing homophobic persecution, yet both stories yield different perspectives on the central question while refraining from offering easy answers. Saga's realisation that she has lost everything that she felt defined her – her work as a police officer, her comfortingly familiar routines as an autistic woman, her freedom – reflects Henrik's own difficulty in surrendering his cherished identity as a father to two girls who may be long dead. Rosenfeldt and Ahlgren noted that the broadcasters responsible for The Bridge (Sweden's Sveriges Television and Denmark's DR) have always insisted on the inclusion of a strong social theme in order to keep the show timely and relevant to the modern world.
In previous series, the investigations have been joint efforts co-ordinated by police forces from both the Swedish city of Malmö and the Danish capital, Copenhagen. This time, however, the case is – despite the occasional foray into Sweden – exclusively Danish, which gives series four's bleak urban environment a slightly different feel. Long-time fans will be shocked to learn that some filming actually took place in a small village, to Rosenfeldt's mock chagrin ('We don't like nature') although Helin was quick to reassure the audience that the field trip was still 'depressing'. Some things never change.
Rich characterisation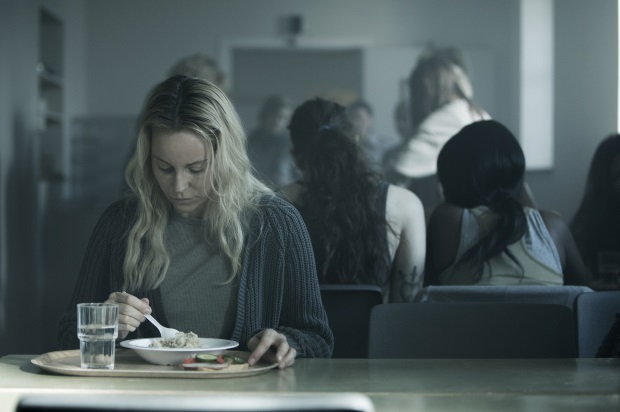 Pointing out the depth of characterisation in The Bridge feels a bit like announcing that Match Of The Day is – hold the front page! – largely concerned with football. Given the dearth of strong, believable female characters on our screens, however, it's worth reiterating that Saga is a brilliant creation, beautifully written and superbly played. Rosenfeldt pointed out that the aim has always been to reach a 50/50 gender balance in all aspects of the production (yes, including the murder victims) but it's the quality of The Bridge's characters that really sets it apart from comparable shows. That said, the writers aren't sentimental when it comes to making tough decisions. There were gasps from the audience as Rosenfeldt admitted that the original plan was to kill off Saga in the penultimate episode of series one. Luckily for us, that idea was vetoed from on high.
Each series was planned individually; important details such as Saga's miserable upbringing and her sister's suicide weren't included in the character bible when the show was being developed, but were added later as the story grew and changed. None of the actors knew exactly what would happen as the narrative progressed, lending their performances a degree of emotional spontaneity that only added to the realism of what appeared on screen. Lindhardt appreciated the eight or nine months he had to prepare for his role in peace before it was announced that he was joining the show, and he's been pleased with the audience's response to Henrik, joking that, at any rate, nobody who disliked Saga's new partner has yet bothered to tell him so.
Political subtext
The relevance of this year's theme was obvious from the start, as the changing political situation in Sweden and Denmark in response to the refugee crisis led to polarisation and the hardening of attitudes. The friction between the two nations provided obvious dramatic tension; Ahlgren mentioned the new requirement for Swedes to show their ID as they cross the bridge into Denmark, a striking symbol of the contrasting approaches taken by these neighbouring states, which added an extra layer of symbolism to the concept of the titular bridge as a metaphor for both division and cultural transference. As ever, the show's writing observes rather than judges, with this series' complicated issues promising to be as thoughtfully and sensitively depicted as we've come to expect.
A deeper relationship between Saga and Henrik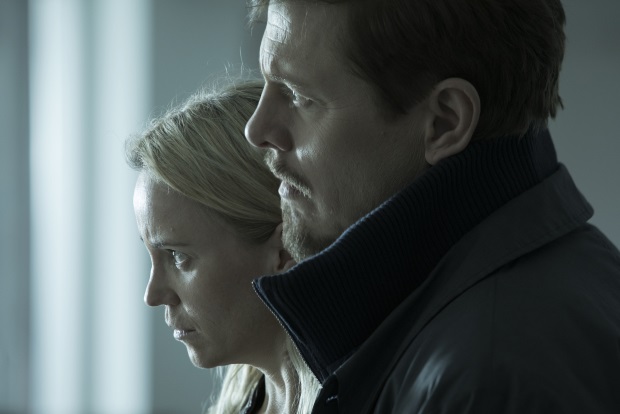 The most intriguing development in series three was the budding relationship between Saga and her new partner. These two tortured people, living like 'wounded animals', in Ahlgren's vivid description, found solace in each other; at first purely physical, their growing connection hinted at an unconventional, but deeply rewarding, love story. The exact nature of their relationship was left open to interpretation as the third case came to its tense conclusion, but one thing was evident: Saga and Henrik were going to play important roles in each other's lives. As series four opens, anybody who's been rooting for these two to take their unexpected romance further will be very happy indeed. Saga's current, er, living arrangements aren't getting in the way of her favourite method of relaxation, and Henrik's still more than happy to assist. His reaction to hearing Saga described as his girlfriend is worth looking out for, too. Saga's feelings are, as ever, more opaque, but something in her eyes suggests that she may no longer prefer her solitude on the rare nights they don't have sex.
Next, I started out by promising five things you can expect from The Bridge's final series, but there's one much anticipated plot point that is definitely off the table…
Martin
Chatting to me after the screening, Rosenfeldt confirmed that Martin Rohde – Saga's Danish partner in series one and two, who was jailed after she discovered evidence that he was responsible for the murder of his son's killer – won't return. Those of us who'd wondered if there might be space for a cameo as Saga's story reached its close weren't wrong, though. Actor Kim Bodnia was approached, but he proved to be unavailable. Rosenfeldt was careful not to spoil upcoming episodes, but was adamant that it'll be easy to spot the point at which Martin would have made an appearance.
The Bridge starts on BBC Two on Friday 11th May at 9pm, all previous series' are available on iPlayer now.