Features
The best returning US TV shows in 2019 and beyond
Here's our pick of the best returning US TV shows set to air in the UK, release dates and where to watch them this year and next…
Here's where to find out if, when and where your favourite US TV shows will be returning and airing on UK television. There are new seasons in development of Westworld, Better Call Saul, and The Walking Dead, including a gaggle of shows that are saying goodbye in their next run, from Game Of Thrones to Mr Robot, Homeland, Veep, Jessica Jones and The Man In The High Castle. 
We'll keep this list, which only includes US shows with a current UK broadcaster confirmed, updated with renewal and air date news as and when we hear.
American Gods season 2
Release date: March 11th, Amazon Prime Video
Production on American Gods season two was troubled to say the least, but here it comes – eight new episodes of the Neil Gaiman fantasy adaptation starring Ricky Whittaker, Ian McShane, Emily Browning and Pablo Schreiber will air on Amazon Prime here in the UK, following their weekly US airing on Starz. Preparations for the coming war between the old gods and the new escalate…
Atlanta season 3
Release date: tbc, FOX UK
Donald Glover's ascendency continues, with another ten-episode season order from FX for his intelligent, inventive comedy-drama Atlanta. Glover created, executive-produces and stars in Atlanta, playing Earn, a young father attempting to improve his family's lot as the manager to his rapper cousin. Due to Glover's film and music commitments, this one may well not arrive until 2020 at the earliest.
Better Call Saul season 5
Release date: tbc, Netflix
Slippin' Jimmy is set to return for a fifth season of moral tussling and dodgy dealings (equalling the innings of its parent drama). Bob Odenkirk gives a masterful performance as the man who gradually becomes the sly lawyer we recognise from Breaking Bad, and is supported by an excellent cast, strong writing and poised direction.
BoJack Horseman season 6
Release date: tbc, Netflix
BoJack Horseman has long-since proved itself as much more than one weird joke about an animated talking horse; it's loads of weird jokes about an animated talking horse, along with the kind of depth and emotional insight that most live-action series would give their right hock for. Season six is coming, but there's plenty of time to catch up before it does for latecomers.
Big Little Lies season 2
Release date: June 2019, Sky Atlantic
Meryl Streep is the big news for Big Little Lies season two. The celebrated actor joins the already starry cast of Nicole Kidman, Reese Witherspoon, Shailene Woodley, Zoe Kravitz and Laura Dern for the follow-up to season one's mystery-drama, playing the mother of Alexander Skarsgard's character Perry.
Billions season 4
Release date: March 2019, Sky Atlantic
Paul Giamatti and Damian Lewis return as Chuck and Bobby in the fourth season of Billions, and they're out for revenge. High finance meets high drama and high-level political wrong-doing in this Showtime series, which also stars John Malkovich sporting an outrageously fun Russian accent.
Black Mirror season 5
Release date: tbc, Netflix
Black Mirror surprised us by releasing interactive film Bandersnatch just before the New Year. It was the labyrinthine tale of computer game designer Stefan (Fionn Whitehead) and his psychological collapse while trying to code a choose-your-own-adventure-style videogame. That was a standalone feature-length film, and arriving in its wake will be a clutch of brand new future-tech episodes about which little is known aside from the involvement of one Miley Cyrus.
Designated Survivor season 3
Release date: tbc, Netflix
ABC cancelled this Kiefer Sutherland-starring political thriller after two seasons, but to fans' delight, Netflix picked it up for a third run of ten episodes. Filming has just wrapped on season three, which is due out for worldwide release on the streaming service later this year.
Chilling Adventures Of Sabrina season 2
Release date: April 5th, Netflix
Following on from the 2019 debut and festive special, Sabrina Spellman returns this April with the first eight episodes of an extended-length second season (the final eight are expected to arrive later this year). Kiernan Shipka and the gang will all be back, as Sabrina attempts to balance everyday high school life with family duty, magical enemies and some truly scary monsters.
Fargo season 4
Release date: tbc, Channel 4
Creator Noah Hawley's other show, the mind-bending X-Men spin-off Legion, is due to air its third and final season this summer, hopefully freeing him up for another return visit to Fargo. Production is due to get underway in autumn 2019 on season four, which is rumoured to star stand-up and actor Chris Rock as a 1950s Kansas City crime boss.
Fear The Walking Dead season 4
Release date: tbc 2019, AMC Global
Fear The Walking Dead will be back in its regular summer spot in between the end of AMC's The Walking Dead season nine and the start of season ten. There are more crossovers from the parent show planned too, so expect to see some familiar faces.
Game Of Thrones season 8
Release date: April 15th, Sky Atlantic
This is the end, beautiful friend, the end. (Before HBO winds back the clock and starts again with the in-development prequel spin-off). The song of ice and fire will conclude this spring with six extended-length episodes that will no doubt be a total bloodbath. Prepare to say some tearful goodbyes.
GLOW season 3
Release date: tbc, Netflix
We last saw The Gorgeous Ladies Of Wrestling boarding a coach to Las Vegas where their defunct late-night TV show will become a live stage performance. Season three will show us what happens to Ruth, Debbie, Sam and the rest of the colourful gang with another ten half-hour episodes.
Grace And Frankie season 6
Release date: tbc, Netflix
There's more joy contained in an episode of Jane Fonda and Lily Tomlin's odd-couple comedy Grace And Frankie than is to be found almost anywhere else on TV. Whether it comes from the writing, the chemistry of the two leads, Tomlin's natural gift for laughs, Fonda's arch line delivery, or a supporting cast including Martin Sheen, Sam Waterston and June Diane Raphael, joy is the end result. Season six is due to arrive in early 2020.
Homeland season 8
Release date: tbc 2019, Channel 4
Season eight will be Claire Danes' final outing as Carrie Mathison, the increasingly fractured and troubled CIA agent. Twelve new episodes starting out in Afghanistan will round off Carrie's story, and are due to arrive in autumn 2019.
Jessica Jones season 3
Release date: tbc 2019, Netflix
Along with Daredevil, The Punisher, Iron Fist and Luke Cage Netflix has cancelled Krysten Ritter's Marvel series, making season three the super-powered private investigator's final outing on the streaming service. Let's hope she goes out with a bang.
Killing Eve season 2
Release date: tbc 2019, BBC One/BBC Three (April 7th on BBC America)
Out in the US in April, if this spy-comedy-thriller starring Jodie Comer and Sandra Oh follows last year's release pattern, we won't see it for a good few months here in the UK. More's the pity. The obsessive love-hate-woo-stab relationship between Euro-assassin Villanelle and British intelligence agent Eve captivated audiences in season one, and we're ready for more.
Knightfall season 2
Release date: tbc 2019 (25th March in the US), The History Channel
Tom Cullen is joined by Mark Hamill in the second season of this Knights Templar historical drama, telling the story of the famed brotherhood of warrior monks and their clashes with power, greed and enemies. Season two filmed last year in and around Prague, and arrives in the US this March. A UK air date is yet to be announced.
Lost In Space season 2
Release date: tbc, Netflix
Netflix's 2018 Lost In Space revival was a pleasant surprise – a good sci-fi adventure with high production values and a decent cast. The ten-episode first season retold the story of the Robinsons, a family of space colonists whose ship veers off course. Season two was ordered hot on its heels, and is currently in development with no word as yet on an expected air date.
Lucifer season 4
Release date: tbc, Netflix
After three seasons, FOX put Lucifer to bed, much to the dismay of fans. Their prayers were heard by Netflix, who picked up the fantasy procedural about the devil (played by Tom Ellis) running an LA club and consulting for the LAPD for a ten-episode fourth run, which is due to arrive in 2019.
Marvel's Agents Of S.H.I.E.L.D. season 6
Release date: tbc (May 2019 on ABC in the US), E4 
While the Marvel-Netflix collaborations were dropping like flies, SHIELD fans were delighted to see that the future of ABC's Marvel show was assured for not one but two further seasons. The delayed sixth season is due to arrive in the US in May (and here in the UK thereafter), while a seventh 13-episode season will follow, having been filmed back-to-back with season six.
Mindhunter season 2
Release date: tbc, Netflix
Based on the book Mindhunter: Inside The FBI's Elite Serial Crime Unit, this 1970s-set drama produced by David Fincher chronicles the early days of criminal psychology and profiling in use at the Federal Bureau of Investigation. The ten-episode first season was by and large a talking-point hit, hence the almost instant second season renewal.
Mr Robot season 4
Release date: tbc, Amazon Prime
Prepare to bid farewell to Elliot Alderson and co. as Sam Esmail's paranoid, twisting cyber-security thriller comes to its end after four seasons. The final run of episodes has been bumped from ten back up to twelve, to enable the weird story to conclude in a fitting manner. Rami Malek, Portia Doubleday, Carly Chaikin and Christian Slater star.
Ozark season 3
Release date: tbc, Netflix
Jason Bateman and Laura Linney return as the Byrdes, regular people who become enmeshed in a dangerous criminal world, for a ten-episode third season of Netflix's crime drama Ozark. Season three is due for release in 2019, and if it follows the usual pattern, we can expect it to arrive this summer on the streaming service.  
Preacher season 4
Release date: tbc, AMC Global
Production has relocated to Australia for season four of AMC's Preacher, which was ordered in November 2018. The ultra-violent, ultra-funny and ultra-dark fantasy story adapted from the Garth Ennis and Steve Dillon comic book series stars Dominic Cooper, Ruth Negga and Joseph Gilgun. If all goes to plan, expect to see season four in late summer 2019.
Rick And Morty season 4
Release date: tbc 2019, Channel 4
Dan Harmon and Justin Roiland's sci-fi animated comedy had a monster 70-episode renewal from Adult Swim last year, a deal that allows the creators to shrug off cancellation worries and focus on writing more seriously strange, seriously brilliant stories about genius scientist Rick and his golden-hearted grandson Morty's adventures in space and time. Netflix lost the UK airing rights to Channel 4, which is currently showing seasons one to three in a Friday night slot (with the season box-sets, along with a bunch of other Adult Swim episodes, coming to on-demand service All4), and will air season four weekly when it arrives.  
Santa Clarita Diet season 3
Release date: March 29th, Netflix
Drew Barrymore returns as real estate zombie Sheila Hammond in season three of Netflix's gore-splattered horror comedy, which also stars Timothy Olyphant, Portia de Rossi and Nathan Fillion. The ten-episode third season arrives on the streaming service at the end of March.
Stranger Things season 3
Release date: July 4th, Netflix
Anticipation is high for the return of Netflix's monster hit Stranger Things, which tells the story of a group of 1980s young teens navigating fantasy horror and sci-fi conspiracy in the town of Hawkins, Indiana. The second season leaned heavily into its Halloween launch date, and the promo material for series three is doing the same with another US holiday – the 4th of July, the season launch date. 
The Expanse season 4
Release date: tbc 2019, Amazon Prime Video
Another streaming-service rescue happened for The Expanse, the future-set space thriller cancelled after season three by Syfy. Amazon Prime Video picked the show up for season four, along with the streaming rights to the previous three seasons. Expect to see the new episodes this year. 
The Handmaid's Tale season 3
Release date: June/July 2019, Channel 4
Arriving on the 5th of June on Hulu in the US, The Handmaid's Tale season three will likely take a few weeks to make it over to its UK home on Channel 4. Season two saw June's situation become even more desperate, as escape from Gilead was repeatedly glimpsed and then taken away. Expect more sharp political comment and devastating struggles in season three. 
The Last Kingdom season 4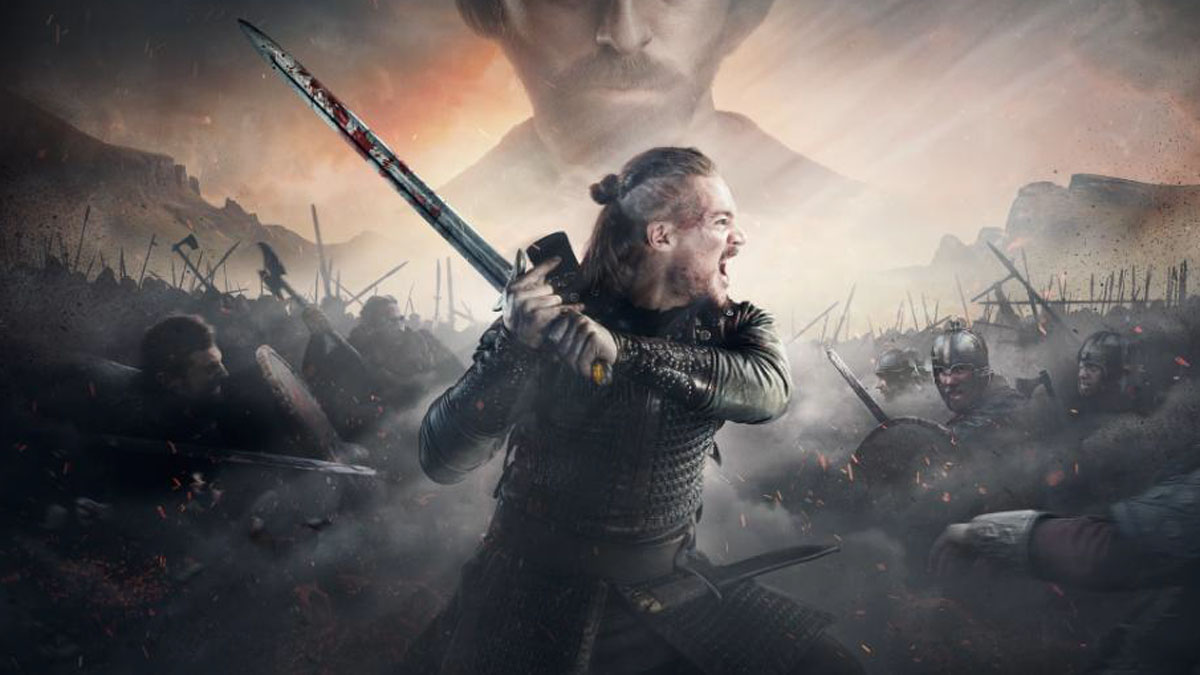 Release date: tbc, Netflix
Uhtred, son of Uhtred returns to fight another day. Season four of Stephen Butchard's adaptation of Bernard Cornwell's Saxon Stories novels will chomp through another pair of books over the course of its (hopefully, if Netflix is bountiful) ten episodes. The Last Kingdom has been a Netflix-only deal since the BBC pulled out of the co-production after season two. 
The Man In The High Castle season 4
Release date: tbc, Amazon Prime Video
This Philip K. Dick adaptation will draw to a final close with season four, which is to conclude the alt-history story about a USA where the Allied Forces lost WWII to the Axis Powers, and America is divided between Nazi and Japanese military control. Don't expect it until late 2019 at the earliest.
The Marvelous Mrs Maisel season 3
Release date: tbc, Amazon Prime Video
Gilmore Girls creator Amy Sherman-Palladino's effervescent 1950s-set comedy series will be back for season three, hopefully in late 2019. Rachel Brosnahan leads a terrific cast in the story of a young woman from an upper-West Side Jewish family who defies expectations by entering (and commenting sharply on) the world of stand-up comics. It's an absolute tonic.
The New Pope (aka The Young Pope season 2)
Release date: tbc 2019, Sky Atlantic
Creator Paulo Sorrentino continues what he started with 2016's Vatican-set drama The Young Pope starring Jude Law, with this follow-up starring Jude Law and John Malkovich. It's set to premiere in Italy, before making its way to Sky Atlantic in the UK and HBO in the US.  
The OA season 2
Release date: tbc 2019, Netflix
The first season of sci-fi-fantasy-mystery The OA was mysterious enough that it wasn't always easy to keep track, in all the strangeness, of exactly what was going on. Answers may be provided with the second season, which welcomes Brit Marling back in the lead role.
The Purge season 2
Release date: tbc, Amazon Prime Video  
The first season of The Purge expanded James DeMonaco's horror concept to fill a ten-episode season, and the reception was warm enough for the USA Network to order a second run of episodes set in a world where an annual crime and violence free-for-all causes carnage and mayhem in an alternative version of the United States, run by a totalitarian government.
The Tick season 2
Release date: tbc, Amazon Prime Video
Spooooon! Peter Serafinowicz's insectoid superhero comedy character is back for another season of shenanigans and unearned confidence, returning to Amazon Prime Video at a to-be-confirmed date.
The Walking Dead season 10
Release date: tbc October 2019, FOX UK
The Walking Dead is currently in a moment of rejuvenation, sloughing off the old and welcoming the new. Long-running castmembers are saying goodbye and the focus is shifting to the rest of the group. Season ten of the post-zombie apocalypse horror is expected to arrive in its usual October spot on AMC and FOX UK this year. 
The 100 season 6
Release date: tbc 2019 (April 30th on The CW in the US), E4
The post-apocalyptic ensemble show returns to the US in spring for more tribal conflict, fantasy action and romance starring Eliza Taylor, Henry Ian Cusick, Paige Turco and more.
Veep season 7
Release date: tbc April 2019 (March 31st on HBO in the US), Sky Atlantic
Julia-Louis Dreyfus and co. return for Selina Meyer's final go-around in the deservedly celebrated political satire Veep. Seven new episodes will conclude the story of Meyer's venal grasps at power, and of the political team that surrounds her.
Westworld season 3
Release date: tbc, Sky Atlantic
Breaking Bad's Aaron Paul has joined the cast of HBO's beautiful exploration of AI for season three, which, to judge by the season two post-credits teaser, promises to go to some very ambitious places in its future episodes. Season two of Jonathan Nolan and Lisa Joy's cerebral sci-fi expanded the world of its titular AI playpark, while season three is set to take us outside it.