Reviews
The A List review
The new summer camp thriller from the BBC is an ambitious step into the world of teen dramas...
Part of a fresh push from the BBC to steal viewers aged between the CBBC and BBC Three (which itself moved to the iPlayer recently) demographics away from Netflix, The A List is a teen thriller in the vein of America's most popular dramas.
Mia (Lisa Ambalavanar) is the naturally popular girl and social media princess who finds herself challenged for the crown when Amber (Ellie Duckles) arrives at the same summer camp. The camp is full of people who don't really want to be there, including the sarcastic Alex (Rosie Dwyer), enthusiastic beta friend Kayleigh (Savannah Baker), token love interest Dev (Jacob Dudman) and a whole host of weird and wonderful supporting characters.
As tensions between Mia and Amber escalate to extreme levels, strange goings on begin to happen to others around the campground, and Mia must work out whether there's a supernatural element to Amber's slyness or if she's just being paranoid and jealous.
You can tell the writers of The A List have schooled themselves in the best teen dramas for Generation Z, with shades of the Riverdale and Pretty Little Liars of the world present throughout. These shows have introduced fantasy into the genre as a matter of course, with the mean girls exhibiting literal powers of persuasion, the adults quite powerless to help, and rivalries rendered life or death.
The show revels in its genre references, and its these touches that will potentially keep older viewers entertained as the target audience take the teen drama and thriller elements at face value. There's something eminently fun about a series aimed at slightly younger people that introduces them to classic cinema and TV all under the guise of something they can relate to.
There are two sides to that savviness, though, as some of the issues introduced for the characters are so specific to that age group that it will almost certainly limit its audience. It's also not as slick as you might imagine a BBC Three drama in the same style, like last year's Clique, and comes across as a more expensive CBBC show when taken on production values alone.
That said, the content does feel more grown up and relevant, and most of that is in the writing. You can tell creators Dan Berlinka and Nina Metivier have set out to make a good show aimed at teens, rather than a teen show tossed together by focus groups as a business exercise.
One of the smartest things the first episode does from the jump is get rid of the phone issue. Setting it on an island means that no phone signal feels organic rather than a trope, and I'd guess there's something naturally frightening for younger viewers about life with nothing but a landline. It's a problem that all modern thrillers have to deal with, and The A List isolates its characters quite gracefully.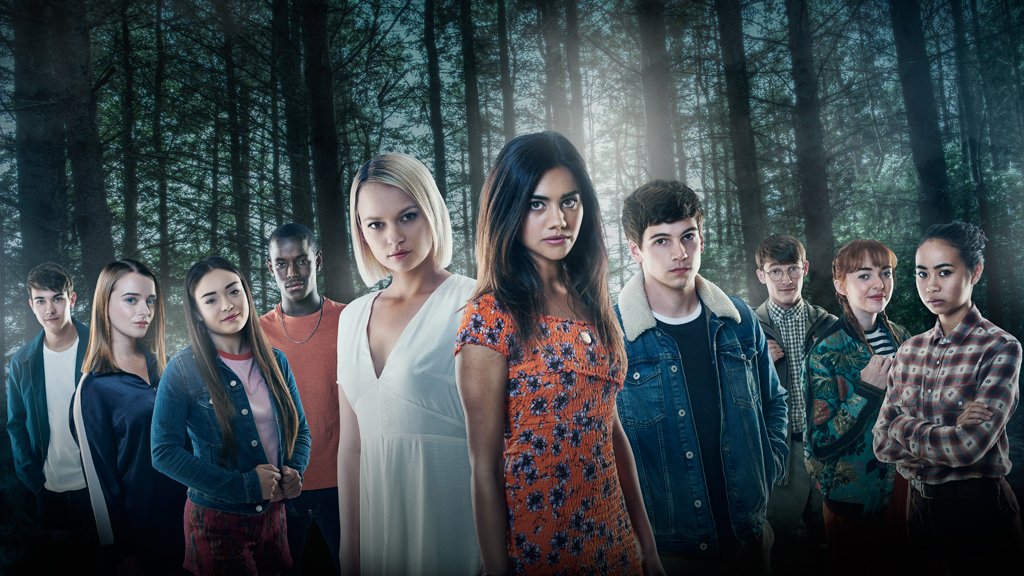 A lot of clever decisions made with the concept ensure that any shortcomings are easy to ignore, from the Lost-style forest monster noises and delayed introduction to any notion of the supernatural, to the diversity present throughout the cast. Even the choice to have Mia be the protagonist when she's immediately unpleasant to everyone around her is interesting – she's far from the innocuous blank slate that so many teen stories choose to centre.
In the end, it's hard to theorise about whether The A List will connect with its desired audience when there hasn't really been anything made for this specific demographic before. While there's a chance that digital natives will find it on iPlayer and lap up all thirteen episodes in one setting, there's also the chance that it'll be too tame for teens and too scary for kids.
Its potential reach remains to be seen, but the BBC must be given points for at least trying to court this underserved audience, who are given no choice but to turn to US versions since shows like Skins and Misfits went off the air. The A List is a good, ambitious, step in the right direction.
The A List is availaible now on BBC iPlayer.