News
The 100 Season 7 Sneak Peek: Anders Offers Gabriel A Job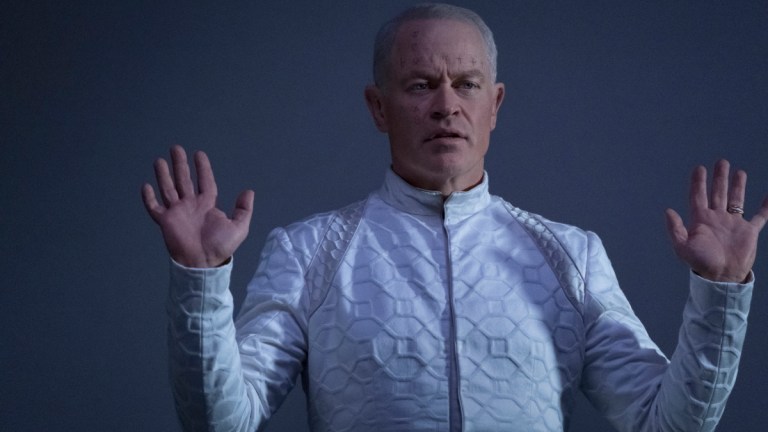 The final season of The 100 has been a smorgasbord of science fiction storytelling centered around the exploration of an interplanetary transit system known as The Anomaly (or The Bridge). A group of planet Bardo-based people called The Disciples organize their society around The Anomaly, and don't take kindly to anyone who gets in their way. In tonight's episode, "The Queen's Gambit," we learn a bit more about The Disciples' relationship to The Anomaly and to the Anomaly Stones that act as gateways to it. Den of Geek has an exclusive sneak peek into the episode…
"We don't believe in heaven, doctor. Like I said, we believe in transcendence," Anders tells Gabriel in the scene that sees the two discussing what's next for Gabriel after he chose to betray Hope, Diyoza, and Octavia in last week's episode. "Transcendence through the stone?" Gabriel, always the curious scientist, correctly guesses.
Anders wants Gabriel to help unlock the Stones' "true power," proposing a sharing of all of the knowledge The Disciples have gathered in nearly a millennia studying the Stones with the knowledge Gabriel has gathered in the last 150 years. He would have a place on The Disciples' "cipher team," a position that may or may not come with a robe—it's unclear at this point. What's in it for Gabriel? Anders won't execute him… or so he claims. No promises on Gabriel's friends, though, whom Gabriel does ask about.
From the job pitch, the cipher team seems to have less to do with ciphers and more to do with one Clarke Griffin. Anders says the deal will include Gabriel telling them everything he knows about Clarke, whom Anders claims "is the key to everything."
Is Gabriel seriously considering helping Anders? It certainly seems like it. And, after his actions last episode, we know he is willing to make bold and unexpected decisions. It's unlikely that Gabriel actually wants to align himself with The Disciples, but, at this point, he doesn't seem to have much of a choice. Well, technically he does, but his other choice is probable death. For now, it might be worth using this opportunity to learn more about The Stones—knowledge he can squirrel away to be used at a later date to help his friends. Besides, Clarke is more than capable of taking care of herself.
This won't be the only storyline explored in tonight's episode. As the official synopsis reads: "Emori tries to heal Sanctum's old familial wounds, while Echo, Octavia and Diyoza struggle with new ones." Tune in to The CW at 8pm ET to watch "The Queen's Gambit" in full.