News
Supernatural Series Finale: Release Date, Trailer, Synopsis, and News
After 15 seasons, Supernatural is about to come to an end. Here's everything we know about the Supernatural series finale, including the synopsis and release date.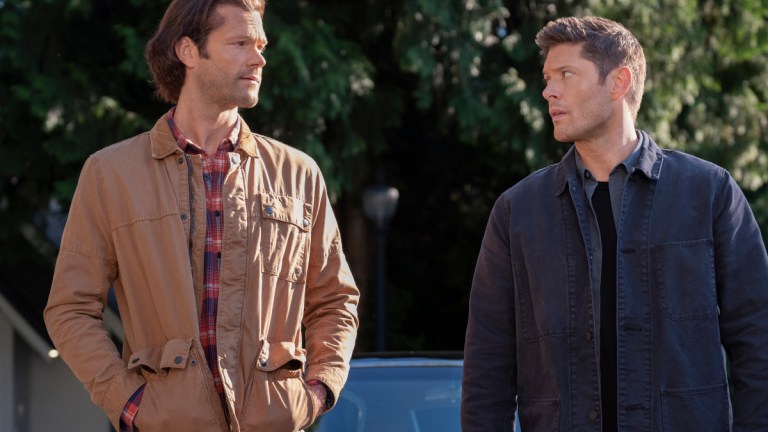 I never thought this day would come, but it has, as all things must: Supernatural's final episode is less than a week away. "For the first time I have no idea what happens next," Chuck said in the penultimate episode. You and us both, Chuck. You and us both. But we will soon enough! Here's everything we know about the Supernatural series finale…
Supernatural Series Finale Release Date
The Supernatural series finale will air on Thursday, November 19th, but at the slightly later time of 9pm ET. The regular Supernatural time slot will be filled by a Supernatural special called Supernatural: The Long Road Home. The special will feature interviews with the cast as they reflect on the series and what this ending means for all of them.
For those who aren't able to catch the airing of the finale, the episode will be available to watch on The CW website and app on Friday, and is expected to become available on Netflix (along with the entire final season) on Wednesday, November 27th.
Supernatural Series Finale Trailer
We now have our first proper look at the Supernatural series finale. Check out the promo below, which has a heavy focus on the special…
Supernatural Series Finale Synopsis
The finale episode of Supernatural is called "Carry On." According to the vague official synopsis: "After 15 seasons, the longest-running sci-fi series in the US is coming to an end. Baby, it's the final ride for saving people and hunting things." The episode was written by co-showrunner Andrew Dabb and directed by co-showrunner Bob Singer. Keeping it in the family.
Can we expect the return of some familiar faces—or are Sam and Dean literally the only people left on Earth forever? While it does sound like some familiar faces will make an appearance, COVID filming restrictions made the return of someone like Jeffrey Dean Morgan much more difficult.
"Look, COVID was limiting, especially when it came to the last two [episodes]," Andrew Dabb told TVLine (via Newsweek). "And there were certainly people we would have liked to have brought back like Samantha Smith [who played Mary Winchester], like Jeffrey Dean Morgan. People who have been such core parts of the show for so long. But unfortunately, because of COVID and some other things, doing a big supersized guest cast family reunion was just off the table."