Features
Supergirl Flirts with Horror and Fights Phantoms
Supergirl borrowed some beats from the horror genre in its effort to rid National City of phantoms, while considering Kara Zor-El's legacy.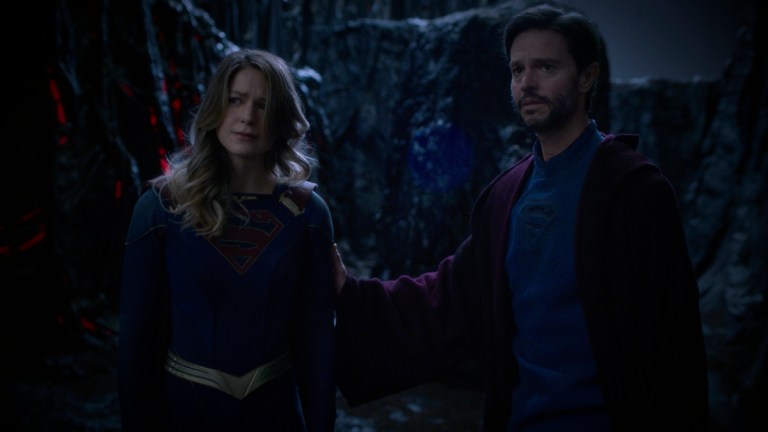 This SUPERGIRL article contains spoilers for Season 6, Episode 4, "Lost Souls."
Supergirl Season 6 Episode 4
To vanquish the Phantoms and escape the Phantom Zone, Supergirl motions toward horror with its body-snatching plot in National City and eerie quest over in the Phantom Zone. With the Prime Phantom still terrorizing National City and Kara and her father still trapped, the Super Friends had their hands full while still trying to come to terms with the emotional aspect of losing Kara, mostly by consuming Scotch or doughnuts. (Come on Nia, be the innovator who makes it Scotch and doughnuts!)
In an early bout with phantoms, a seemingly defeated phantom coming from lying on the ground to standing up in one smooth movement was a particularly cool genre moment for the usually-light Supergirl. The final showdown with the mini-Phantom Zone on Earth has more horror beats, like when Brainy is taken and he claws his way from the shadows – his red eyes a sign he's been taken – before the phantoms pull him into the darkness. Mostly, though, Supergirl is too silly for the genre. Instead, Brainy deadpans that, "we're going to need a bigger gun" and the Prime Phantom is taken out in a very Ghostbuster-y display of knock-off proton packs.
Over in the Phantom Zone, it's hard to shake the feeling that something just isn't quite right. That something turns out to by Nyxly, the exiled imp princess introduced in the previous episode. Played with winking charm by Peta Sergeant (Snowfall), there was always going to be more to her story, and it seems obvious that she'll survive the blast and find a way to keep causing headaches for Kara Zor-El for a while longer. The bigger question is, how long will Kara's father Zor-El (Jason Behr, Roswell) be able to survive Nyxly's antics, and might Mxyzptlk return to help?
A drawback to the bad blood between Kara and Lena last season, above and beyond the feud between the two of them, is that it isolated Lena from the rest of the characters she used to be so close to. This episode was a nice return to form then, with Alex backing Lena up in a big way and giving her the digital record of Kara's life force. That's a huge vote of confidence, and while the audience has known how Kara feels toward Lena and Brainy has spent time with the law-abiding Luthor, it's good to see how the rest of the Super Friends actually feel.
Lena's pain and guilt over Kara being in the Phantom Zone and her desire to bring her back is palpable. Importantly, this isn't season 5 Lena, vowing to make Non Nocere work to spite Kara or Lex, a maniacal glint in her eye, churning her hurt over Kara's lie into innovation, no matter the cost. Katie McGrath's performance makes it clear that this desire to do whatever it takes is rooted in sadness and resignation, that she ultimately knows Alex is right about saving National City instead of Kara, even if she doesn't want to admit it.
With Kara in the Phantom Zone, Super Girl is mixing it up when it comes to scene partners. Aside from the old standby of reuniting Alex and Lena (it's always good to see Alex Danvers working in a lab), M'Gann and Dreamer teaming up makes use of M'Gann's new, temporary powers. With M'Gann sticking around, hopefully she gets to keep working with other characters beyond J'onn, to flesh out those relationships.
This season has largely sidelined William Dey and so far, it's hard to object. At some point Nia's story will likely involve professional maturation to match her growth as a hero, or perhaps Lex's inevitable return for revenge will bring him back into view. For now, though, the Tower is a world unto itself, with National City only mattering in the abstract. Silas (Claude Knowlton) has been a nice touch, but with so many characters and so little time (we didn't even see Kelly this week!), one doesn't exactly lie awake at night wondering about Andrea Rojas.
Supergirl's legacy has already emerged as a strong theme this season. It makes sense, as the show considers its own legacy as well. Brainy often talks about the legend of Supergirl and Nia Nall in his own time, especially in pep talks to Nia, who is flourishing as a hero in her own right. Here, Alex made a painful choice because she knew it was what Kara would have wanted. That's likely why Lena didn't conspire to thwart Alex. M'Gann and J'onn lived her message in a different way, putting their lives on the line to save one another, the kind of egalitarian heroism Supergirl espouses.
Supergirl herself was no slouch in the heroics department, destroying her way home rather than letting Nyxly terrorize earth, even trying to save her. There's a long way to go before we say goodbye to Supergirl, but the woman of steel is nothing if not steadfast in her resolve to make the hard choices to do what's right until the very end.