Reviews
Supergirl: Chyler Leigh Makes Her Directorial Debut
Chyler Leigh directs a much improved continuation of Nia and Brainy's time-traveling adventures in Midvale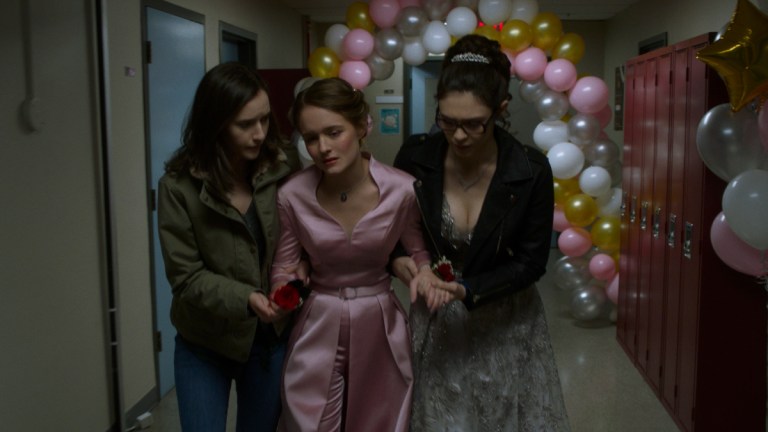 This SUPERGIRL article contains spoilers for Season 6, Episode 6, "Prom Again!"
Supergirl Season 6 Episode 6
Brainy and Nia's journey back in time to Midvale saw a marked improvement (and even more time travel!) in its second episode. Part Cat Grant-origin story, part sales pitch for a Dreamer (and Brainy?) spin-off, Olivia Nikkanen (young Alex) and Izabela Vidovic (young Kara) continue to wholly embody Chyler Leigh and Melissa Benoist to an eerily impressive level. For her part, Chyler Leigh herself made her directorial debut in an episode that was so good, Brainy even happy-cried.
This episode resolved two of the biggest issues that plagued the first half of the two-parter. The bounty-hunting aliens were barely on screen, even as they became a bigger plot engine than before. Instead of forcing us to have to look at and listen to them, their ship became scenery and they were something like living MacGuffins, somewhere between objective and obstacle depending on the scene, but content-irrelevant and almost entirely off-screen.
The dynamic between the Danvers sisters changed almost immediately, with Alex realizing her lapse in judgment on multiple fronts. It's a wise choice, but if the writers were going to have her immediately change course, it begs the question: why regress that relationship to begin with? Perhaps they were dead-set on the idea of a two-parter but couldn't come up with the material to fill both episodes. That would explain why both prom nights take place during the "Prom Again!" episode, leaving nary a prom night for the appropriately named episode.
Serving as something of a Cat Grant origin story, one of the episode's strengths was showing an earlier incarnation of Cat at her best. Whether that meant giving Kenny Li (Peter Sudarso) a pep talk or pushing back on her sexist boss for pigeonholing her with weightless stories, it's easy to see how CJ becomes the Cat that both terrified and inspired Kara in equal measure. As a way to bring Cat Grant back to say a final farewell, it's a lovely homage to the character Calista Flockhart and the writers created at CBS and brought over to the CW before Flockhart departed.
CJ's arc also contributed to a lovely theme of the episode where Nia had the chance to shape the lives of two women who had such a profound impact on her own. While we never saw it on screen, (and it's incredibly hard to believe given her age and experience), Nia was a political speechwriter for Cat Grant when she was press secretary for President Marsdin (Lynda Carter.) It was Cat who recommended that Kara hire Nia in the first place. Here, Nia gets to do some managing up, reminding Cat of her own value and why she got into the business in the first place. Nia even unwittingly helps Cat toward reclaiming her name and launching her media empire.
Nia and Kara's relationship has been a joy to watch unfold over the last three seasons, especially as Nia truly grew into a reporter and hero of her own in the fifth season. It's a nice grace note on their relationship for Nia – who is clearly instrumental in saving Kara – to offer teenage Kara a heroic alien to look up to, and some sense that she's not alone. If anyone wasn't already sold on the concept of a Dreamer spinoff, this episode makes a compelling case.
Finally, this trip to Midvale and its corresponding consolidation of Earths leaves the question of Kenny Li, the best high school boyfriend a superhero could hope to have. The writers painted themselves into something of a corner by bringing back Kenny. Kara needed a new reason to stop being a superhero, so that she can choose the heroic life as an adult after years of shunning it.
The writers hit the final note here perfectly, recasting Kara's choice as one of self-exploration and independence, cornerstone Supergirl values, rather than a denial of who she is. Likewise, in an immensely loving and mature move, Kara and Kenny breaking up and going to separate schools is a consequence of their age and a need to explore who they are as independent people. With so many shows going woefully off base in their final seasons, it's a good feeling as the audience to see choices like this and be reminding that you're in good hands. All of that being said, it sure would be nice for Kara to run into an adult Kenny Li when she gets back from the Phantom Zone, after they've both had more than a decade to figure out who they are.