Features
Succession Season 3: Logan's Box of Donuts Steal the Show
After being on top of the world, Kendall comes crashing back down to Earth on Succession season 3 episode 2. And that's before the cyanide donuts!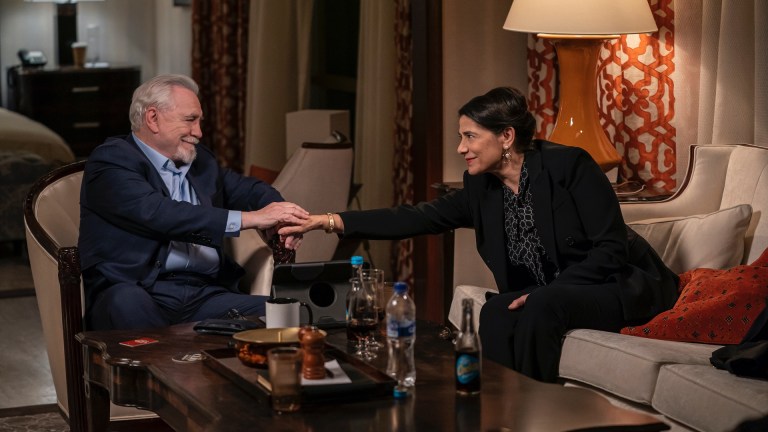 This article contains spoilers for Succession season 3 episode 2.
The Roy siblings of Succession may not have known the details, but they knew the men involved in the Waystar cruise line scandal, and that makes them culpable. However, making that point with sincerity and without clever put-downs or cheeky irony was bound to go over as well as a free steak dinner at a vegan lifestyle convention. Sparks fly every time the Roy children get in a room due to a palpable sense of competition, but also the unspoken feeling that only they know what it's like to grow up with Logan Roy as their father. It's like they're constantly bonding over shared trauma while battling for supremacy.
Follow along as we break down who's on the rise and who's falling behind after this week's episode "Mass in Time of War." The Rockstar and Mole Woman are thick as thieves, but is that the best move for Roman? Shiv seems like she's back where she was at the beginning of season 2, but is history going to repeat itself? Marcia is back, but not without demands, and could she be angling for control? So much to discuss! Let's get into it!
Going Up
Siobhan Roy
There's a distinct reason that this column is not called Winners and Losers. "Winning" in Succession sure feels subjective. Shiv is back in her father's good graces and appears to be a key component in Logan's strategy for succession and survival, but we've seen this scenario play out before. And is this even the best option for Shiv? She's rising on the Waystar corporate ladder, but that ladder was once populated with disgusting, enabling predators. Kendall may be acting like a snake and pulling a "peacock fuck show" and everyone is right to be suspicious of his sanctimonious tone, but there's a part of what Kendall said that is true.
Shiv doesn't see herself as some greedy corporate monster, but she did convince a cruise victim not to testify last season. Her treatment of Tom has also sunk into abject shittiness at times. She hasn't been the best person and trying to be Daddy's Number One Girl has brought out the worst in her. Maybe breaking the cycle and teaming with Kendall is the right thing to do, but it's possible that she's already in too deep at this point.
If becoming the next permanent CEO, not a placeholder like Gerri, is Shiv's priority, then having Logan ask where she is every five seconds seems valuable. As icky as it is, Kendall was right when he said that having women on the team is more valuable for both sides of the Roy (barely) civil war. President of Waystar Royco is an undefined role. She could just as easily be called Rotten Cabal Ruler In-Training.
Gerri Kellman
Gerri can play modest all she wants; figurehead or not, that's still her name on the television, and she's gonna snap that photo, not for her daughters, but for herself. It can't be easy to be the only woman in the old boy's club, but Gerri has been loyal, focused, and has avoided the mistakes and horrific crimes of her male peers.
The messiest thing Gerri has done has entertained the flirtations of her boss' Freudian Nightmare of a son, but she's been careful to not let it evolve further. Actually, the Mole Woman has dug herself deep, but not too deep, into the psyche of the Rockstar to the point where she convinced the ever-insecure Roman not to defect to Team Kendall. Whether deservedly or not, Roman is an important chess piece, and Gerri has him safe and snug in her pocket.
Marcia Roy
Does Marcia actually love Logan? It's incredibly difficult to tell. I guess when that amount of money, power, and leverage is involved, concepts like love can be warped beyond our plebeian powers of perception. Marcia was certainly hurt by Logan's little infatuation with Rhea Jarell and there's this weird twinkle in her eye whenever she sees the old lion roaring, however, she makes it very clear to Logan's lawyers that she's going to need a fat payday and a boatload of insurance to stay and play the wife. If these are Marcia's demands to stay, can you imagine what she would do to Logan in a divorce? Regardless, Marcia receives clear confirmation about how much power she possesses in the Roy family, in dollars, percentages and promises.
Logan Roy
All it takes is a box of donuts to scare his wavering progeny back into his corner. His daughter may represent him on her phone with a photo of Saddam Hussein, but she's not going to leave him for Team Kendall. He may have had to stoop to schmoozing Connor, but that National Prick isn't going anywhere either. This may be the most desperate we've ever seen Logan. When he shouts "I need to know where everyone is and what everyone's thinking!", it's a sad truth that's never made him seem weaker. That being said, Marcia is back in the fold and he only had to pay for it, he didn't have to "eat shit" to do it too (I have to assume "eat shit" in this context means apologize).
Tom Wambsgans
Tom may not know every move that Shiv is making, but at least he establishes his own boundaries in their relationship. Tom refuses to be manipulated by Shiv when she uses words like love, and it honestly seems like Tom standing up for himself has earned him more respect in Shiv's eyes. Tom and Shiv are not remotely close to anyone's idea of a perfect marriage, but their partnership can have its advantages and currently looks to be in good working order. Tom clearly misses Greg, but he's at least leveling the playing field with his wife.
Connor Roy
Even though Kendall savagely tells him that he's irrelevant, we all know that only Logan's opinion matters, and Logan is calling Connor his "Number One" this week. This may be the proudest moment of Connor's life.
Sinking Down
Kendall Roy
Things swing in the opposite direction for Killer Ken this week. He wears his heart on his sleeve in a meeting of the three siblings…and Connor, but he should have known that the earnest approach never would have landed with these cynical pricks. Roman can't even give Kendall a gift without making it ironic and shitty, so this guy was really expected to abandon Logan for moral reasons?
Kendall comes across as insincere simply based on what we know about him and all it takes is a box of donuts to thwart all the jingoistic talk about detoxifying their brand and going global. Kendall does seem to have Stewy and Sandy willing to work with him should he push his old man out, but that's not going to happen so easily without his siblings aligned with his vision. His meltdown after all three of his siblings turned down his offer to team up proves that.
Cousin Greg
Since Greg is "kinda too young to be in Congress so much," he decides to look for legal representation. The problem is that Greg isn't savvy enough to know who he should trust, and people like Gerri and Kendall know this. Greg hilariously needs to sidestep around a pushy representative of the Waystar legal team, and once he realizes he's in way over his head, he turns to Ewing, his grandpa, for advice. Ewing's disdain for his dimwitted and so easily corrupted grandson is evident, but he agrees to help Greg look for a lawyer after Greg makes the cogent analogy about showing up to a fight in a loincloth when everyone else is wearing armor.
The issue is that Ewing leads Greg to the only lawyer who's more pretentious and indecipherable to Greg than his Gramps. Greg's legal team is advising him to "expose the structural contradictions of capitalism as reified in the architecture of corporate America," but all Greg wants to do is keep his Roy money and not end up in jail. Greg also has Tom threatening him, letting him know that he's "gonna end up in a work camp" if he doesn't come over to Team Logan. Things have never been more complicated for our sweet boy.
Roman Roy
Ol'Tumbledown Dick is blinded by his weird little attraction to Gerri and isn't making objective decisions. Roman knows that Gerri cannot offer him reasonable advice — he actually calls it useless— but he decides to take it anyway. He's also burned so badly by Shiv this week when she says that "You love showing your peepee to everyone but eventually your going to have to fuck something." Scathing and accurate. Yeesh. You know who Logan wasn't repeatedly asking about? Roman. Like Gerri's advice, he's at risk of becoming irrelevant. Rockstar is getting upstaged by Shiv and the Mole Woman.
Lisa Arthur
Secret meetings with the siblings are great, but eventually Kendall is going to need to sit down for 8 to 10 hours of interviews so Lisa can do her damn job.