Features
Stranger Things Season 4 Cast: Meet the New Characters
Robert Englund plays Victor Creel in Stranger Things' fourth season, alongside actors from Game of Thrones, the Twilight series, Anne With an E and more
For its fourth season, Stranger Things has gone super-sized. Its episodes are longer, its storylines are multiple, its locations are further flung, and its cast has expanded beyond all reasonable measure. Even allowing for the usual body count replacement rate to fill in the gaps left by last season's victims of the Upside Down, there are a lot of new faces. (In addition to most of the old faces, plus a couple of faces so heavily coated in terrifying prosthetics you wouldn't recognise the actors behind them if they sat down to lunch with you in the catering tent.)
To orient us through the new crowd, here's an introduction to high school students Eddie, Chrissy, Jason, Argyle, Patrick, Angela, Vickie and their counsellor Ms Kelly; military types Dmitri (Valar Morghulis, comrade!) and Lt. Colonel Sullivan; psychiatric hospital nurse Peter Ballard and resident and nurse Victor Creel, played by none other than A Nightmare on Elm Street's Robert Englund. And that's not even all of them…
Robert Englund/Kevin L. Johnson as Victor Creel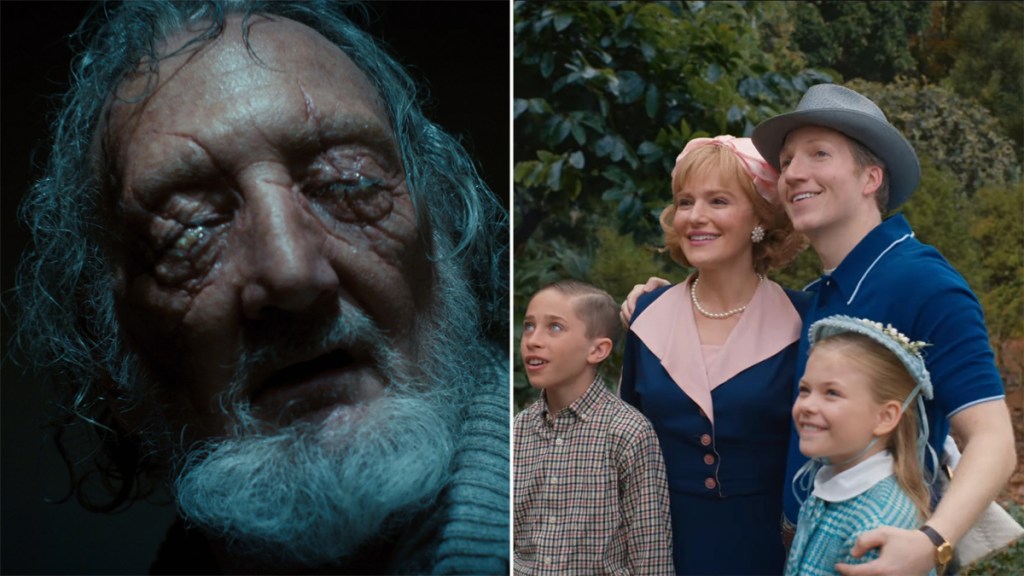 The Stranger Things kids are all Freddy's children now! In season four, horror legend Robert Englund (A Nightmare on Elm Street) plays Victor Creel, "a disturbed man accused of a terrible murder in 1950s Hawkins" who's been imprisoned in a local psychiatric hospital ever since. Creel was first introduced played by Ozark's Kevin L. Johnson in this 1950s-set flashback teaser, which shows his smiling young family moving into their house before things start to go creepily wrong. By 1986, when season four takes place, the Creel House has become an infamous Hawkins landmark, which Steve, Dustin and co. break into on their search for answers.
Joseph Quinn as Eddie Munsen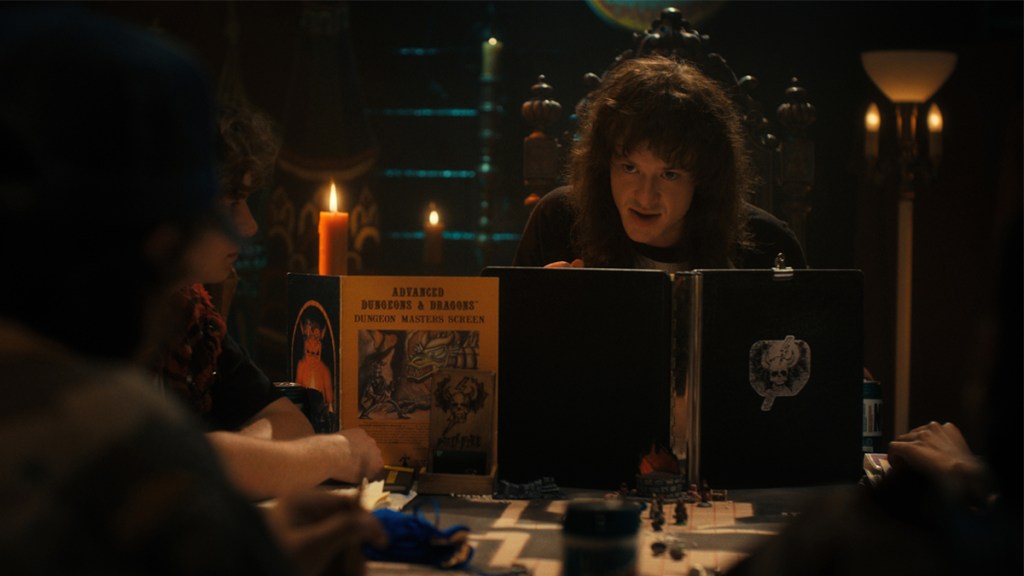 Season four sees the gang having graduated from the safety of middle school and enrolled at Hawkins High, where they get to mix with older students like Eddie Munsen. Played by British actor Joseph Quinn (Dickensian, Strike, Game of Thrones), Munsen is a hair metal dungeon master who leads D&D society The Hellfire Club. On the high school spectrum, he falls squarely into the 'freak' category, and lives in a trailer park with his uncle Wayne, played by Agents of SHIELD's Joel Stoffer. See him rock out with his beloved axe here.
Tom Wlaschiha as Dmitri/'Enzo'
Game of Thrones fans will recognise Wlaschiha as Faceless Man Jaqen H'ghar, an identity-shifting assassin with pronoun issues who trains Arya Stark to become "No-One" in the House of Black and White. The German-born actor starred opposite Donald Sutherland in thriller Crossing Lines, and played Hagen in acclaimed U-boat drama series Das Boot. In Stranger Things, he plays Dmitri (who signs a letter as 'Enzo' as a coded message between Hopper and Joyce, in reference to the name of the restaurant where they'd planned to go on a date before Hopper was taken by the Russians), "a smart and charming Russian prison guard. But can he be trusted?"
Jamie Campbell Bower as 'Peter Ballard'
The Twilight franchise's Caius and the young Gellert Grindelwald in the Harry Potter films before Colin Farrell, Johnny Depp and Mads Mikkelsen got a look in, Jamie Campbell Bower (Camelot, The Mortal Instruments: City of Bones) is a familiar face on screen. The 34-year-old British actor pictured above not in costume was originally billed as playing Peter Ballard in Stranger Things season four, a character described as "a caring man who works as an orderly at a psychiatric hospital. Tired of the brutality he witnesses day after day, will Peter finally take a stand?"
Stranger Things Season 4 Vol. i spoiler AHEAD
Of course, 'Peter Ballard' was just a ruse by the Stranger Things team to disguise the fact that Campbell Bower is really playing Henry Creel, the super-powered son of Victor (see above) who becomes uber villain Vecna after Eleven sends him in the Upside Down.
Grace Van Dien as Chrissy Cunningham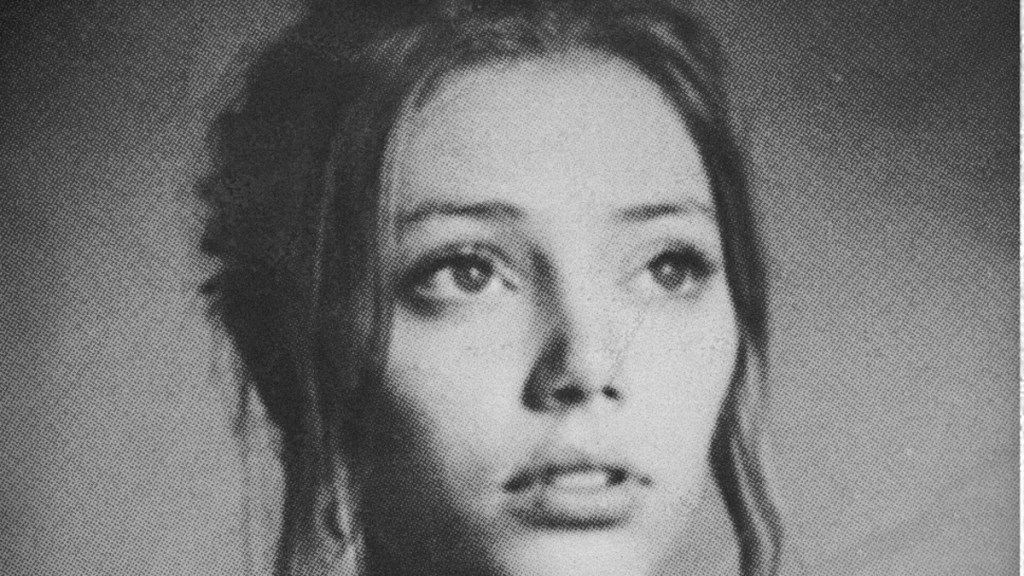 26-year-old actor and director Grace Van Dien (The Village, Greenhouse Academy, The Binge) plays Hawkins High lead cheerleader Chrissy, described as "the most popular girl in school" and the girlfriend of basketball captain Jason (see below). But all is not as it seems with Chrissy, warns her official character description: "Beneath the seemingly perfect surface lies a dark secret."
Eduardo Franco as Argyle
Booksmart viewers would recognise that long hair anywhere. Eduardo Franco played high schooler Theo in Olivia Wilde's debut directorial feature, and Spencer in much-loved comedy series American Vandal. In season four, he's pizza delivery driver/stoner Argyle, a pal of Jonathan Byers in Lenora, California where Jonathan now lives with his mother Joyce, little brother Will and adoptive sister 'Jane' (Eleven).
Amybeth McNulty as Vickie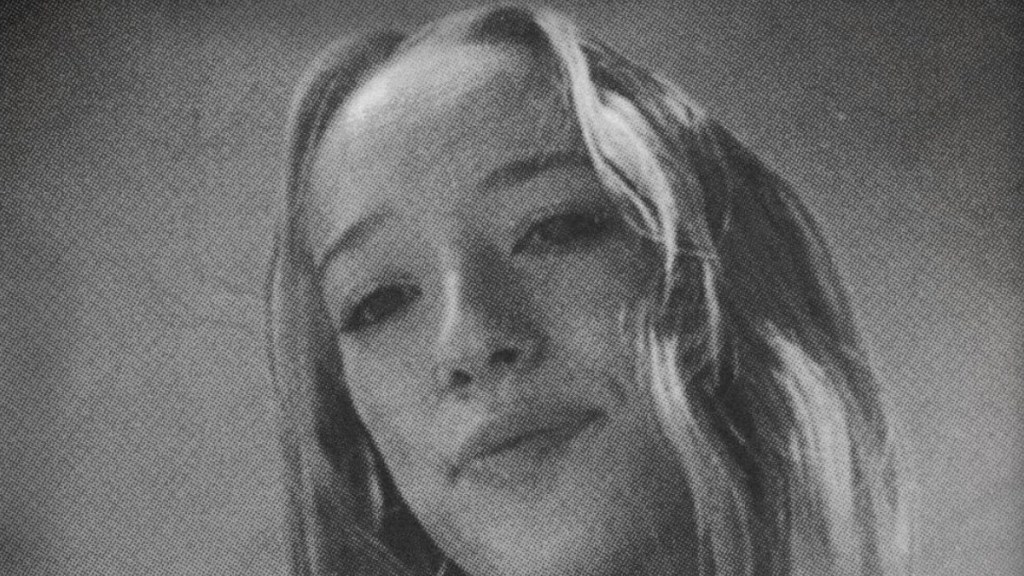 Anne With an E fans will recognise Anne Shirley herself as Hawkins High student Vickie in Stranger Things season four. Described as "a cool, fast-talking band nerd," Vickie is introduced as a potential love interest for one of the gang. 21-year-old Irish-Canadian actor Amybeth McNulty has also appeared in The Sparticle Mystery and kidnapping drama Clean Break.
Sherman Augustus as Lt. Colonel Sullivan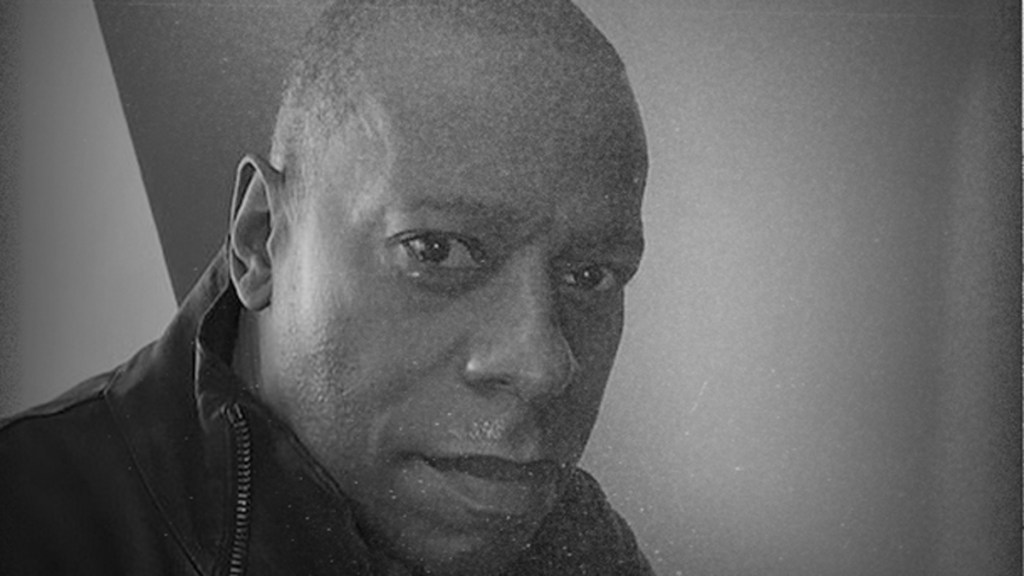 Known for playing Det. Hank Weber in long-running US soap The Young and the Restless, a role he followed up with regular parts in Low Winter Sun and American Odyssey, Sherman Augustus joins Stranger Things season four as Lt. Colonel Sullivan, "an intelligent no-nonsense man who believes he knows how to stop the evil in Hawkins once and for all."
Mason Dye as Jason Carver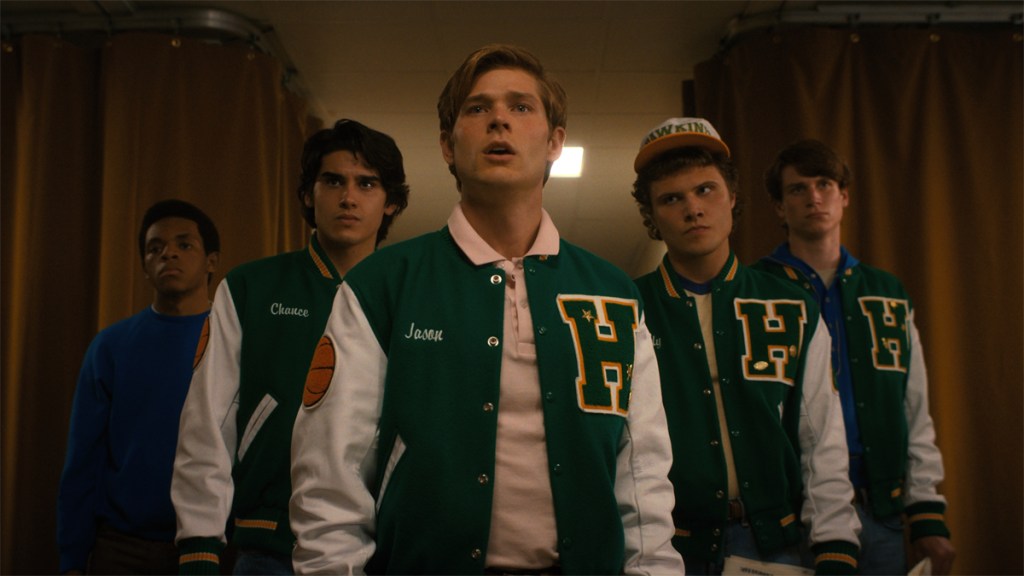 Bosch's Mason Dye plays Hawkins High basketball star Jason Carver, who's at the top of the social pile. Handsome, rich, popular and the boyfriend of Chrissy (see above), Jason's "perfect world begins to unravel as a new evil threatens Hawkins." A new evil that Jason and his teammates perceive as coming from the school's outcasts, and one they aren't about to let go. 28-year-old Mason Dye previously appeared as Garrett in Teen Wolf and Damon in abduction drama Finding Carter.
Regina Ting Chen as Ms. Kelly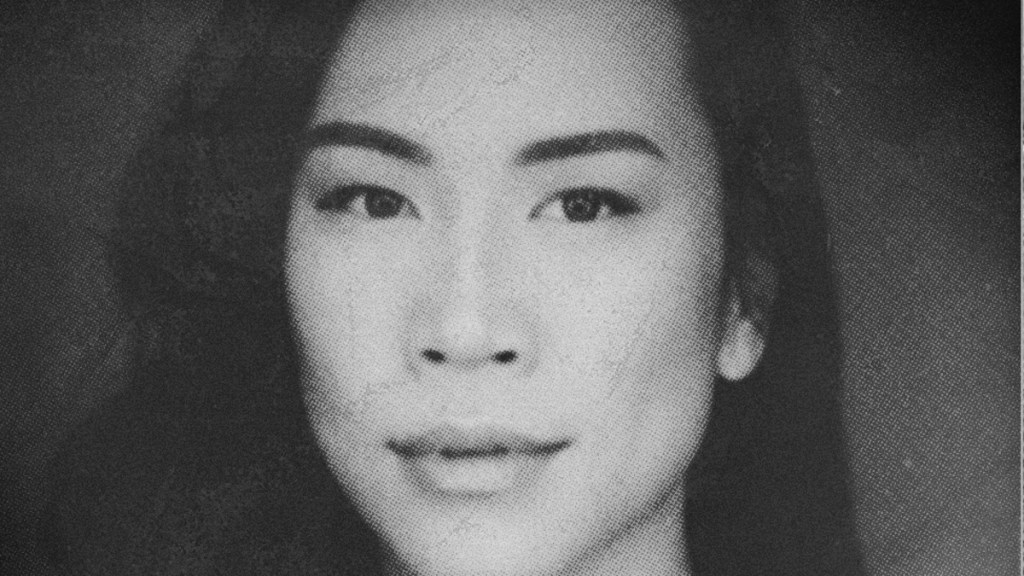 With several TV and film supporting roles under her belt, Hawkins High guidance counsellor Ms. Kelly is perhaps Regina Ting Chen's most prominent screen role yet. She plays a popular member of staff who offers a helping hand to struggling students, including Sadie Sink's Max, who's continuing to deal with the traumatic loss of her step-brother Billy.
Myles Truitt as Patrick
Black Lightning's Issa aka Myles Truitt is Patrick, a member of the Hawkins Tigers basketball team "who has friends, talent, and a good life…until shocking events send his life spiralling out of control." 20-year-old Truitt has previously appeared in Starz crime drama BMF, Ava DuVernay family drama Queen Sugar and played lead Eli in 2018 feature film Kin.
Elodie Grace-Orkin as Angela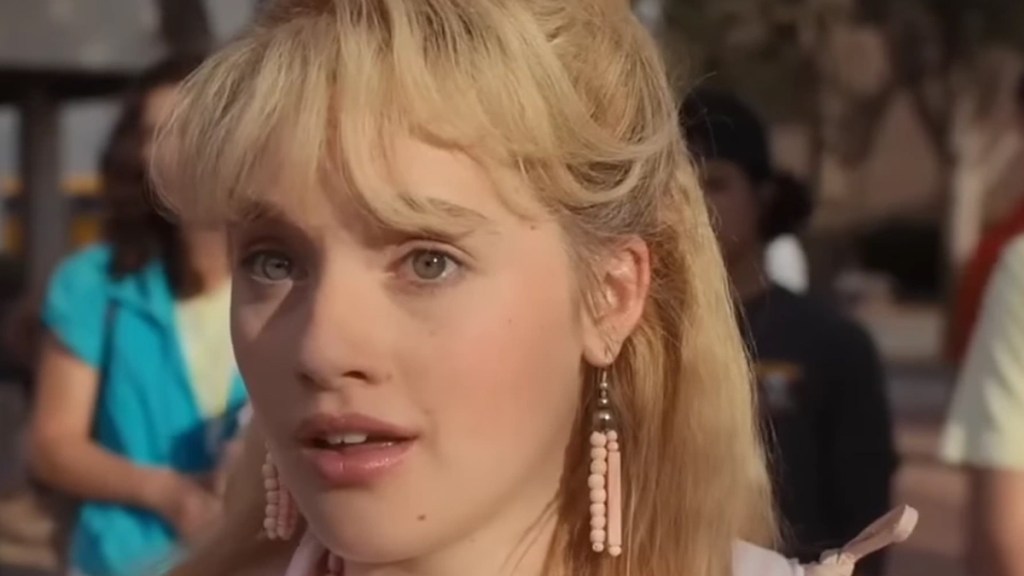 Relative newcomer Elodie Grace-Orkin is one of the Lenora, CA crowd in Stranger Things season four. She's the queen bee and leader of a gang of bullies at Eleven and Will's new high school, and sees awkward misfit 'Jane' Hopper as an easy target for her cruel attacks. Grace-Orkin has previously appeared in teen series Stage Fright on Amazon Prime Video.
ALSO APPEARING
Nikola Djuricko (Yuri), Logan Riley Bruner (Fred Benson), Logan Allen (Jake), John Reynolds (Officer Callahan), Rob Morgan (Chief Powell), Joel Stoffer (Wayne Munson), Grant Goodman as unspecified, Tyner Rushing (Virginia Creel), and Maya Hawke's younger brother Levon Thurman-Hawke as unspecified.
RETURNING CAST
Winona Ryder (Joyce Byers), David Harbour (Jim Hopper), Finn Wolfhard (Mike Wheeler), Millie Bobby Brown (Eleven), Caleb McLaughlin (Lucas Sinclair), Natalia Dyer (Nancy Wheeler), Charlie Heaton (Jonathan Byers), Gaten Matarazzo (Dustin Henderson), Joe Keery (Steve Harrington), Noah Schnapp (Will Byers), Sadie Sink (Max Mayfield), Maya Hawke (Robin), Matthew Modine (Dr Brenner), Dacre Montgomery (Billy Hargrove), Brett Gelman (Murray Bauman) and Paul Reiser (Dr Owens).
Stranger Things Season 4 episodes 1-7 arrive on Netflix on Friday the 27th of May.