Reviews
Stargirl Season 2 Episode 1 Review – Summer School: Chapter One
Stargirl, TV's purest superhero show, is back with a subdued season 2 opener with a sting in its tail.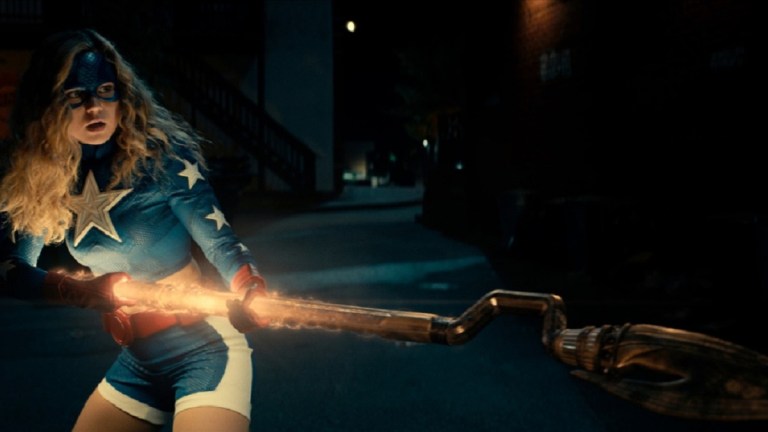 This Stargirl review contains spoilers.
Stargirl Season 2 Episode 1
The Stargirl season 2 premiere poses a big question: How does a teen hero come to terms with life as a normal teenager after putting on the suit? Courtney (Brec Bassinger) is dealing with just that as we join her back in Blue Valley, Nebraska.
While we begin the episode with a spooky flashback which seems to show the death of Doctor Mid-Nite's daughter decades before at the hands of Eclipso, things in Blue Valley in 2021 are eerily quiet. And not in a spooky cool kind of way, but in a… there's no need for a teenage iteration of the Justice Society of America kind of way. That doesn't mean Court isn't trying her best, though. She has her teen team of Yolanda/Wildcat (Yvette Monreal), Rick/Hour Man (Cameron Gellman), and Beth/Doctor Mid-Nite (Anjelika Washington) out prowling the streets, but even they'd rather be spending summer doing something fun! It's a fitting start for our small town teen hero.
But, of course, in Stargirl things never stay quiet for long. While Court struggles with her lack of purpose, her teammates are fighting their own personal battles.
Beth is desperate to reconnect with the original Doctor Mid-Nite, Chuck, who had programmed a version of his consciousness into the Doctor Mid-Nite goggles but was lost during the war against the Injustice Society last season. For Yolanda it's about accepting her own guilt for killing Brainwave. It was a brutal choice but an understandable one after he killed his own son, her ex boyfriend Henry (RIP). It played a large part in defeating the ISA and their nefarious plan. Meanwhile Rick is dealing with being underestimated due to his upbringing and how that feels even more pointed after he risked his life to save the world. Basically, the kids aren't alright and they're having trouble adjusting to their new superheroic status while roaming the halls of Blue Valley high.
Court's stepfather, Pat (Luke Wilson). has a great plan for how to distract his daughter, heading to a lake house for a two week vacation. While all the casting in this show is great, Wilson is still Stargirl's secret weapon. His chemistry with both Bassinger and Trae Romano–who plays his son Mike–is second to none. He's the kind of TV dad that you wish you had growing up, and he's back in full form in the premiere.
Sadly, his sweet plan is derailed when Court has to attend summer school for failing her English and History classes. Of course that means she's going to be in Blue Valley for the summer, and with the rise of Eclipso and Cindy (Meg DeLacy) about to hit the small town it's probably a very good thing. But will she be able to rally her friends in time to save the day when it's needed the most?
If this all sounds rather non-action packed that's because it is. The season 2 opener leans heavily into the small town family drama that made its debut so great. But to new viewers it might all be a little slow burn.
Luckily, the cast is such a joy to watch that seeing them traverse small town life never drags, and it makes the final moments of this episode sing. Not only do we get an epic fight sequence which introduces us to the daughter of the JSA's Green Lantern, who wields the power ring and lantern, but it's one of Stargirl's signature brilliantly choreographed blowouts. In her anxiety and frustration heightened state, Courtney attacks an intruder in her home, demolishing her kitchen and living room as she does so. But it's another misunderstanding as her badass foe is actually the aforementioned hero. It's an incredibly exciting way to end an otherwise rather action-free episode, but the show isn't done with us yet…
Though summer has been relatively quiet for Courtney, that's all about to change. As the episode comes to a close we see the return of Cindy Burman. In case you don't remember Blue Valley's iconic mean girl, she's the daughter of the Dragon King as well as a badass supervillain in her own right.
At the end of last season's finale Cindy discovered the gem that holds Eclipso, and as she walks back to her subterranean lair–which is under Blue Valley High–we see that she's planning to use the gem in order to create her own iteration of the ISA. And she's got candidates!
We've met a couple of newcomers today but the big ones to note here are Court's crush Cameron–son of the ex-ISA leader Icicle–and *shock horror* Court's step-brother Mike! Cindy, how could you???? It's a great little sting in the Stargirl premiere's tail and it'll instantly hook you. I mean… who doesn't want to see a teen villain team?
Stargirl airs each Tuesday on The CW and the next day on The CW app.