Features
Stargate Fans Prepare To Push For Franchise Expansion
Stargate producer and Dark Matter showrunner Joseph Mallozzi may have the secret to reviving a beloved sci-fi property.
Stargate is a decades-spanning television franchise that comprises an original movie, three television series, and two movie specials, and its legacy as a space drama is second only to Star Trek. Is it then too soon, in this age of reboots and revivals, to talk about bringing the space-travel-by-portal adventure back for a fourth spin-off? MGM already has launched its web series, Stargate Origins, on its flat-fee streaming service, Stargate Command, but Joseph Mallozzi, who served as executive producer on the original television shows, thinks the fans can expand the idea even further and is encouraging them to take to Twitter to prove that it's time.
Mallozzi acknowledges what MGM is trying to do with Stargate Origins, but its reach has been more limited than, say, what CBS did with Star Trek: Discovery on CBS All Access. "As Origins rolled out, there was a mixed response," says Mallozzi of the web series which wraps up its 10-episode season on March 8, "and to be honest with you, longtime fans can be somewhat fickle. But I figured there had to be a way to measure fan interest in a fourth series beyond, let's say, willingness to subscribe to the streaming platform or a necessarily positive response to a web-series."
For geo-blocked international fans and for those who don't pay the twenty dollars to get access to Origins and every episode of Stargate SG-1, Stargate Atlantis, and Stargate Universe (not to mention The Ark of Truth and Continuum movies), there is only one venue available to show MGM the interest is out there, according to Mallozzi. "Get everybody on Twitter, get one platform, get one specific time," he says. "Actually, two big tweet storms: one for the North American fans so we can maximize their voice and then one for the international fans so we can maximize their voice."
Fans should therefore prepare to make some noise on March 9, according to Mallozzi. "We're going to time the first tweetfest to follow on the heels of the last Stargate Origins episode airing… It'll be 6pm on the west coast and 9pm on the east coast," Mallozzi explains, adding that international fans will have their own tweetfest on March 10 at 8pm GMT. "Fifteen minutes before the tweetfest, the official @StargateNow Twitter handle will tweet out what the designated hashtag of the event will be. And that will be a unique hashtag that everybody will use for that hour and get it trending."
Mallozzi specifically wants fans to understand how to effectively use the medium to get what they want and have their voices heard. "One of the things we learned on Dark Matter, which is a page we took out of the Longmire fan campaign which they took out of the Fringe fan campaign, is that you have to have a new hashtag that has not been used… Part of it is educating the fans on how to do the tweetfest, and one of them is to only use one hashtag."
Although his industry peers praised Mallozzi's rallying efforts and the fan campaign to save Dark Matter, that renewal push ultimately ended with Syfy's cancellation of the series after three seasons, but Mallozzi says it's different this time. "Dark Matter fans made a lot of noise, and if it had been any other network, I think it would have made a difference," he says. "I mean, let's face it, Syfy — specifically the L.A. offices, the originals division — they were never fans of the show… The difference being, though, that MGM really does want to make a fourth series of Stargate; they would love fan input; they want to know what the fans want, and I think this is probably the best way to go about it."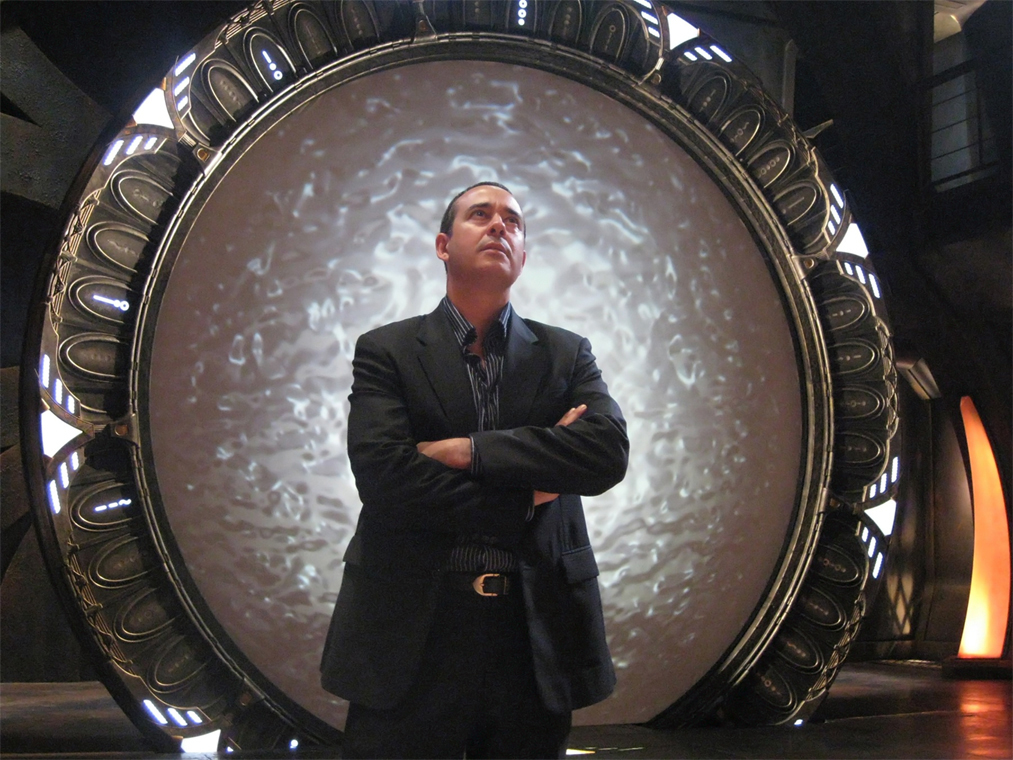 As for what a fourth Stargate might look like, Mallozzi knows that fans might desire a continuation of Universe or Atlantis, but he considers that possibility unlikely simply because it caters to longtime fans rather than bringing in new ones as MGM wishes. "Another way to go, which I suspect they would maybe lean towards," says Mallozzi, "is just doing a reboot and taking the film as a jumping off point and just doing a whole new Stargate. I guess you could do that with a show that's maybe 30 years old and fans don't remember, but Stargate is still pretty fresh and still has a vibrant fanbase. So essentially by rebooting what you're doing is you're wiping out seventeen years of TV history."
Mallozzi has his own idea. "What I'm proposing is the best of both worlds: creating an in-canon fourth series that introduces new viewers, brings them in on the ground floor, to a new team [with] an established world and order and rules that were created by Brad Wright and Robert Cooper," Mallozzi pitches. "I'm suggesting a show that new viewers can step into and enjoy and not be confused by the mythology and discover, whereas, because it is in-canon, it offers opportunities for old fans to maybe be reunited with familiar faces."
Does that mean viewers might have a brush with Destiny (the ship from Stargate Universe) or see a character they recognize? "An example I give, for instance, was a new SG team that discovers a gate for the first time, and they meet the commander of Stargate Command, General Carter," outlines Mallozzi, referring to Amanda Tapping's central role in SG1 as Samantha Carter. "To the new fans, this General Carter character won't necessarily mean that much… but to longtime fans Carter is a legend!"
But Mallozzi wants to make one thing clear: he may be behind the Twitter campaign, but he won't be running the potential fourth Stargate series. "I'm not pushing Stargate for me," he insists. "If and when MGM says let's do a fourth in-canon series then it's basically up to Brad Wright and Robert Cooper to come up with their idea. Sure, there are characters and ideas I would love to explore, but really they're the ones who really should create the show."
Both Wright and Cooper are occupied with other projects, but since the deal may take some time, Mallozzi thinks that their involvement could still happen and even mentions the possibility of his own canceled show, Dark Matter, being brought back to life with MGM. "If this is successful, by the time Brad and Robert are free and they're able to create and develop a fourth Stargate series and it launches and the launch proves successful, by that point the contractural clauses that kept Dark Matter season four from happening on the MGM platform will no longer exist," says Mallozzi. "And that will hopefully open the door to, if nothing else, maybe something like a miniseries to just close things out for Dark Matter fans."
More than anything, though, Mallozzi wants to make sure fans know the power they have to revive the beloved Stargate franchise if they so wish by engaging on Twitter on March 9. "I think they're going to be really amazed with the results," says Mallozzi. "I've got a very good feeling that MGM's attitude will be very different from Syfy's that just ignored us essentially. MGM will not ignore us; MGM will hear us, and we will get a response from them.  All I ask of the fans is to join @StargateNow and prepare to tweet your asses off in a little less than two weeks."
To read more about the Stargate revival effort and to get more details about the Twitter event and its guidelines, be sure to check out Mallozzi's blog post.