News
Star Wars: Who Plays Young Ahsoka? Where You've Seen Ariana Greenblatt Before
Ariana Greenblatt brings a younger, Clone Wars era Ahsoka Tano to live on the Disney+ series. Here's where you've seen her before!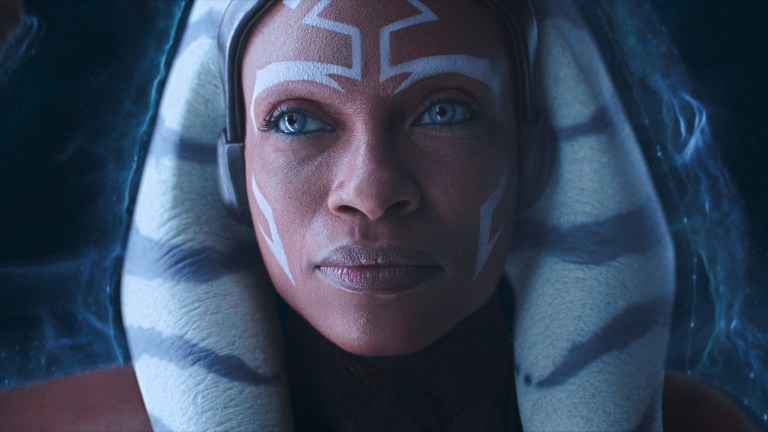 This Star Wars: Ahsoka article contains spoilers.
Ahsoka's midseason episode, "Shadow Warrior," was billed as such a big event by Disney that it even played in select theaters on premiere night. And it's for good reason: the fifth episode of the live-action series doesn't only see the return of Hayden Christensen as Anakin Skywalker but also sends Ahsoka traveling through time and space to her years as a young padawan during The Clone Wars. That means we not only get to see two battles from the animated series but also a younger Ahsoka in the flesh as we've never seen her in live action.
Of course, star Rosario Dawson couldn't play young Ahsoka herself on the show, lest Disney take us further into the uncanny valley of its questionable CG de-aging tech. Instead, Clone Wars era Ahsoka is played by 16-year-old Ariana Greenblatt, who you might remember from this year's Barbie. Interestingly enough, Star Wars isn't her first credit on a Disney project.
Young Ahsoka ❤️#Ahsoka #CloneWars #TheCloneWars pic.twitter.com/id2q7MzUtL

— RaFe 🍂 (@RaFe_Tano) September 13, 2023
#Ahsoka spoilers

if i had a nickel for every time ariana greenblatt has played a younger version of a beloved franchise character in a reddish smoky environment, id have two nickels, BUT SHES SO GOOD pic.twitter.com/7vZUMOGZ3e

— lizzie (@lizbedumb) September 13, 2023
#Ahsoka spoilers
.
.
.
never thought it would be possible to feel all of the emotions at the same time.

clone wars anakin, pre crisp vader, hayden christensen…TOO MUCH TO HANDLE pic.twitter.com/SHDK4TuSDz

— zed (@vadersanakin) September 13, 2023
In fact, her history with the House of Mouse stretches all the way back to the beginning of her career in 2015 when she made a guest appearance on the Disney Channel's Liv and Maddie. She also starred alongside Jenna Ortega (Wednesday) as Daphne Diaz in Stuck in the Middle, which ran for three seasons on the Disney Channel from 2016 to 2018. Yet, you might know her best from her very first appearance in a Disney movie as young Gamora in Avengers: Infinity War. It's Greenblatt in heavy makeup opposite Josh Brolin's Thanos in that movie's Gamora flashback scenes. As pointed out by fans on social media, Greenblatt is now 2 for 2 for playing younger versions of fan-favorite Disney heroes. She also voices a younger Velma in Scoob, if you're interested.
In this writer's humble opinion, you shouldn't sleep on her performance in 65, either. She plays Adam Driver's young companion in that action-packed sci-fi dino thriller and is quite good. She'll next play Tiny Tina in Eli Roth's big-screen adaptation of the video game Borderlands.
Ahsoka showrunner and The Clone Wars co-creator Dave Filoni recreates several moments from the animated series for Greenblatt's Ahsoka to play against, including the Siege of Mandalore, a key moment in the character's history, marking not only her final battle of the war but also Ahsoka's final hours as a hero of the Republic before Order 66 turned all Jedi and Force users into enemies of the new Galactic Empire. The battle also takes place right after Ahsoka said goodbye to Anakin for the final time before his turn to the dark side and transformation into Darth Vader. That Filoni brings that all full circle on the live action series, as adult Ahsoka sets out on the next stage of her journey, will certainly have quite a few Clone Wars fans tearing up this week.
Star Wars: Ahsoka is streaming now on Disney+.