Reviews
Star Wars: The Mandalorian Season 2 Episode 7 Review – The Believer
Chapter 15 of The Mandalorian, "The Believer," takes Din and friends into Imperial territory for an action-packed infiltration mission.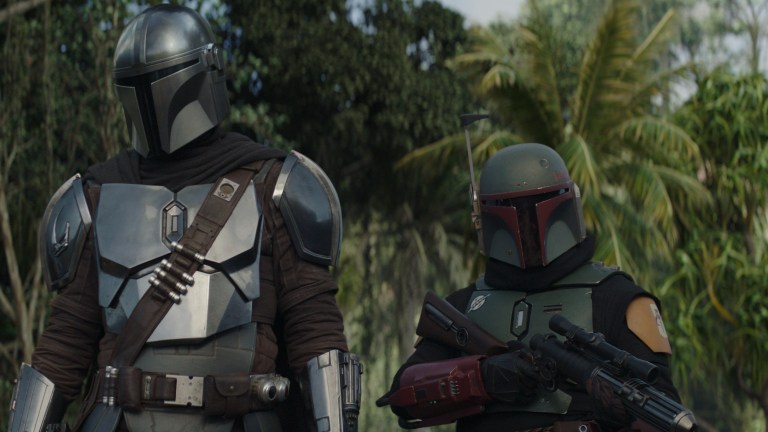 This Star Wars: The Mandalorian review contains spoilers.
The Mandalorian Season 2 Episode 7
Toward the end of many of Bungie's video games, there's a tank level. It's a rollicking ride toward a finale, a big power fantasy all about momentum. With some exceptions for underdeveloped but effectively moving character work, "The Believer," written and directed by Rick Famuyiwa, is mostly that: a slide toward a finale that remains mostly mysterious. While it builds nicely on what came before, the connections between the characters still don't quite feel complete, except when Din Djarin is there to glue them together.
Cara Dune, now firmly in her role as New Republic space police, checks the former Imperial-turned-mercenary Mayfeld (Bill Burr) out of a prison labor camp. Mayfeld is too bland to be truly irritating and too obnoxious and unprofessional to be endearing. Even after the episode gave him a little arc of his own, including the ultimate nobility of The Mandalorian's world in respecting Din Djarin's desire not to show his face, Mayfeld still seems to be taking a spot where a more interesting character might sit.
I should note that it's difficult to talk about Cara Dune without acknowledging both actor Gina Carano's controversial stances on Twitter and the fact that she could be the star of the newly announced spin-off series Rangers of the New Republic. I've always rooted for her character, and still find her fight scenes cool, but it's much harder to do so wholeheartedly when I know how her comments have hurt fans and encouraged political conspiracy theories in the real world. It's particularly complicated when my major problem with the episode is the script and not the performances.
The scene in which Din trusts his armor to Cara was very touching, and reminded me of the bond between the two characters in season one. But Cara's arc in season two has been a bit choppy. I didn't find her conversation with Carson Teva in "The Siege" a convincing enough reason for her to join up with the New Republic after she had such strong reasons to leave. As a frontline trooper, she seemed to hate the idea of doing the kind of work she's now doing to get Mayfeld out of the prison camp. "The Believer" does show she's likely to be an unconventional officer, letting Mayfeld go after he blows up the Imperial facility.
Once Mayfeld has been sprung from the work camp, the rest of the episode is a hectic infiltration mission into an Imperial processing facility for rhydonium, a volatile fuel used in Star Wars ships. Along the way, we see how the Imperial supply chain affects the locals of the planet Morak and draws pirates.
Din and Mayfeld don't so much bounce off each other as they drive the Imperial tank as Mayfeld keeps throwing a metaphorical bouncy ball against Din's face. The characters do talk about why it only makes sense for him to go under cover into the Imperial refinery, where Din will be able to track down the coordinates of Moff Gideon's ship. Despite that (and a very funny line where Boba, a clone, suggests someone might recognize his face), I'm not really convinced Shand couldn't have done the job. But that would require a rearranging of the stakes in the episode. Din's calm competence is a joy to watch compared to Mayfeld, who isn't either particularly fun or particularly nuanced.
The first half of the episode is the long action sequence leading up to the processing facility. It's surprisingly inert for the second-to-last fight of the season, the Juggernaut vehicle forced to slowly make its way to the facility so the cargo doesn't explode. (Accelerating it causes the rhydonium to overheat, for some reason?) The action is thoroughly fine, Pascal's mannerisms excellent, and Burr extraneous. Like in a video game, more and more pirates appear in waves, as Din dispatches one skiff and then another.
Like last season, the stakes force Din to reveal his face. The Imperial computer has a face scanner, and Din is the only one the officers won't recognize. So he has to take off the stormtrooper bucket in front of a room full of hostile officers. Pascal is gloriously awkward as he faces the worst possible outcome for a member of his Mandalorian covert. It's a credit to the show that this sequence felt so raw; Din's devotion to his religious traditions is powerful and convincing enough that watching him talk to the Imperials with a bare face made me feel his discomfort. Even the camera seems shy, sometimes darting away to Mayfeld or catching only Din's hair from the back. The Imperial officer's mess, with its gray metal aesthetic, begins to look sharp and deadly compared to Din's exposed face. In fact, Mayfeld being so incompetent (and even his mild "redemption" and the fact that he's the major decision-maker in the third act) makes Din look even more disciplined and composed in a circumstance that leaves him exposed and tongue-tied.
It's also to the episode's credit that the sequence with the Imperial officer (a wonderfully slimy Richard Brake) is so drawn-out and excruciatingly awkward. Unfortunately, Mayfeld remains bland, even when he's delivering a meaningful speech. His choice to shoot his old officer for his betrayals during Operation: Cinder is ostensibly a major choice and twist. But it doesn't signal a big change for Mayfeld. He still only works for the greater good when it helps him sleep at night, and the killing was for revenge as much as it was for Grogu. His character didn't really change.
Meanwhile, it's a little unclear why Boba Fett and Fennec Shand are still here, too. Fans will likely fill this gap in with the idea that, as a fellow orphan, Fett understands Din and Grogu's father-son relationship. I do love that Boba's history ties into the show like this and adds some pathos. But I also just don't actually see much of this in the actual script, and want it to be a little more overt that these people like each other — a refrain throughout this season.
Of course, Din is doing all of this for Grogu, and the lengths to which he'll go to find his Force-sensitive son makes it even more heart-wrenching to think about what might be happening to the baby in Imperial custody. Will Din manage to save Grogu before Gideon can complete his master plan? We'll find out next week!