Features
Star Wars: Obi-Wan Kenobi Episode 4 Easter Eggs Explained
Here are all the Star Wars references, easter eggs, and cameos we spotted in Obi-Wan Kenobi episode 4!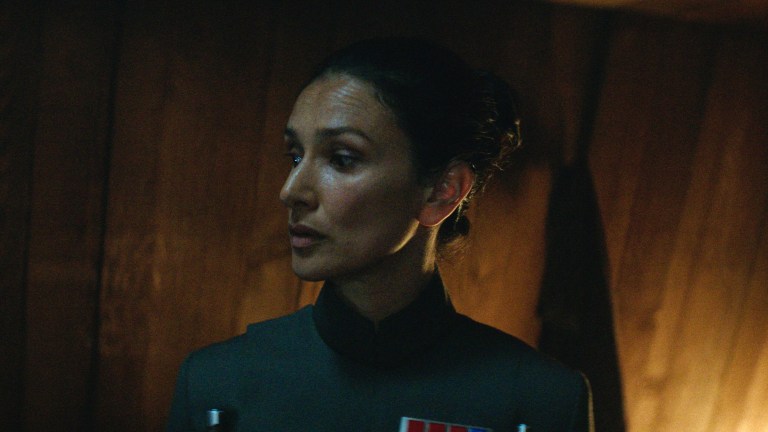 This Star Wars: OBI-WAN KENOBI article contains spoilers.
Obi-Wan and Leia find themselves in the Inquisitors' clutches this week. Their escape from Fortress Inquisitorius is a classic Star Wars adventure with some spooky reveals about what exactly sits at the heart of the Inquisitors' command base. Meanwhile, Leia proves she's almost as good at holding up to Imperial interrogation at 10 as she will be in A New Hope.
Below are all the Star Wars references, easter eggs, and cameos we spotted in episode 4. We have to start with the unfortunate Jedi encased in the Inquisitor tomb. While we can't exactly confirm who these characters are, there are a few fan theories as to their identities. Of course, it's possible the bodies in the tomb simply look similar to characters we've seen before in the Prequel Trilogy and The Clone Wars. Either way, prepare to be heartbroken…
Tera Sinube
Fans theorize the Cosian Jedi Master in the Inquisitor tomb is Tera Sinube, a Jedi Master who appeared in The Clone Wars as a mentor to Ahsoka. Although he really only appeared at length in one episode, "Lightsaber Lost" from season two, he appeared throughout the show and beyond.
If this really is Sinube, he's technically one of several Jedi: Fallen Order references in this episode. Sinube appears briefly in a tie-in comic for the game, Dark Temple. Jedi Fallen Order, like Obi-Wan Kenobi, relies heavily on the Inquisitors as villains.
You can read much more about Sinube here.
Coleman Kcaj
Among the frozen Jedi appears to be Ongree Jedi Master Coleman Kcaj, a member of the Jedi Council during the time of Revenge of the Sith. He appears as a background character in several episodes of The Clone Wars.
Oppo Rancisis
If that's him in the amber, Rancisis marks another Jedi Council member snatched up by the Empire. This Thisspiasian is easily recognizable by his long beard. He first appeared in The Phantom Menace and thereafter as a background character in The Clone Wars.
Roken
We meet another rebel operative this week named Roken, who is played by O'Shea Jackson Jr. You likely know Jackson Jr. best from the NWA biopic Straight Outta Compton, in which he portrayed his father, rapper and actor Ice Cube. Jackson Jr. also recently appeared in Godzilla: King of the Monsters and will next star in the Elizabeth Banks-directed thriller film Cocaine Bear.
Florrum
During Obi-Wan and Leia's escape, Tala distracts Reva by trying to convince her that the fugitives are hiding on the planet Florrum. This location was first introduced in The Clone Wars episode of "Dooku Captured" and served as the base of operations for Hondo Ohnaka's band of pirates. It is yet another desert planet in the Outer Rim.
Fortress Inquisitorius
This is at least the second time the fortress has been breached in Star Wars canon. Maybe they need better security.
Jedi apprentice Cal Kestis first broke in as part of his adventures in the video game Jedi: Fallen Order. Cal and his mentor Cere Junda are on a mission to find a holocron containing a list of Force-sensitive kids. Like in Kenobi, that mission ends with Darth Vader taking his disappointment out on an Inquisitor.
Obi-Wan's Force Trick
Everything old is new again. Obi-Wan distracts some stormtroopers in the fortress by using the Force to make a sound in the opposite direction. He did (or will do, depending on how you want to talk about Star Wars timelines) the same thing while trying to shut off the Death Star's tractor beam in A New Hope.
Purge Troopers
The black-armored stormtroopers seen leading the charge as Obi-Wan tries to escape the flooding hallway are Purge Troopers. They were introduced as an elite enemy class in Jedi: Fallen Order. Like the rest of the stormtrooper corps, the Purge Trooper ranks started out filled with clones. Regular humans were introduced in later as the Empire phased the Grand Army of the Republic out.
T-47 Airspeeder
The freedom fighters on Jabiim save the day in T-47 airspeeders. You'll most likely recognize these short-range vehicles as the snowspeeders from The Empire Strikes Back. Technically, those are a version modified for cold weather.
Obi-Wan's Breath Mask
In one scene, we watch as Obi-Wan swims his way into Fortress Inquisitorius. He seems to be wearing a breath mask that looks very similar to the one he wore in The Phantom Menace while diving down to the Gungan city of Otoh Gunga under the surface of Naboo.