News
Star Trek: Prodigy Gets a New Update Following Paramount+ Removal
Have we seen the last of hologram Janeway and the kid crew of the USS Protostar? A Paramount producer weighs in.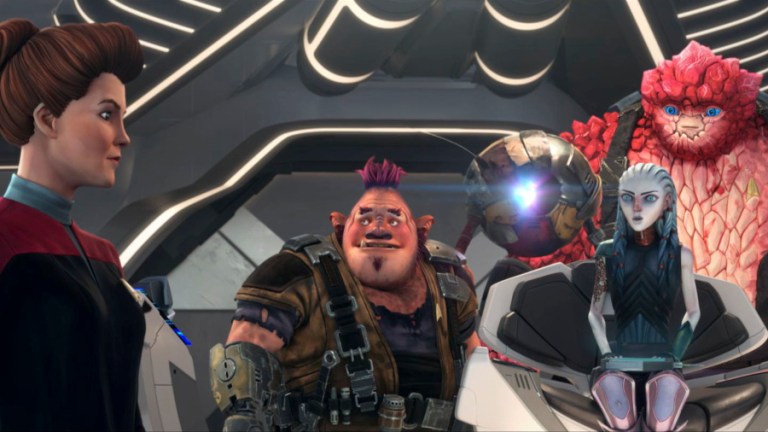 If there's one thing Star Trek fans understand, it's that cancelation doesn't mean the end. The original series famously got one more season after fans flooded the NBC offices to protest the cancelation after season two. That same fan support brought Trek back two more times, first as The Animated Series and then as The Motion Picture.
Despite having history on their side, you can't blame fans of Star Trek: Prodigy for getting nervous when the show was apparently canceled after one season and removed from the streaming service Paramount+. After all, we're currently living in a time when studio executives are burying shows to avoid paying creatives.
So it's a surprise and a relief to hear Paramount Vice President of Star Trek Brand Development John Van Citters insist that season two of Prodigy is still on the way. In fact, according to TrekMovie, Van Citters began his panel at SDCC by addressing "the 800-pound Rok-tahk in the room." After acknowledging that Prodigy is no longer available on Paramount+, Van Citters insisted "this isn't the end of the story for Prodigy. Season 2 is still in production. The creative team is working hard to finish what is a great storyline and we're working to find Prodigy a new home."
Of course, that last point contradicts one of the primary appeals of Paramount+, which has billed itself as "The Home of Star Trek." After working to remove franchise entries from Netflix and other services, where they had been available for years, and consolidate them on Paramount+, the company seems to be abruptly reversing course.
But of all the Star Trek series currently in development, Prodigy has been the most different and, thus, the most vulnerable. An animated kids show created for Nickelodeon, Prodigy doesn't have the deep franchise connections of the other cartoon show Lower Decks, nor does it feature a Starfleet crew.
Instead, Prodigy follows a group of outcast kids in the Delta Quadrant explored on Voyager, who run from a brutal tyrant aboard the abandoned Federation ship the USS Protostar. Guided by a holographic Janeway, the kids learn about Federation values, even while they're pursued by the real Admiral Janeway, who wants to know what happened to the Protostar's last Captain, her former XO Chakotay.
During the panel, Van Citters promised that he sees the value in Prodigy's unique cast and premise. "I personally love Star Trek: Prodigy having known what Hageman's and everyone been working on for years," he enthused. "This won't be the end of Dal, Gwyn, Rok-tahk, Zero, and especially not Murf. As you know, he is indestructible," declared Van Citters. "They're still part of Star Trek. They are part of the canon. They always will be."
Trekkies certainly understand that last point, as demonstrated by the return of even once-derided characters like Chakotay. As part of the canon, the Protostar crew can always return in one form or the other, even if Prodigy never makes it past season two.