News
Where Did Star Trek: Discovery Travel to Get Those Gorgeous Shots of Hima?
Where did Star Trek: Discovery Season 3 go to get those epic shots of Hima in the series premiere? We have details on the series' filming locations...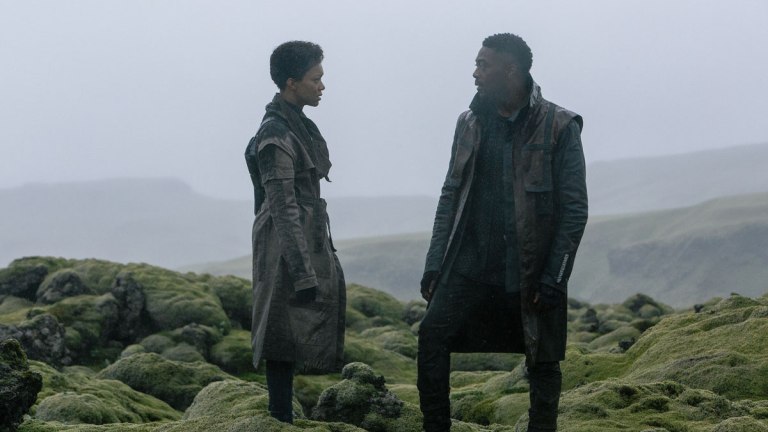 Star Trek doesn't need exotic filming locations to tell a good science fiction story. For decades, this show survived mostly on sound stages and, like most TV series, that's still where much of its production takes place. However, a few international shoots never hurt a show, right? While the bulk of Star Trek: Discovery films in Toronto, Canada (so, technically abroad for us yankees), the series has occasionally left North America to get some gorgeous shots of other corners of the universe. In Season 1, production traveled to Jordan for the series pilot, using the country's deserts to film the scene of Burnham and Georgiou on the surface of Crepusculan. Now, in Season 3, Discovery has traveled again for another otherworldly filming location: Iceland.
Anyone who has watched the Season 3 premiere, "That Hope is You, Part 1," knows how gorgeous it looks. Director Olatunde Osunsanmi utilizes the unique geology of Iceland to truly make it feel like Burnham has landed in a strange place (and time). Iceland, famous for its dramatic landscapes, is volcanically and geologically active, which means much of its countryside is made up of dark volcanic rock and basalt covered; geologically, the island includes sand and lava fields, mountains, and glaciers. It is like nowhere else on Earth and, while it is on Earth, for many Star Trek fans, it looks like it could be on another plant.
In the first episode, Discovery mostly uses Iceland as a stand-in for the planet of Hima, where Burnham crashes after her trip as the Red Angel through a temporal wormhole, pulling Book's ship down the surface in the process.
"Well, obviously we jumped to the future, and so we wanted a place that looked very different," executive producer Alex Kurtzman told TrekCore of the filming location back in 2019. "I've wanted to shoot in Iceland for a really long time, so we looked at a bunch of different options and Iceland turned out to be doable — so we did it!"
However much money CBS spent to make this happen, it was worth every penny. There's multiple scenes of Burnham and/or Book moving across the "Hima" landscape, and it looks more epic than most movies. At one point, Burnham and Book fight off men under a picturesque waterfall, the Icelandic tundra stretching out behind them. At another, pockets of geothermal heat let off a steady steam in the shot's background. Iceland has previously been used as a stand-in for otherworldly settings in Game of Thrones and Rogue One: A Star Wars Story.
"It was amazing," said showrunner Michelle Paradise. "The landscape is absolutely incredible, and it feels otherworldly just walking around. The places where we got to shoot were just tremendous and everyone [we worked with locally] was phenomenal. We were very fortunate to have been there."
Filming on Star Trek: Discovery Season 3 began back in July 2019 on location in Iceland. After wrapping up there, production moved to Pinewood Studios in Toronto and Kingston Penitentiary in Ontario.