Reviews
Soft Focus with Jena Friedman Review
Jena Friedman delivers brilliant, biting investigative journalism that defies convention and needs to become a regular fixture on Adult Swim
"Sometimes hard issues need a light touch…I'm Jena Friedman and this is 'Soft Focus.'" Soft Focus with Jena Friedman begins with that incredibly to the point introduction that sounds like the countless other introductions that kick off innocuous human-interest programs, but that's exactly the point.
You might even tune out the peaceful prologue for this Special simply because it sounds like the generic pabulum that typically bookends investigative journalism programs. Soft Focus' spot-on aesthetic and gentle demeanor may result in viewers letting down their guards, but that only allows the program's razor-sharp wit to more effectively attack and surprise the audience.
Soft Focus is a human-interest program that seamlessly intertwines fact and fiction into a delirious blend of unbelievable comedy. This introductory installment claims that it plans to examine love and relationships, but then the program almost immediately segues into a dissection on campus rape. This relentless, wry tone is consistent throughout the entire Special and there's much humor to be mined when Friedman tees up one topic and then sledgehammers it with a more aggressive, controversial angle.
For example, Friedman begins a conversation about campus rape that initially leans into startling statistics, but then turns into a brilliant piece of comedy wherein Friedman continually calls out colleges for upwards of a minute while the screen literally fills up with the names of institutions. The majority of colleges have rape allegations against their name, but Friedman and Soft Focus make sure to demonstrate that information in the most blunt way possible.
The humor in Soft Focus often comes from Friedman introducing a genuine topic of interest and then she'll double down on the depressing, obvious nature of the answers that she finds.
Sometimes the Specials and Infomercials that Adult Swim produces feel like insane one-off vehicles that won't lead to anything else (such as recent examples, The Suplex Duplex Complex or Wet Shapes), but at other times they feel like proof of concepts and ways to test the waters for more of this kind of thing.
Jena Friedman's Soft Focus definitely falls more into the latter category. Even though this is designed as a standalone installment, it's very easy to picture more of this show on Adult Swim's schedule in the future. Friedman clearly has a strong hold on the medium and also knows how to get under her interviewees skin and turn awkward moments into compelling, hilarious content.
Adult Swim has dabbled in this sort of content before with its Childrens Hospital spin-off, NewsReaders, and there have been other recent programs like Nathan For You and Jon Glaser Loves Gear that blend scripted comedy with real-life people to create something very unique. Friedman has the advantage here as she comes from programs like The Daily Show and Late Night with David Letterman, so she knows how to produce edgy field pieces.
A lot of Soft Focus feels like a more aggressive version of a segment that you'd see on The Daily Show, but it has more of the attitude of a Full Frontal with Samantha Bee field piece. It's not surprising to see this degree of fearless, provocative comedy come from someone who named their first stand-up special, Jena Friedman: American Cunt (it's also freaking astounding).
There are many strong segments in this Special, all of which feed into the common denominator of toxic masculinity and the marginalized, submissive role that women are pushed into in society. Friedman beautifully subverts these idiots and puts them on display in the perfect way. It's hilarious stuff that shouldn't have a problem at making the audience both laugh and be uncomfortable at what plays out before them.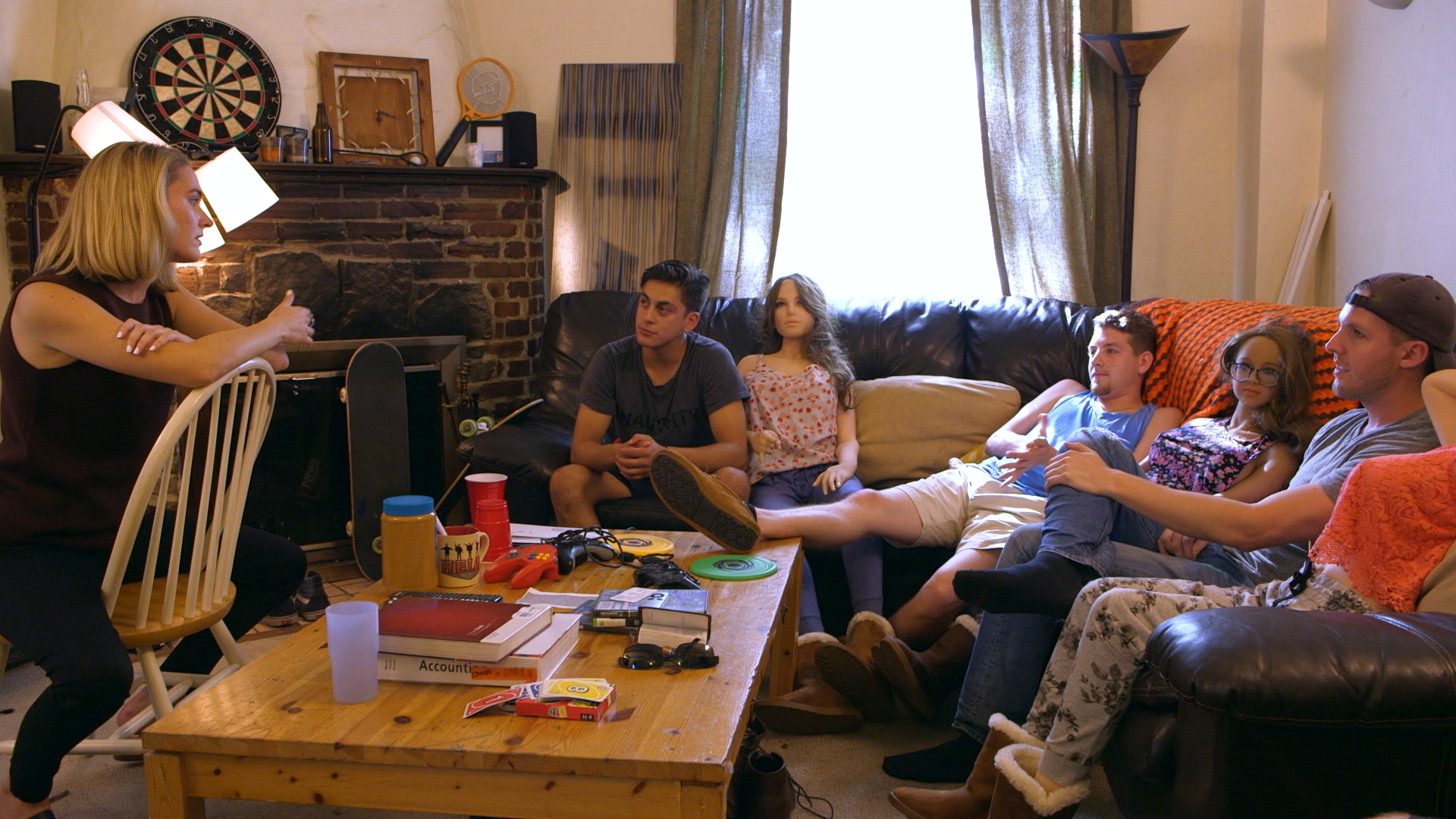 Something like this should provoke people and be shocking, and that's exactly what Soft Focus does and it doesn't give a shit if it offends anyone in the process. It's beautifully unapologetic in the best way possible.
In the material that dives into campus rape and frat boy antics, Friedman humorously conflates high school test babies and how they help high school students with sexual education with the problem that college students face in regard to consent and sex crimes. Of course, Friedman presents the fraternity members with full-sized sex dolls rather than the babies that teenagers receive in high school. The segment continues to find humor in how it pairs this absurd visual with the raw, unrefined answers of these unscripted college students.
All of it comes together in an incredible field piece that must be seen to be believed (the fact that there are silicone feet that are made with vaginas in the ankles is exactly the sort of bonkers reality that Soft Focus wants to educate its audience on and then shove in their face). This effect is present through all of Soft Focus' experiments and it's unlikely that there are any other programs in this genre where the host breaks down the minor differences between themselves and a sex doll.
There's a brief segment where Friedman goes to a boutique and looks for help to dress up her new sex dolls (Cannot-Consent-Carrie). Friedman's search soon turns into the difficult task of finding clothes that aren't "asking for it." It's not long before Friedman gets the actual store clerk to begin to parrot her questionable phrasing and play right into her game.
Friedman is an expert at pulling out these human moments from her subjects, all of which help illustrate just how commonplace these trigger phrases and dangerous points of view are in the world. Soft Focus blends together actual information with ridiculous situations to create the perfect cocktail for unconventional comedy. These people don't even realize that they're helping prove her points.
The apex of all of this is when Friedman turns the frat's time with their Cannot-Consent-Carries into a scathing witch-hunt that's ready to throw them under the bus. In the end, Friedman somehow succeeds in using these absurd disparate elements to actually teach these college kids something about culpability, victim blaming, and rape culture. It's beautiful insanity.
There's also a piece where Friedman delivers a one-on-one interview with Gil Valle, the "Cannibal Cop," a man who served time for trying to lure and eat women. While this segment doesn't contain the same impact as the campus rape material, it still hits hard and shows that Friedman is interested in more unusual, fringe topics, too.
This piece is much more about the spectacle that is the arrested "Cannibal Cop," but it still satisfies and eventually turns into a surreal spin on a dating show. This also emphasizes just how surprising Soft Focus can be and that it's ready to push its topics down an unconventional avenue when it's necessary.
Soft Focus manages to be a one-off that doesn't feel rushed, yet it still covers a lot of ground within its meager 15 minutes. This easily could have been a full half hour and it doesn't seem like Friedman and company would have struggled for content (even if they just let the Special's current segments run longer rather than producing new pieces). That being said, a project like this is slightly more digestible when it's only a quarter of an hour long, so perhaps that was the rationale here.
 This is a show that also easily lends itself to be broken down into even smaller segments that then spread across the Internet and turn into viral clips. Soft Focus feels tailor made for that sort of deconstructive approach and it's encouraging to see how many of these sequences in here work on their own as standalone pieces, but can also help contribute to a cohesive package and theme.
Adult Swim's Mike Lazzo took an understandable amount of flack for his statements about women and comedy, but Soft Focus acts as a strong confirmation that the network is in desperate need of more programs that come from a female perspective.
That's not to say that future installments of Soft Focus would—or should—be so focused on gender, but this Special is a strong endorsement of how powerful that perspective can be when looking at topics like the ones on display here. Hopefully both Soft Focus and Jena Friedman will get even more opportunities to educate the masses with their bonkers style.