Features
Sky Cinema: What's New in July 2020?
It's time to clap our eyes on what Sky Cinema has got lined up for us in July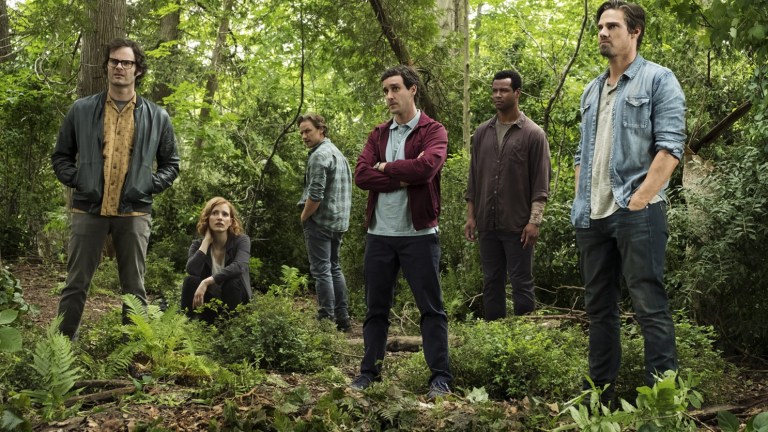 Some of last year's most anticipated releases are hitting Sky Cinema in July, so we've updated our monthly guide to spotlight all the new cinematic offerings that subscribers will get to choose from. Whether you fancy a bit of Brad Pitt in space, a spot of evil clown-flavoured horror in the sewers, or even some catchy new musical fantasy tunes, Sky Cinema's July lineup should have something to tempt most of you.
Here's a look ahead at what's coming up in July…
Premieres
Frozen 2 – 3rd July on Sky Cinema and Sky Cinema Pass on NOW TV
In Frozen 2, the gang from the 2013 Disney blockbuster – Elsa, Anna, Kristoff, Olaf, and Sven – return for another long-awaited icy adventure that will take them on a journey beyond Arendelle. When Elsa hears a mysterious voice calling out to her, it's decided that now is time to discover both the origin of the new Queen's powers, and other undiscovered truths from the past.
The Goldfinch – 4th July
Donna Tartt's bestselling novel gets the adaptation treatment from Brooklyn director John Crowley, as a troubled young man (Ansel Elgort) becomes embroiled in the murky world of art forgery some time after his mother is killed in a bombing at the Metropolitan Museum of Art in New York City. The Goldfinch was critically mauled on release, and sank at the box office. This month, you'll have a chance to see how fair that treatment was.
Buffaloed – 6th July
Lea Thompson's daughter, Zoey Deutch, stars in this comedy drama alongside Judy Greer and Jai Courtney. In Buffaloed, Peg (Deutch) gets accepted to the school of her dreams, but she absolutely cannot afford to take the offer up. In an effort to not squander her life, she becomes a debt collector, and declares war on her city's established debt-collecting kingpin.
IT: Chapter Two – 10th July
27 years have passed since the Losers Club went down into the sewers and forced evil alien clown-thing Pennywise into his post-kid mukbang slumber, but he's back, and the now grown-up gang must return to Derry to finish the damn job. How will they banish Pennywise from feeding on the fear of the town's children forever? You'll float too, and find out, in the second part of Andy Muschietti's double bill.
Bad Education – 11th July
Based on a real-life scandal, Hugh Jackman and Allison Janney play superintendents of a school district close to being the nation's best, but a newly-discovered embezzlement scheme is about to put all their hard work on the rocks.
Ad Astra – 17th July
The Lost City of Z director James Gray chose Ad Astra as his next project, plotting to create "the most realistic depiction of space travel that's been put in a movie." In the ponderous film, Brad Pitt plays an astronaut called Roy McBride, who accepts a mission to find his missing dad (Tommy Lee Jones). He disappeared at the edge of the solar system a long time ago, but now might be trying to destroy Earth for mysterious reasons that need to be explored almost as much as the cosmos itself.
Luce – 19th July
This social thriller stars Naomi Watts, Octavia Spencer, Kelvin Harrison Jr., and Tim Roth, and is based on a play by J.C. Lee. When a former child soldier adopted from a war-torn country writes an assignment exploring how colonialism can be overcome through violence, the plops hit the fan for his parents and teacher.
Charlie's Angels (2019) – 31st July
Rebooting Charlie's Angels is no small task, but actress-turned-director Elizabeth Banks gives it a go, employing Kristen Stewart, Naomi Scott, and Ella Balinska as her new Angels doing jobs for Charlie.
New Collections
Star Wars – 29th June – 5th July
Star Wars is going nowhere on Sky Cinema, and you'll still have access to the collection in July.
Highlights: Star Wars: The Phantom Menace, Star Wars: Attack of the Clones, Star Wars: The Rise of Skywalker, Star Wars: The Clone Wars, Star Wars: Revenge of the Sith, Star Wars: The Empire Strikes Back, Star Wars: A New Hope, Star Wars: Return of the Jedi
Blockbusters – 6th July to 19th July
A lovely selection of the best box-office breaking titles arrives in July. Every movie managed to gross over $400m globally.
Highlights: ET, Star Wars: The Rise of Skywalker, Avengers: Endgame, Bohemian Rhapsody, Twilight, Titanic, Ocean's Eleven, The Secret Life of Pets 2, Interstellar, Fast & Furious: Hobbs & Shaw