Reviews
Shrill Season 2 Review (Spoiler-Free)
Aidy Bryant returns in Shrill season 2, another stellar installment of Hulu's comedy. Now if only there were more episodes...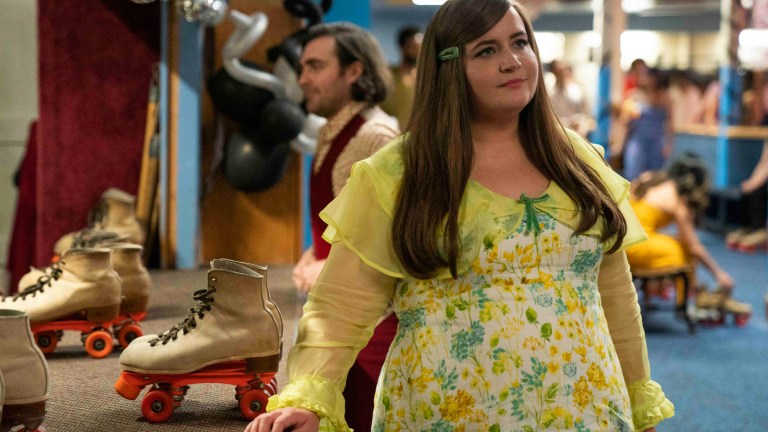 In Lindy West's 2016 memoir Shrill, there's a chapter called "How to Stop Being Shy in 13 Easy Steps" where she chronicles how she stopped hating herself and found her voice. Whether it's stealing precisely one bean, tipping over a picnic table in front of a crowd at a music festival or having not-so-silent sex, they're all things that helped her become the person who wrote the book, the famed feminist writer we know and love. And that's the writer who elevated hating on Love, Actually to a comedic art form, the woman who has taken on trolls and pushed the movements for fat acceptance and abortion normalization forward. With Hulu's Shrill, we're seeing an elongated, fictionalized version of that list of transformative events as we cheer Annie along her alternately joyous and embarrassing journey into a woman who more fully loves every part of herself and fights for what she deserves, in her personal and professional life.
Shrill returns for season 2 with Annie dealing with the aftermath of last season when she took on her troll, got serious with her boyfriend, and spontaneously quit her job. Meanwhile, Amadi (grounding force/dream work husband Ian Owens) is adjusting to being the boss, something he finds surprisingly enjoyable, which frees Gabe up to show us what it look like when he's actually a good editor for what feels like the first time all season. Fran (the luminous Lolly Adefope) is on her own journey of discovery, one that's more central to the narrative than before.
The strong cast is led by Aidy Bryant's infectious charm, which carries her through some of the tougher moments as she struggles with life as a hapless millennial freelancer. But the talent by no means stops there, with Lolly Adefope's Fran finding new levels of vulnerability in a character who externally projects the effortless self-possession of someone who owns every room into which she walks. Julia Sweeney as Annie's mother Vera continues to find the way to make that character equal parts maddening and loving, while opening her up to Annie this season in a new way. Meanwhile Patti Harrison's chaotic office assistant Ruthie steals every scene she's in, and John Cameron Mitchell ensures Gabe is more than a caricature or a bogeyman.
If Shrill season 2 has a flaw, it's that at eight episodes (two more than the first season), it's still too short. I would readily watch two eight-episode seasons of Shrill a year, and I think Annie, Fran, Amadi, Ruthie, and the rest of the crew would support that amount of storytelling. Thankfully though even in a relatively short amount of time, the joy and offbeat sense of humor continues, as does Annie's growth. While season 1 split time between her romantic life and her career, season 2 opens with the concept that Annie is happy with Ryan. Like Fran, I'm skeptical at best but, more often, openly hostile to the man-baby leeching every bit of her newfound assertiveness.
If season 1 was about Annie's epiphany and liberation, season 2 is about the hard work of putting those ideals into action, even in parts of her life where she's been unable to see how she's come up short. When it comes to Annie's love life, that's an all-too-real phenomenon, and one worthy of commentary, which largely comes in the form of Fran and occasionally Amadi. More so than in the first, season 2 challenges Annie to differentiate between personal empowerment and selfishness, to distinguish when she's letting herself or Ryan off the hook while learning to hold everyone else accountable.
A major improvement is Fran's narrative prominence, with her romantic life and her personal development weaving their way through the entire season. Perhaps the best episode of the season focuses on Fran, her relationship to her family, and what it means to be a queer woman of the African diaspora. Shrill breaks with harmful tropes about Black folks and the LGBTQ community, instead digging deeper and showcasing a variety of relationships like Fran's with her cousin and her brother. The latter could stand to be on the show more often and likely will, if Lindy West's real life remains the template (she's married to musician Ahamefule Oluo, brother to her best friend Ijeoma Oluo, who serves as a loose inspiration for the character Fran).
read more – Shrill: Aidy Bryant's Transformative Moment on Set
The show's feminism, writ large, has been more fully incorporated into the overall storytelling. It's still there, but it's less limited to specific episodes like the still-perfect Fat Babe pool party episode. This largely benefits characters other than Annie coming closer to the narrative center, like the welcome addition of newcomer Emily Fightmaster, the way queerness much more fully permeates Annie and Fran's life this season, or the way the show casually confirms that Ruthie is trans like the actress who plays her. Once again about half of the episodes are directed by women, including Russian Doll's Natasha Lyonne.
It's good to finally hear Lizzo's music on the soundtrack, though it feels rather late. The strongest songs on this season are not on the soundtrack, but rather a stripped down vocal performance of "God Only Knows" at a queer open mic, and Fran bringing down the house on "Shallow" at karaoke. Both are deeply evocative and unforgettable in the moment. Please can Queeraoke be a thing in the Shrill universe of season 3?
The weakest episode of Shrill season 2 is also, paradoxically, one of its most astute. Annie goes to a women's empowerment conference – an easy target, though one that feels a bit dated (is this material really adding to a discourse that's currently grappling with the abusive #GirlBoss aesthetic in a more muscular way?). Everything about the conference is so obviously bad on its face that it's hard for it to feel like real commentary so much as lazily dunking on a topic that it could take down with more wit, the way Shrill did last year with online harassment or "wellness"-oriented concern-trolls. While the show sometimes complicates its take on corporate feminism, it falls short of asking why these women need to lie to their husbands to have fun for a few days in the first place.
Once again, the experience of watching Shrill is joyous, refreshing, even liberating. As it expands its world with a much needed (though still not high enough) extended episode count, Shrill season 2 gives a renewed focus on secondary characters, particularly the magnetic Fran. Filling out the world of Fran and Annie's group of friends more meaningfully feels like a win for the duo's personal development journeys as much as it's a treat for viewers to get additional talent and some of the season's emotional high points on our screens. As Annie makes her way through the highs and lows of adulthood, from the thrilling to the embarrassing to the banal, Shrill lets us watch something truly special: a woman coming into her own power.