Reviews
Shameless Season 10 Episode 10 Review: Now Leaving Illinois
The Gallaghers head towards some of their biggest changes yet on Shameless as they struggle to face the consequences of their actions.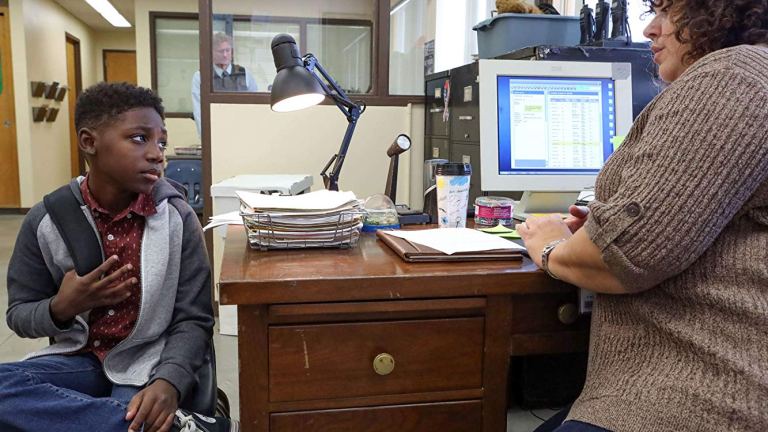 This Shameless review contains spoilers.
Shameless Season 10 Episode 10
"That's it. That's all I've got."
This entire season of Shameless has largely been concerned about maturity and characters finally pushing themselves out of their perpetual comfort zones. At the beginning of the season, this mindset manifested itself through a lot of extreme decisions that felt reactionary more than they hinted at personal growth.
As Shameless season 10 begins to come to a close, characters have gained a little more clarity and can better judge the paths that they've taken. As big changes face every Gallagher this year, there's been a definite reluctance to grow up across the board. In spite of this trepidation towards making such big commitments, "Now Leaving Illinois" shows these characters finally in a place of acceptance and ready to bravely move onto whatever is next.
Lip's material on Shameless continues to carry the greatest emotional resonance through what's been a very tonally bipolar season. The Tamiettis have called together a family meeting and while Lip is initially worried about his inclusion in the gathering, it turns out that its whole purpose is to make life easier for Tami and himself. The two are basically given a free house in Wisconsin to raise Freddie in. This is obviously a great opportunity for the struggling family, but Lip is paralyzed with dread about leaving home and moving forward in such a significant way.
read more – Shameless Season 10 Episode 9 Review: O Captain, My Captain
The most progressive thing about this development is that Lip sets himself up to hate this new home, but in the end he can't contain how much he loves it. The house provides lots of opportunities for them both and its' considerably more spacious than an RV. Lip is a character that has spent so much time on Shameless being stuck in his own ways or acting needlessly resistant to the helpful changes that present themselves in his life. The fact that he can actually accept this one speaks to just how much the character has changed over the course of the past few seasons.
Lip and Tami are ready to move forward to the next chapter of their lives, but Ian struggles to regain that equilibrium with Mickey. The two are still lashing out at each other over Ian's cold feet at their marriage ceremony, but it's painful to watch the both of them express their emotions in such obtuse ways.
At first it seems like Mickey might have actually moved on from Ian, but this episode shows how that's not the case. Meanwhile, Ian may inadvertently develop real feelings for his random date, which means that Mickey's way of acting out could have serious consequences. It'd make for compelling storytelling if Mickey's behavior led to Ian's next relationship, but by the end of "Now Leaving Illinois" these two are finally reconciled. Shameless goes about this in a very messy way, but the conclusion of all of this is still oddly sweet. It looks like they're right on course for a wedding by the time that the season finale rolls around.
Multiple romantic partners and stresses of the heart are also front and center for Debbie at the moment. Debbie's sordid love triangle with Claudia and her daughter, Julia, continues to heat up as Debbie rocks the boat and jeopardizes the good thing that she has going. Much like with Fiona, Debbie has a hard time accepting the "normal" situations in her life and she's practically drawn towards drama.
Julia only becomes more obsessed with Debbie, just as things between her and Claudia get more serious. Debbie tries to entertain the highly problematic proposal to become Claudia's personal assistant and even though she attempts to purge herself of all of this extra baggage, it's likely still going to blow up in her face. A vengeful Julia is already waving blackmail in her face in a way that seems like Debbie may end up with less than when she started.
And speaking of destitute, by all means Frank should be headed for prison after the elegant frame job that Faye pulls on him. She essentially sets him up for the same crime that Frank got Kyle put away for, which is really the most poetic form of justice for how to deal with someone like Frank in this situation. The fallout of this Faye and Frank saga is hard to watch just because Faye is clearly unaware of how the universe constantly bends in Frank's favor. Faye's plan should easily send Frank away to jail for decades, but he continues to fail upwards as he forms a strange kinship with the judge over the danger of opioids. Frank's prison sentence is traded for community service and a stay at a cushy behavioral therapy center named Placid Journeys.
Frank's rehabilitative journey is mostly played for laughs at this point, but Frank bragging about addiction stories in therapy is still slightly less offensive than Kevin "studying" and lying over a fake sexual abuse. Faye's look of defeat when she sees Frank get away with what her husband couldn't is just crushing. As unpredictable and strange as this plot line has been, it's at least succeeded in underscoring the discrepancies in the justice system that continue to run rampant. It looks like Frank may still have some kind of romantic aspirations towards Faye that he may try to act on, but the two of them forming a relationship together at this point would be even more ridiculous.
The biggest outliers in terms of plot on this episode of Shameless are the troubles that plague the two youngest members of the Gallagher clan, Carl and Liam. Both of their stories also revolve around the idea of personal growth and securing futures for themselves, but they're handled in such confusing manners. Carl somehow goes from inspiring troubled youths to joining a team of crooked garbage men in what's truly a bizarre turn of events.
read more: Kavalier and Clay TV Show Coming to Showtime
Carl's plotting has been all over the place this season, with this just being the craziest pivot that he's had to deal with. Carl actually started this season in a strong position of authority, but each new episode seems to be interested in stripping more away from him. In spite of this gradual character assassination, he remains one of the more entertaining and honorable people on this show. His moral compass tends to stay straight, it's just that he's put into such demeaning scenarios. There's an altruistic cause for everything that Carl accomplishes here and he does manage to still improve the city, but it's achieved in such a roundabout way that feels like it's more about punishing him than demonstrating growth.
Liam's predicament is even more tangential as he finds himself threatened to get kicked out of school and taken away by CPS if he can't get Frank's signature to prove that his whole existence isn't some kind of tax fraud. It's kind of brutal how Liam always has to jump through such hoops, often by himself, just to survive. He shouldn't have to call upon random police officers to give him a hand. He's grown into one of the most resilient and self-sufficient Gallaghers, but he faces an impasse here due to the unexpected circumstances that take Frank out of the picture. Liam has left the Gallagher house many times before, but I wouldn't be surprised if this plays out with Liam's eviction taking place in the season finale.
Finally, V and Kevin's shenanigans for the week begin in a relatively grounded place as they try to right in order to get their kids into an impressive school. However, very quickly the material gets just as wacky and regressive as everything else that they've had to contend with this season. To the show's credit, this story attempts a few twists and turns, but it's clear from the start that Kevin and V are not headed towards the swingers scenario that they're apprehensive towards.
There are a number of issues here, like how V addresses how aggressively sexual they've been in the past to the point where this shouldn't be a blip on their radars, but also that the payoff isn't that satisfying. Basically this affluent family just wants to show their child squalor as some sort of sideshow oddity? It's a very puzzling conclusion. But hey, at least there's some time spent with V's roving health care van to show that Shameless doesn't have complete amnesia with its storylines.
One of the first scenes in this episode of Shameless is the Tamietti's family meeting and "Now Leaving Illinois" nicely bookends this with its conclusion set around a Gallagher family tribunal. This family meeting is the most powerful scene in the episode, even if it's almost entirely Lip who does the talking in the scene.
It'd be an impactful moment in Shameless' history under any conditions, but it's one that his even harder after Fiona left only a season ago. Of course, Lip moving with his family to Milwaukee doesn't necessarily mean that Jeremy Allen White is leaving the series, but after 10 seasons, it wouldn't come as a surprise (especially when staying on any longer really only jeopardizes the chances of his character holding onto any kind of happiness).
Suddenly the Gallaghers begin to clue into the fact that things really are changing and that their amorphous family unit is finally starting to lose members. Fiona's exit wasn't an anomaly; it was inevitable. As Lip and other members of this family slowly follow suit, all of the ridiculous schemes and petty nonsense that everyone is caught up in begins to seem more pointless. When characters are actually pushing themselves towards progress and heading towards a frightening, challenging future, it's only natural to take a look at your own growth.
This season of Shameless has featured some of the broadest stories that the show has ever explored, but also some of its most mature emotional material. With two episodes left in this transitory season, the Gallaghers are forced to figure out what's really important to them. There's been a lot of denial and deflection this year, but Lip's leap forward is exactly the kind of event that's necessary to help bring focus to the conclusion of these stories.
Keep up with Shameless season 10 news and reviews here.
Daniel Kurland is a published writer, comedian, and critic whose work can be read on Den of Geek, Vulture, and Bloody Disgusting. Daniel knows that the owls are not what they seem, that Psycho II is better than the original, and that Hannibal is the greatest love story ever told. His perma-neurotic thought process can be followed at @DanielKurlansky.