News
Netflix's Sexy Beasts Proves That God Has Abandoned His Creation
From the depths of hell comes a trailer for a Netflix reality series that encourages interspecies dating.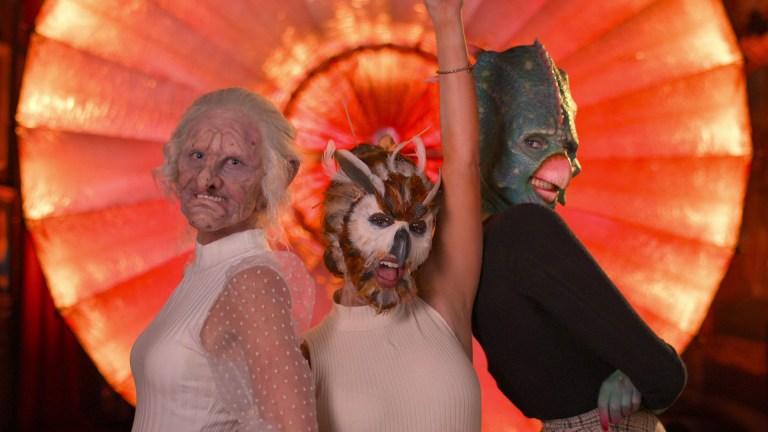 Let's say you want to create a dating reality show in which contestants are unable to see one another's faces. This is, of course, a noble mission as it encourages individuals to move past skin-deep first impressions to engage with the very souls of their partners.
To accomplish this mission do you…
A. Merely put bags over people's heads, or
B. Hire professional makeup and costume artists to turn people into the uncannily terrifying visage of wild animals, violating the sacred laws of nature that separate beast from man.
If you're Netflix, there's only one real answer, baby. Enter Sexy Beasts: the new dating show made up entirely of your sleep paralysis demons. Gather up your courage and check out the first trailer below.
OK so…a couple thoughts. First off, some of these creatures aren't even beasts. Demons are fallen angels. Dinosaurs are technically beasts but we all know that's not in keeping with the spirit of this assignment. Also, who is that blue creature and why is she so discomfitingly attractive? 
The "beasts" in this trailer appear to be, in no particular order, Water Buffalo, Panda Bear, Rhino, Armadillo, Scarecrow, Owl, Triceratops, Beaver, Alien (or some kind of dinosaur?), Mantis, Dolphin, Demon, Fox, Mouse, Mandrill. What's particularly cruel about this concept is that not only are participants forced to wear beast masks, but their wardrobe appears to be dictated by them as well. Or at least I hope so – otherwise Beaver decided to wear a sweater riddled with holes on his own volition. 
Terrifying as these costumes might be, it cannot be denied that the production quality is stellar. Perhaps Netflix had some money left over after creating the hybrids on Sweet Tooth. 
As is the case with most things, we can blame the United Kingdom for this Lovecraftian horror. Sexy Beasts comes from Lion TV's original British series that aired in 2014 on the digital platform BBC Three. The concept has proven successful enough to be relaunched in several markets across the world. In light of the similarly bizarre Masked Singer's success, Netflix has ordered two seasons of Sexy Beast, the first of which will premiere with six episodes on July 21.
Comedian Rob Delaney serves as the narrator on the series so this is a good time to remind you to check out his superb series Catastrophe or just follow him on Twitter for gems like this.
Anywho, Sexy Beasts is an abomination and I will watch it.