Features
Russian Doll Season 2 Soundtrack: Complete Details and Playlist
While there isn't a singular Harry Nilsson hit, Russian Doll season 2's Pink Floyd-saturated soundtrack has a lot to love. Check out the full playlist here.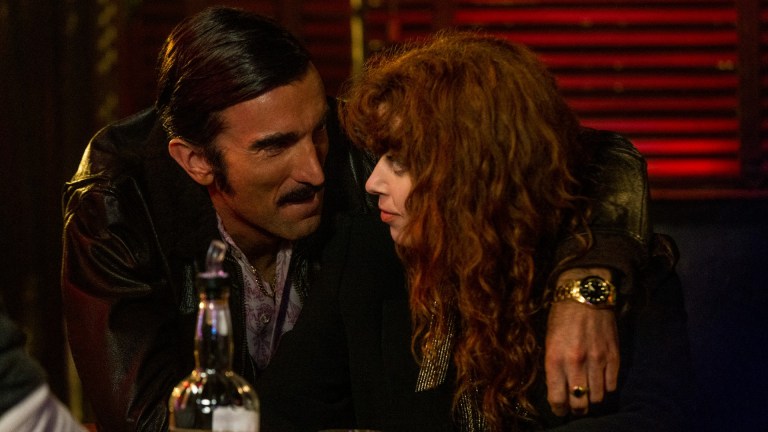 "Gotta get up, gotta get out…"
Those are the first words that greet Nadia Vulvokov (Natasha Lyonne) every single time she dies and "respawns" at her 36th birthday party in Russian Doll season 1. They come from Harry Nilsson's song "Gotta Get Up" and with an accompanying piano riff they prove to be a constant artistic companion through Nadia's very strange experience. The song is an appropriate guide for the audience as well. There is no better way to ground a disorienting supernatural experience than with the familiar soothing sounds of a pop song. Russian Doll understands this well and it's a lesson that carries over in the show's excellent second season.
Russian Doll season 2 doesn't have a "theme song" like "Gotta Get Up" per se, but that doesn't mean its soundtrack isn't full of absolute bangers. This batch of seven episodes finds Nadia time traveling back to 1982 and eventually 1944, and the music department takes its cue from those two timeframes. Fans of '70s and '80s pop music will recognize a whole host of hits to be found herein. The season is bookended between Depeche Mode's "Personal Jesus" and Pink Floyd's "Shine on You Crazy Diamond" just to give you a sense of how diverse a collection this is. 
Though no song recurs like Harry Nilsson's piano number, those two songs do kind of factor in again. "Personal Jesus" pops up as a remix mid-season and Pink Floyd gets the honor of being the only musical act to feature two songs in this season with episode five playing host to "The Thin Ice." Because really: you can't have a TV show about metaphysical '80s adventures without multiple Pink Floyd drops.
There's also a couple of classical musical numbers, thanks to both Alan's (Charlie Barnett) musical sensibilities and the show's trip back to the World War II era. All in all, this is a balanced, fun musical attack that deserves listening to. So we went ahead and compiled them all! Below you can find a list of the songs that factor into Russian Doll season 2. And above this paragraph you can even check out the Spotify playlist!
Episode 1
"Personal Jesus" by Depeche Mode
"Bela Lugosi's Dead" – Bauhaus
"Bonchida A" by Trad. & Arr. Laszlo Barter & Nikko Radic
"Mother" by Danzig
"Get it While You Can" by  Janis Joplin
Episode 2
"Angel Eyes" by Big Debbie and Terror Apart
"Never Gonna Let You Go" by Michael Miglio
"Goin Out of My Head" by Little Anthony & The Imperials
Episode 3
"Put a Straw Under Baby" by Brian Eno
"Puddin' and Tain" by The Kit Kats
"Black Night" by Cheryl Thompson
"Sunday Morning" by Velvet Underground
"Der Kossomar" by Falco
Episode 4
"Morgen" by Ivo Robic
"Wasurenaiwa" by Peggy March
"Mindkilla" by Gang Gang Dance
"Piano Concerto No. 4 in G Major, Op. 58. III Rondo: Vivace" by Beethoven
"Personal Jesus (Alex Metric Remix)" by Depeche Mode
"99 Luftballons" by Nena
Episode 5
"I Found Out Too Late" by The Sapphires
"The Thin Ice" by Pink Floyd
Episode 6
"Runnin' with the Devil" by Van Halen
"Gotta Get Up" – Harry Nilsson
Episode 7
"Shine on You Crazy Diamond (Pts. 1-5)" by Pink Floyd
Not a bad crop of tunes, huh? Harry Nilsson himself would be proud.
All seven episodes of Russian Doll are available to stream on Netflix now.