News
Roswell, New Mexico Season 3 Cast, Release Date, News
Here's everything we know about Roswell, New Mexico Season 3...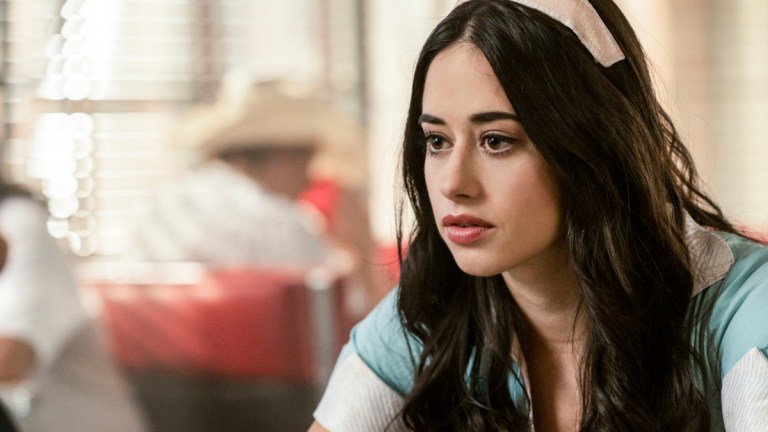 Aliens will continue to live amongst us! Roswell, New Mexico Season 3 is a go. The CW network made the announcement that the alien romance would be getting another season as part of a massive renewal announcement for 13 of its currently-running shows back in January, during The Before Times. That being said, the show will continue on with new creative leadership. News broke in July that co-showrunner and creator of the series Carina Adly MacKenzie will be leaving ahead of Season 3. You can read more about that here.
The Roswell, New Mexico writers room has already started breaking Season 3, taking into account the complications of shooting in a world that includes COVID-19 as a factor. Talking to Collider back in June, Mackenzie said: "On our storytelling side, and obviously, we are also paying a lot of attention to how things evolve, as far as how we can tell our stories safely. We have a lot of contingency plans for how to sketch out a romance, if characters can't be touching and kissing, as much as normal. And if we can't pack our diner and our bar set full of extras, how do we tell stories in those spaces?"
Mackenzie continued: "The virus is frustrating. It's not our fault and it's annoying to have to re-evaluate the way that we tell stories, but our cast and crew's safety is really, really important. And so, we are trying to creatively write our way out of a difficult situation, as every writer in town is trying to do right now. As an industry, we're just gonna have to have to evolve and our audience is gonna have to evolve a little bit. We'll manage."
Here's everything else we know about Roswell, New Mexico Season 3…
Roswell, New Mexico Season 3 Cast
The entire main cast of Roswell, New Mexico is expected to return for Season 3, including Jeanine Mason, Nathan Dean Parsons, Lily Cowles, Michael Vlamis, Michael Trevino, Tyler Blackburn, Heather Hemmens, Trevor St. John, and Karan Oberoi.
It sounds like Parsons will be pulling double duty next season, playing Max's doppelgänger, Mr. Jones, in addition to the character of Max. Mackenzie told Digital Spy: "I will say that we underworked Nathan Parsons at the beginning of this season. And then, you know, he spent a lot of time floating in a pod, and so we figured we would give him double the job for the next season. So we're very excited to explore who Mr. Jones is. Through his eyes, we're excited to explore the truth about the other planet, where the aliens came from, and why."
Roswell, New Mexico Season 3 Release Date
The CW has announced its planned schedule for January 2021, and Roswell, New Mexico is not on it. The network is more or less treating January 2021 as the "fall" season, so it's not so surprising that Roswell, New Mexico, which has been a midseason premiere in its first two seasons, isn't on that list. We'd look for it in March at the very earliest, but given that the fall season has been pushed back roughly three months, we could assume that the midseason will also be pushed back three months, which would put Roswell, New Mexico's Season 3 premiere in June 2021.
Obviously, the release date of Roswell, New Mexico Season 3, and all of the other CW shows, depends on the state of the COVID-19 pandemic moving forward. We'll be sure to update this article with any news on production development.
Roswell, New Mexico Season 3 Story
The Roswell, New Mexico Season 2 finale set up many stories for Season 3. In addition to the aforementioned Mr. Jones storyline. Speaking to Digital Spy about Season, Mackenzie teased: "We'll dig into Max's destiny, and also what the future holds for Michael and Isobel, too. I think there's been a lot of talk of Max as this central figure, and as this inherent leader. But we're also going to ask questions about where that leaves Michael and Isobel, and their role in the future of this planet, and of different planets too."
As for the much-loved Michael and Alex relationship (aka Malex), Mackenzie said: "I think that Alex has never really had the opportunity to just casually date, especially in a space where he feels safe, and he feels proud of who he is. And so we're excited for next season – Forrest is going to definitely be a part of Alex's journey."
Mackenzie continued: "The thing that I really like about the end of the season is that Michael started this year saying that hope is the worst thing in the world; hope is the thing that hurts you the most. At the end of this season, he says that he needs to end his story with Alex, because maybe there's a new story for the two of them to start down the line. And I think that's the most hopeful that we've seen Michael in a really long time. So we'll be telling a slightly lighter love story next season for Alex."
More news on Roswell, New Mexico Season 3 as we hear it.