Features
Ron Howard Returns To Space With The Astronauts For Nickelodeon
Nickelodeon's new live action space series, The Astronauts, comes from executive producer Ron Howard, who spoke to us about why telling stories about exploration is so important to him.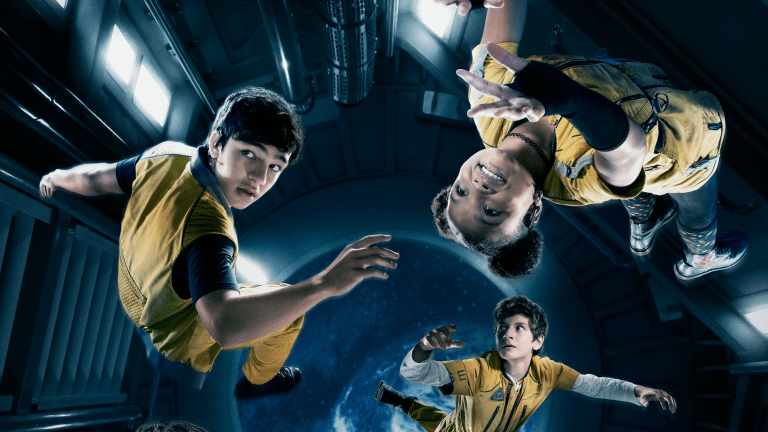 Since its inception in 1979, Nickelodeon has been forward thinking with its programming. Yet it took over 41 years for the network to go after the final frontier, a live action space travel show for kids. To make an ambitious show like that happen, they needed the right co-pilot, landing the director of Apollo 13, Ron Howard.
Howard serves as executive producer for The Astronauts, a new live-action kids series coming to Nickelodeon on Nov. 13. It's the first kids series to come from Howard and Brian Grazer's production company, Imagine Entertainment, which launched a new division in 2019 called Imagine Kids+Family, headed up by Stephanie Sperber. In early meetings between the network and production company, the prospect of doing a space show for kids was exciting to both parties.
"They said, 'We don't know quite how to do it, but maybe you guys do because you seem to like space, but we think kids and space would be interesting.' We took that and ran with it because immediately I felt there was an opportunity, especially if we could do it realistically," Howard tells Den of Geek. "If we could give you a real sense of adventure, there was a way to flip the script on the conventions of many shows, many movies that we've seen, some of which we've done as a company."
The Astronauts is likely as close to a traditional drama as Nickelodeon can get. Howard was quick to use the term "cinematic" to describe the look of the series, but anyone with even a passing knowledge of Nickelodeon's past live action series will be surprised to see that the footage looks like it belongs on premium cable or a streamer. The series, which is written and executive produced by Daniel Knauf (Carnivàle, The Blacklist), follows a group of kids who "embark on the adventure of a lifetime when they are mistakenly launched into space."
"We wanted to make it plausible, wanted to make you believe it could happen, and that it would be all the more empowering and all the more fun to watch if kids were looking at this and saying, 'Yeah, I guess this is kind of how this might go down,'" Howard says, "So that became our mantra and Nickelodeon supported that."
In meetings with Nickelodeon, network execs often referenced Howard's Apollo 13, as well as a more recent Imagine Entertainment project, the National Geographic docu-drama series Mars, as touch points.
"We learned a lot with our Mars series about how to create space in a very realistic, connected way," he says, "I mean, it had to be as authentic as we could make it look and that carried over."
The experience on Mars helped the production company learn new visual techniques to capture the realism of space travel. Howard's filmmaking experience on Apollo 13 also proved invaluable for the cast and creatives behind The Astronauts.
"We did some real weightlessness [on Apollo 13], which we don't have to do [for The Astronauts]. We wouldn't do real weightlessness today probably if we were making Apollo 13. Too risky, too difficult, and too many question marks. But I was able to talk about some of the things that Tom Hanks, Kevin Bacon, and Bill Paxton learned and I was able to give those tips to [director] Dean Israelite who passed it along to the actors, again, to try to make the audience connect with what they're going through to make it really visceral."
Howard hopes that realism attracts both kids and their parents to The Astronauts.
"The show has really exceeded my wildest hopes in terms of the way it could entertain and who we could entertain because I know when I looked at a cut, the grownups in my family wanted to watch it too. It's not just the kids, they want to watch it with me."
This year marks the silver anniversary of Apollo 13, which earned nine Oscar nominations, including Best Picture. Howard says he returned to a space project for the younger generation because of his belief in exploration.
"I think it's ingrained in the human spirit. I think it stimulates the human consciousness," Howard says. "I think it makes us perform at our best. I think that society benefits from everything that is learned, not just the tangibles of actually getting to space, but all the knowledge that comes from it."
In the first episode of The Astronauts, a spacecraft called Odyssey II is set to launch on a mission to retrieve a foreign object that could potentially save humanity. When five untrained kids swipe their parents' security clearances to sneak on board, they accidentally get launched into space and assume their parents' mission. To Howard, that sense of exploring the unknown is an important pillar for a kids' series.
"Human beings also need the adventure. They need to know there is a frontier. They need to believe in the possibility of Star Trek and a journey, a horizon to reach. That's been part of the human experience from the beginning when you understand the way the species spread out and traveled. I think it's among the noblest of undertakings that human beings can engage in and I love celebrating it."
The Astronauts premieres with an hour-long event on Friday, Nov. 13, at 7 p.m. (ET/PT) on Nickelodeon.