Reviews
Riverdale Uses Superhero Tropes to Its Advantage
To tell its current superhero saga, the CW Archie series looks to the comic book page.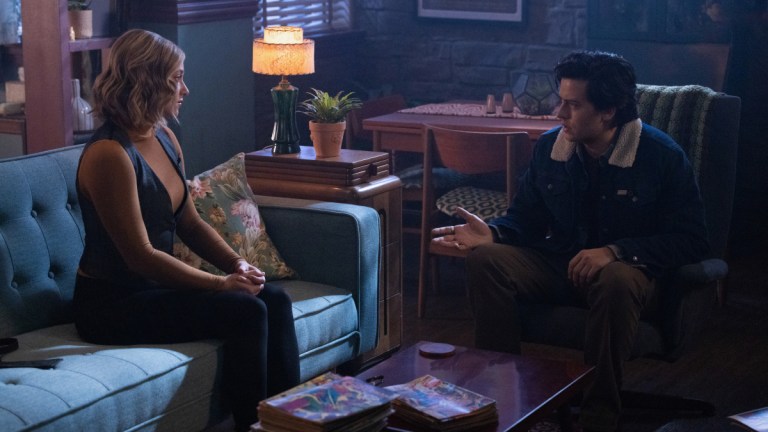 This RIVERDALE review contains spoilers.
Riverdale Season 6 Episode 14
"Welcome to the sad superhero club…"
It's a bird! It's a plane! It's a…shirtless Archie Andrews! With its latest installment, Riverdale's current superhero saga proved that it isn't afraid to liberally borrow tried and true superhero tropes in order to advance the storyline of Archie's mighty crusaders squaring off against the increasingly diabolical (and somewhat annoyingly impervious) Percival Pickens. As a lifelong Archie Comicsfanatic, I'll admit that it is a bit jarring to hear these characters namecheck their DC characters, but it is all in service to the grand storyline here…not to mention corporate synergy. (Warner Bros owns DC Comics and half of The CW itself).
So quicker than you can say "Berlantiverse," this latest episode had Archie and Jughead browsing the latter's comic collection when they stumble upon the idea that Arch can maybe develop an immunity to palladium through exposing himself to it — just like Superman trying to counter the effects of Kryptonite! To do this, he enlists the help of Riverdale's resident witchy woman, Cheryl Blossom.
Cheryl gives Archie a piece of palladium from her mines, and he begins wearing it to his workouts. However, the plot doesn't work, and Archie's strength and mass starts to diminish. Theorizing that the exposure was too much, too soon, Cheryl suggests that Archie starts microdosing himself instead, via her homemade palladium soup. Yeah. This backwards scheme is also a massive fail, and soon Archie's mass and health starts deteriorating rapidly. Surmising that she can both heal him and make him invulnerable to palladium for good, Cheryl performs a transmutation spell. Forged in fire by her alchemy, Archie Andrews is back, and this time completely unstoppable. Percival the Perverse, thy days are numbered.
Meanwhile, Cheryl — who was been a witch for less than a season and everyone accepts this without questioning because Riverdale — is also helping Veronica with her black widow problem. Not only can she kill anyone she gets intimate with (I suppose having her sing Lita Ford's "Kiss Me Deadly" instead of Britney Spears' "Toxic" would be a bit too on the nose) but whenever Veronica gets emotional she can release her venom. Fortunately, this only resulted in a nosebleed for Reggie, but the effects could be fatal for those around her. Through doing research on spiders and working with Cheryl, Ronnie realizes that other toxins can't harm her. Furthermore, she learns that her ability to control the toxins she releases depends on her emotional state. So if she can keep her emotions in check, she isn't a threat to others. And another soldier in Archie's army is ready for battle against Percival…
Still searching for clues to her repressed memories, Betty enlists Jugead's help to do "deep memory reading" in order to recover the truth about whether her father was grooming her to become a serial killer since she was a kid. The process involves Jughead entering a sort of dream state where he rifles through a box of "Betty" comic books that contain her memories. Together they uncover the truth, that Hal was in fact grooming her, and Alice (who it is revealed also possesses the serial killer gene) was so overprotective of Betty her entire life in an attempt to control her evil tendencies. Despite Alice's good intentions, none of this sits well with Betty, who still feels conflict with the evil inside of her.
This episode was an interesting experiment in that it attempted to explore superhero tropes like the aforementioned exposure to weakness, a character like Archie furthering his Hero's Journey, etc. Director Lisa Soper brought a distinctive visual flair to this episode, making it feel like a comic brought to life in a way reminiscent of Ang Lee's 2003 Hulk movie. (Which is not a knock, say what you will about the flick, but it is never dull to look at). Riverdale exists in a heightened reality anyway, so any manipulation of its visual style just enhances the outrageousness of the proceedings. In fact, this should be the series' default aesthetic.
So now that our heroes have their powers established and under control, will they be able to defeat Percival Pickens? Well yeah, obviously. But how we get from here to there is the question, and with any luck this will occur before the season finale on July 31st.
Riverdale Rundown
• Again, I can't express enough how jarring it is seeing Archie characters discuss DC Comics. Among the various Superman comics glimpsed, you also see an issue of DC's horror anthology The House of Mystery.
• It's hilarious that everyone is coming to Cheryl with their witchcraft needs while she is using a Magic 8-Ball as her "oracle."
• This episode's biggest accomplishment was upsetting the series' ships. What did the kiss between Archie and Veronica stir within them? We see that Jughead is overwhelmed with feelings of romance towards Betty after poking around in her brain, also, creepy. But does Betty also feel that why? And what will the reunion between Cheryl and former love Heather (Caroline Day) be like?
• "Don't make me beat you up again," snarls Percival to Archie, in his funniest line on the show to date.
• Does this episode feature the most Dr. Curdle Jr. screentime yet? It certainly feels that way, not that I am complaining.
• Heather is a librarian in Greendale and is, apparently, also a witch. We know that Sabrina will be making a return to Riverdale this season (she doesn't appear to know Cheryl in the main continuity), so will Heather be the conduit to bring everyone's favorite twentysomething witch to town?
• Hal and Alice Cooper really are just atrocious parents.
• "Get my Russian tome you Baba Yaga," barks Cheryl to Nana Rose.
• "You look insane right now," declares Reggie to an insane-looking Veronica at the casino board meeting.
• What exactly does palladium soup taste like? How is there not a Riverdale-themed cookbook?
• Director Lisa Soper mischievously included a great jump scare when a spider crawled across the screen after Cheryl and Veronica's conversation about poisons.
• Veronica is now wearing Cheryl's "iconic" spider broach, which is fitting given her abilities.
• Smartfood popcorn, the official snack of venomous Riverdaleians.
• "We want to see you get your main character energy back," says Betty to Veronica, somehow without winking to viewers.
• Perhaps the thing I love most about this show is how its characters are always able to pull an elaborately choreographed musical number out of their pocket at a moment's notice.
• Next week: Jughead is a magician for some reason. Who knows why, and does it even matter?