Features
Peaky Blinders Season 6 Filming Locations
From the island of Miquelon to Gina's Boston Apartment, the Fascist rally to the Romany Graveyard and more, here are the major filming locations for Peaky Blinders series six.
Warning: contains spoilers for Peaky Blinders series six.
Out now worldwide on Netflix, Peaky Blinders season six was filmed in locations around the UK, including Scotland, Manchester, Liverpool, Cheshire, Lancashire and more. Find out which UK sites were used to stand in for Newfoundland, Boston and many more below.
Arrow House – Arley Hall & Gardens, Arley, Cheshire
Tommy's mansion Arrow House (which he took from an aristocrat over his head in gambling debt between season two and three) is really Arley Hall & Gardens in Cheshire. It's a Grade II listed stately home which was built in the first half of the 19th century and is currently home to Viscount Ashbrook and his family. You can visit here.
Miquelon Island, Newfoundland – Portsoy Harbour, Scotland
Miquelon Island was a French colonial outpost located just off the coast of Newfoundland on Canada's eastern coast (fittingly for Tommy's meeting with his treacherous cousin, the name Miquelon is thought to have derived from 'Michael' in the Basque language.) During US prohibition, being outside of Canadian and US jurisdiction, the islands of Miquelon and St Pierre became hubs for the distribution of imported alcohol to American cities.
The French harbour scenes were filmed in Portsoy, Scotland. The port village on the Moray Forth has a 17th century harbour and filming took place there in February 2021. The Shore Inn in Portsoy was transformed into the Hotel Lalanne, the name of a real historical hotel located on the neighbouring island of Saint Pierre.
Chinatown – Castlefield, Manchester
The Chinatown Café Han Chang opium den where Ada finds Arthur was a custom-built set in Castlefield, Manchester. "It was a little bit of waste ground by one of the canals in Castlefield," explains production designer Nicole Northridge. "We built everything from scratch for Chinatown, reusing timbers from other sets to build the shacks and huts to block the views of the modern buildings around it."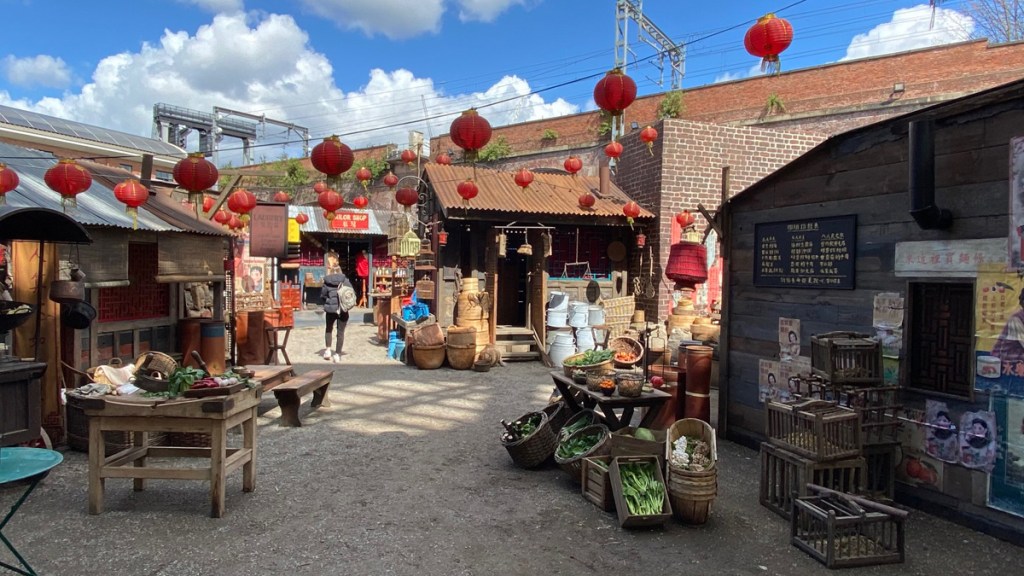 Norfolk Prison, Boston – Portsoy Harbour/St George's Hall Catacombs
Portsoy Harbour in Scotland provided the location for the Boston prison yard where Michael meets Tommy and received the letter recommending that his release should be delayed. The brick arch walkway leading up to Michael's prison cell is underneath St George's Hall in Liverpool.
Gina and Michael's Boston Apartment – The Ashton Memorial, Lancs.
Production designer Nicole Northridge was fixed on the idea of finding a circular location to stand in for Gina's lavish Boston art deco apartment but was frustrated until the show's locations manager Jessica Dove stumbled upon Lancashire's Ashton Memorial while walking her dog. A wedding venue, the grand luxury of which and circular shape made it perfect for Gina's and Michael's home. The bar was built to conceal a lift entrance in the building. Read more about it here.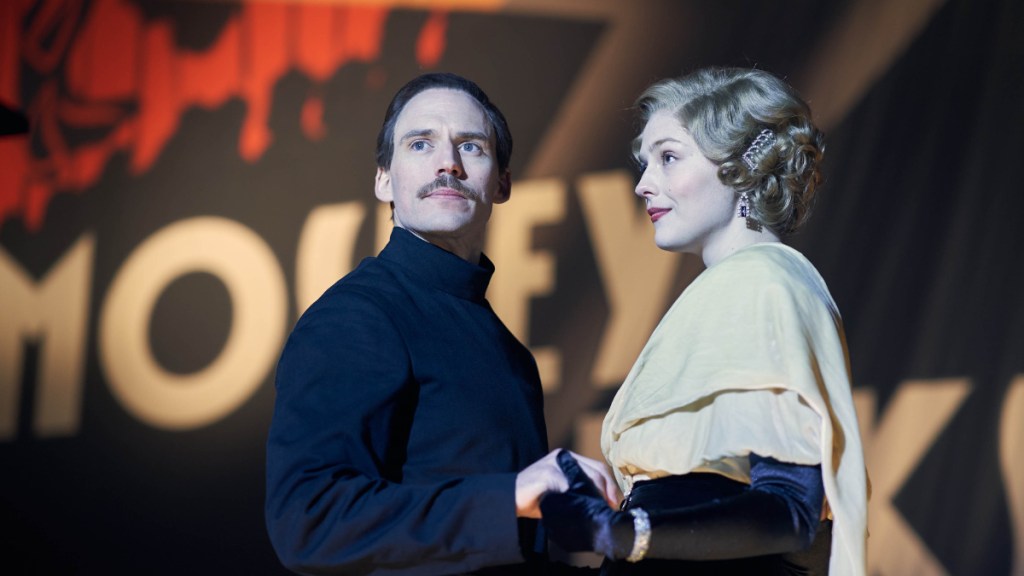 Fascist Rally venue – St George's Hall, Liverpool
Scenes outside Mosley's fascist rally, where the character of Diana Mitford is first introduced, were filmed on the steps of Liverpool's St George's Hall. Due to the need for social distancing during Coronavirus, the crowd is made up of some supporting actors plus a number of umbrellas on sticks. The hall also provided the interior locations, and was where Grace's death scene was shot in season three, during the Shelby Foundation gala.
Westminster Abbey – Liverpool Cathedral
When Tommy and Jack Nelson meet in London at the end of episode two, they're actually in Liverpool Cathedral, which was deliberately undressed. "We just wanted it as bare and simple as we possibly could," says designer Nicole Northridge. Watch the relative heights in the scene, says Northridge, "Whenever one of them had the upper hand, they appear taller on screen, and then it switches."
Alfie Solomons' Camden warehouse – Disused rum distillery, Liverpool
Alfie's Camden HQ in season six was filmed in the same Liverpool location used in season two to introduce Tom Hardy's character. "We gave Alfie a floating pool of light because he's always in and out of darkness and you never know whether he's real or in somebody's imagination," explains Northridge. "That was the descent down to hell and Alfie still being the King of Hell!"
House of Commons lobby – St George's Hall, Liverpool
When Tommy walks through the lobby to his office at the House of Commons before having a seizure that manifests as a brutal fight with a Prussian soldier, that's actually St George's Hall in Liverpool once again.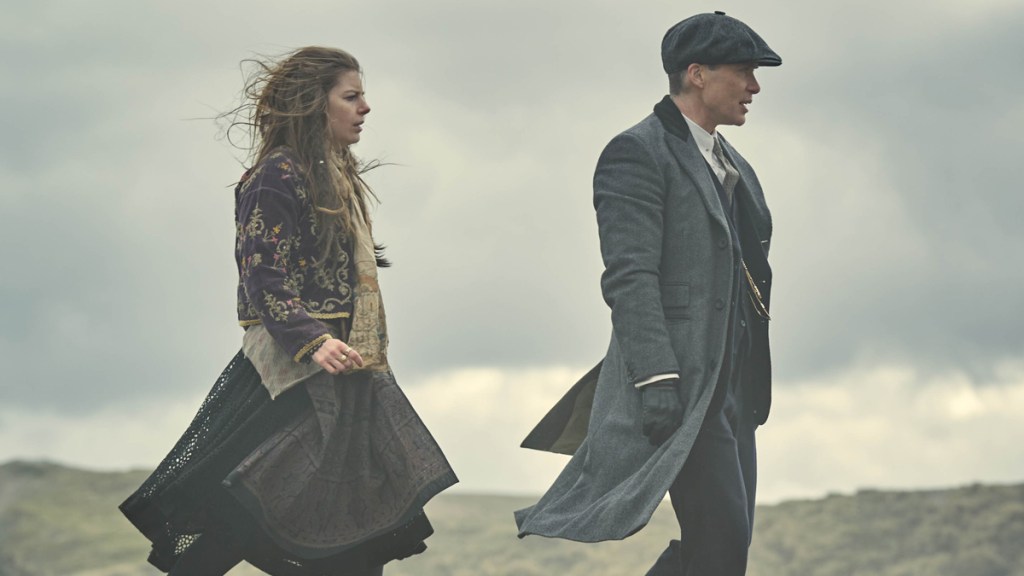 Esme's camp – Lee Quarry in Bacup, Rossendale, Lancashire
The Western-style standoff between Tommy and Esme's camp was filmed in Lee Quarry in Bacup, Lancashire, which also provided the moorland for the mountainous Romany graveyard in episode three. "Anthony [Byrne, director] said it would be amazing for the graveyard so we brought 30 gnarly trees up there, physically carried them and bedded them into the ground, just to make it look really desolate and sad and otherworldly.," explains Northridge. On the day of the graveyard shoot, it rained heavily.
Diana Mitford's Belgravia House – Le Mans Crescent, Bolton
The exterior of Diana Mosley's crescent when Ada visits her in Tommy's episode three absence was filmed in Le Mans Crescent, Bolton.
Liverpool Docks – Bramley Moore dock, Liverpool
Stephen Graham's scenes as Hayden Stagg were filmed on Bramley Moore dock, and his office was a built set. Notice the detail on Stagg's desk of the same brass tin that Tommy Shelby has on his desk – a gift given in December 1914 from Princess Mary to the soldiers who fought in WWI – marking out Tommy and Stagg's shared history in the war.
Garrison Lane – Castlefield, Manchester
Previously, scenes in Garrison Lane, the site of The Garrison Tavern, had been filmed in Liverpool, but for season six, the location was moved to Manchester after the Liverpool site became unavailable. "They'd gentrified it and built some fancy apartments there and converted the warehouses," explains Nicole Northridge. "Anthony [Byrne, director] adored the Castlefield location with its massive columns. It's just a spectacular location, so we built the frontage of the Garrison Tavern there."
Peaky Blinders seasons 1-6 are available to stream on BBC iPlayer in the UK, and on Netflix worldwide.